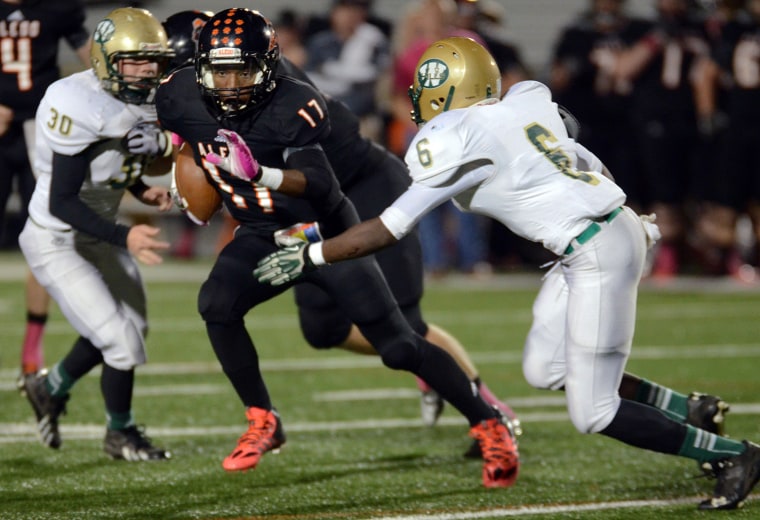 The astoundingly uneven final score of a Texas high school football game was a tough loss for the team defeated 91-0, but it was just that — a loss — and not a case of bullying, an official at the school said Wednesday.
"I consider this matter closed," Aledo Independent School District Superintendent Derek Citty wrote in a letter addressed to the "Bearcat Family" at Aledo High School in Texas that was obtained by NBC News.
"I am confident that no act of bullying occurred on the part of our coaching staff," Citty wrote in response to a formal complaint over Friday night's game, in which the undefeated team at Aledo High beat its opponent by a nearly 100-point margin. "Quite the opposite, while the score is not what either district would want, the coaches from each district acted in the best interest of the Bearcats of Aledo ISD and the Western Hills Cougars."
Read the full story from NBC 5 Dallas-Fort Worth: Parent accuses football coaches of bullying
The game attracted national attention when the parent of a member of the losing team filed a bullying complaint against Aledo High's coaching staff. That complaint led to a formal investigation.
"The complaint specifically alleges 'bullying' on the part of our coaching staff with the victim being the student-athletes at Western Hills High School in Fort Worth," Citty said in his letter. "Administration has reviewed the elements of the complaint and determined bullying did not occur during this contest. Coach Tim Buchanan and his staff acted in an honorable manner of which I am proud."
Citty noted that Coach Buchanan consulted with the Cougars' head coach throughout the game and "discussed a variety of ways to keep the score as low as possible."
TODAY viewers agreed with Citty's assessment by a large margin. In a survey, 80 percent of more than 4,600 respondents said they did not think the winning team's coaching staff engaged in bullying.
Take our survey: Did high school football team 'bully' opponent by winning 91-0?
NBC 5 Dallas-Fort Worth reported that the Aledo Bearcats have been defeating their opponents all season. In seven games, the team has outscored the opposition 485-47.