Aaliyah Taylor, the teenager whose video of a dance-off with a Washington, D.C., police officer went viral last week, has been showered with offers for dance lessons, mentors and even two college scholarships, TODAY has learned.
"Two churches have offered to pay for whatever college I want to go to and another lady wants to pay for my graduation and prom," said Taylor, who turned 18 just days after the Oct. 27 dance-off.
"Everyone knows who I am now," she told TODAY. "They are reaching out to Ellen [DeGeneres], and I am praying she gives me a call back."
The video of a female police officer and teenager gyrating face-to-face garnered 4 million views, even getting the attention of President Obama, who tweeted: "Who knew community policing could involve the Nae Nae?"
Great example of police having fun while keeping us safe."
The dance-off comes on the heels of other negative interactions between police and youth.
Only the day before, a sheriff's deputy at Spring Valley High School in Columbia, South Carolina, was videotaped slamming a student to the ground after she refused a teacher's order to leave the classroom.
RELATED: New video emerges of S.C. officer body-slamming student
The uplifting video of Taylor also caught the eye of Saudi Jenkins, a professional dancer who owns Figure 8 Dance Fitness in D.C.
"I was mesmerized and could see Aaliyah's passion for dancing. She reeked confidence," said Jenkins. "I thought, this is the one — I have to get her."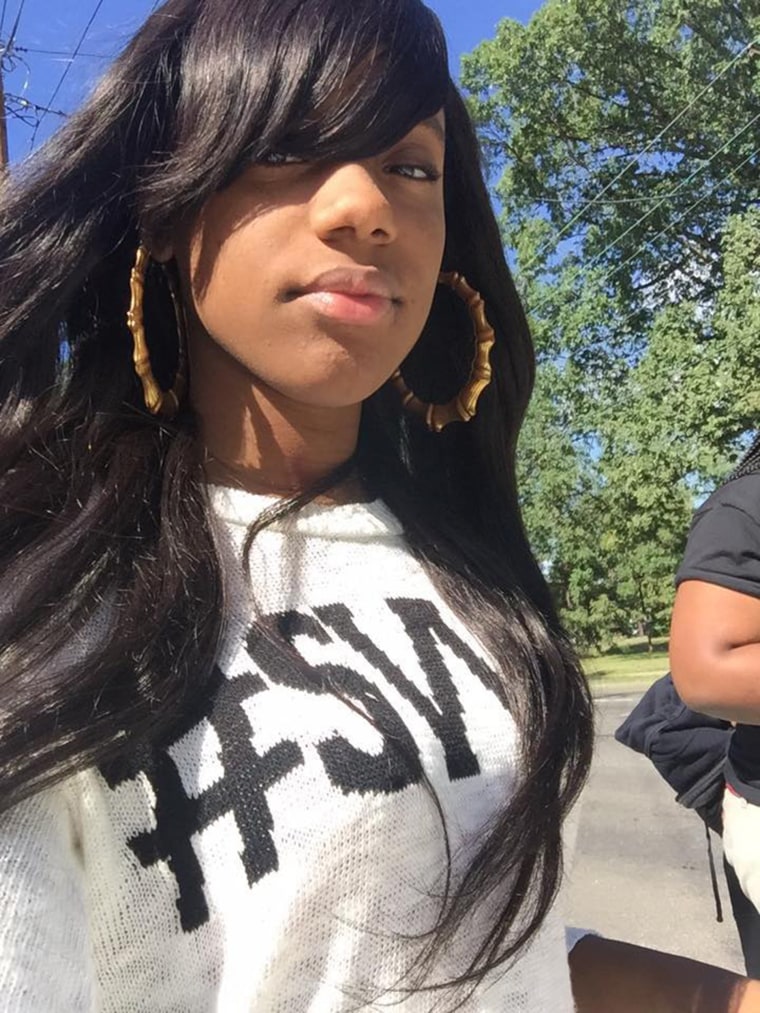 Jenkins told TODAY she has arranged for Taylor to have free dance lessons, as well as a private academic tutor.
RELATED: Purdue football player hailed for random act of kindness
"I know that dance is therapy and a healer," she said. "In urban areas, children are so talented, but they have not been exposed."
It all began when a quick-on-her-feet police officer was breaking up two groups of arguing teens on K Street in the Southwest part of D.C.
Taylor, a senior at Ballou High School, approached the unidentified cop, playing the Silentó rap song, "Watch Me (Whip/Nae Nae)", on her phone.
"[The officer] laughed, 'I can do better than that,'" Taylor explained.
"I said, 'Sure, show me.' That's when we started dancing."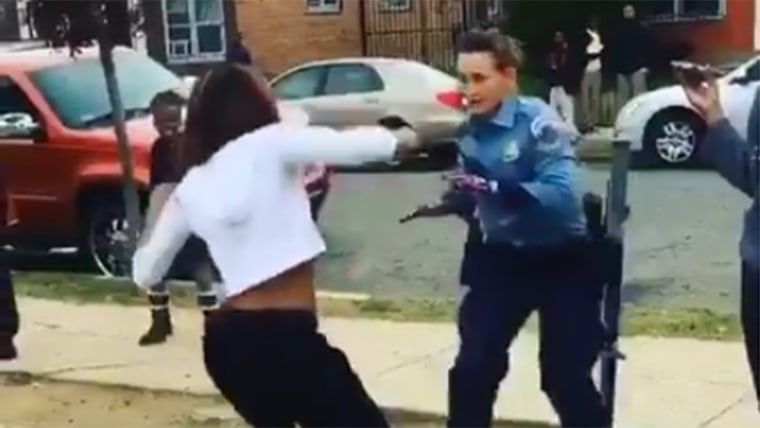 "She did some familiar moves with 'Nae-Nae' then we made a deal: If I win the competition, I get to stay and if she wins, I have to go," she said.
"I kept dancing and dancing and she kept picking up the moves," said Taylor. "I didn't know she could move like that. In the end, we said it was a tie."
The video reveals the officer's command of the "stanky leg," "bop," "duff" — and more — was as smooth as her policing skills.
The teen and police officer hugged each other and the crowd dispersed.
"I was so happy, I didn't get to ask her name," said Taylor. "We just walked away."
The officer has declined to be interviewed, but Metropolitan Police Chief Chief Cathy Lanier said in a statement that she is "known for her hard work and dedication to policing."
Taylor lives with her mother, a former child care worker who is being treated for breast cancer.
"I am very proud of her," said Shance Taylor, 39. "After going through this sickness, it makes me happy."
"A lot of teenagers fight in our neighborhood and a lot of things happen out on the street," she told TODAY. "I would take her and the other girls home and I couldn't stop her from dancing."
Taylor's mother said she "never had a problem" with police and respects them because most of her siblings are officers.
And now Taylor, whose siblings have had negative interactions with police, said, "I changed my mind."
"When that cop came up to me and actually wanted to dance — wow!" she said. "If there were more like her, the world would be more peaceful."
And her advice to other teens?
"When you're in a bad situation with the cops, try to make it something positive," said Taylor. "Just control your attitude, and it should be going good."