Scarlett Johansson dreamed the dream she'd star in a sweeping movie about a beloved stage musical. The 28-year-old actress reveals that she was up for the part of Fantine in "Les Misrables," the coveted role that eventually went to Anne Hathaway and which is now nabbing the star every acting award in sight.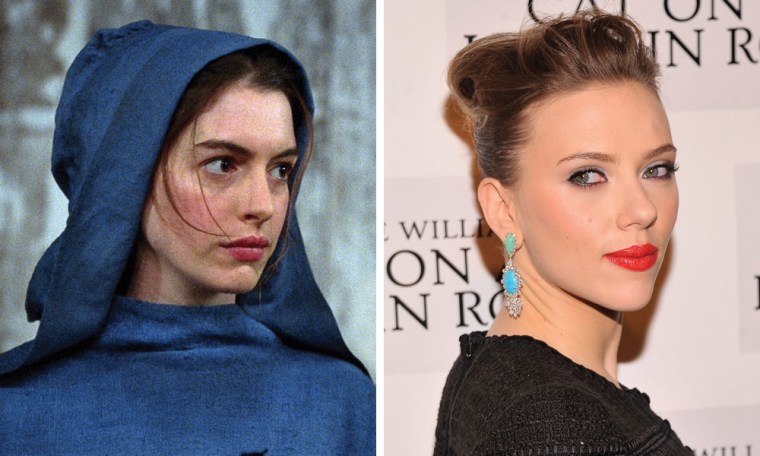 Johansson spilled the beans to Broadway.com, which flat-out asked her whether she had auditioned for the part.
"Yes, I did. I sang my little heart out," she answers matter-of-factly.
Taylor Swift no longer cast in Les Misrables
When pressed whether the audition was terrifying, the actress says she didn't betray a hint of stage fright.
"No, are you kidding? The jazz hands kid inside me was just over the moon!" she explained.
Unfortunately, the audition didn't quite go as planned.
"I auditioned with laryngitis," she reveals. "I did everything I could to, like, not have laryngitis."
Anne Hathaway: My Les Misrables Performance Is "eh"
Nowadays, though, Johansson takes a more pensive -- and gracious -- approach to losing the role.
"I think, looking at the film now, there's no possible way I ever could have topped that performance [by Anne Hathaway]. It was perfect and I think fateful and meant to be," she offers.
"But, yes, the audition itself brought back so many memories of auditioning for 'Les Mis' for the young Cosette"-- role in the stage musical that she had apparently tried out for when she younger -- "and it was fun for me to revisit that."
Adam Lambert is not a fan of Les Mis' vocal performances
Interestingly, the rumor mill was indeed churning with reports that Johansson was up for a role in 'Les Mis' -- but not as Fantine.
Insiders had reportedly pegged her to be duking it out for the role of doomed ingnue Eponine with the likes of Taylor Swift and Evan Rachel Wood -- a part that eventually went to newcomer Samantha Barks.
And although Hathaway is considered the frontrunner for this year's best supporting actress Oscar, Johansson did also manage to score some Academy love for her vocal prowess -- albeit not for a Fantine-role-that-wasn't-meant-to-be: The actress lent her voice to the Oscar-nominated song "Before My Time," which is featured on the acclaimed climate-change documentary "Chasing Ice."
Check out more pics from 'Les Mis!'
Related content: