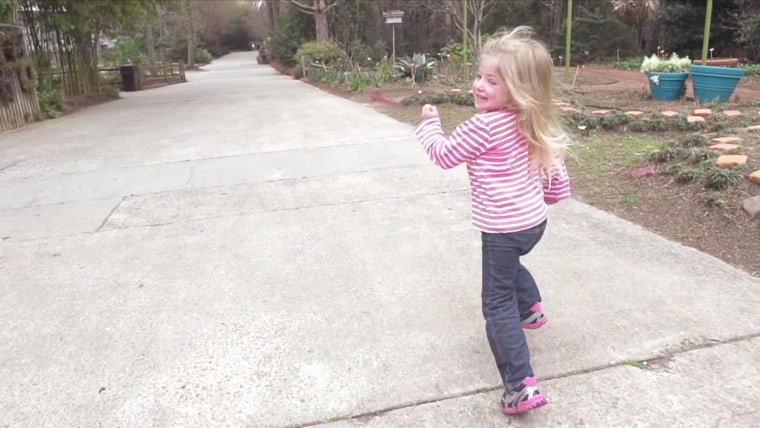 A South Carolina couple who have raised more than $1 million toward their goal of funding a $2.5 million clinical trial for their daughter still face many hurdles in their quest to save the little girl, experts say.
Cara and Glenn O'Neill are desperate to find a treatment for 4-year-old Eliza. She has Sanfilippo syndrome, an incurable neurological condition that often leads to irreversible brain damage and death in the teenage years.
Gene therapy will hopefully fix the genetic problem, but the treatment so far has only been in mice, said NBC News Chief Medical Correspondent Dr. Nancy Snyderman. 
The family's efforts show the struggle of the under-served population of people with rare "orphan diseases" who can't get enough traction in traditional medicine to get the funding and tests required to find a cure, she added.
"We've really turned out back on investigative drugs in this country, to the point it's a fraction — a fraction — of what we spend on other things in this country. So we need to realign how we spend our government funding," Snyderman said Tuesday on TODAY.
"There are still some mountains to climb here, I'm afraid," Snyderman said of the family's quest to save Eliza.
The couple, from Columbia, S.C., raised $250,000 in their community, according to TODAY, and another $788,000 through their online fundraising campaign and viral video called "Saving Eliza."
While there is no cure for the disease, the O'Neills did find hope. Researchers at Nationwide Children's Hospital in Columbus, Ohio, discovered a gene therapy that cured the syndrome in mice. Experts wanted to begin testing it in children but need $2.5 million to launch a clinical trial.
If the trial begins, it doesn't guarantee Eliza will be helped. Though researchers believe she would qualify for the trial, she may not, or it could fail to help.
For now, time is crucial. The disease begins to take its toll at age 5 or 6, when kids regress and lose the ability to walk and speak.
"Our job as parents and voice for our children is to do absolutely everything we can to give them a happy healthy life and we're not going to stop at anything until we have done everything in our power," Cara told TODAY.
The couple is still hopeful they can find a treatment to halt the disease in their happy, affectionate little girl.
"The donations that have come in are going to fund this clinical trial and fund a chance at life for Eliza," Glenn O'Neill said in the fundraising video. "That is the hope we hold on to."
Earlier this month on TODAY, Willie Geist marveled at how much money the O'Neills have raised and wished them luck. "That's the power of social media," he said. "Your heart breaks knowing, as a parent where the disease is headed. Let's hope they can head it off."
A version of this story was first published on June 3, 2014. It has been updated. 
Lisa A. Flam is a news and lifestyles reporter in New York. Follow her on Twitter.