A collision of tennis legends that had been years in the making finally took place on Monday in front of a sold-out crowd of 15,000 in San Jose, California.
On the one side, there was 20-time Grand Slam champion Roger Federer. On the other side, there was TODAY's Savannah Guthrie, fortified by her pregame meal at In-N-Out Burger and three summers at tennis camp when she was a teenager.
"It was epic, it was amazing, it was embarrassing — all of the adjectives," Savannah said on TODAY Tuesday.
Savannah lived out a dream when she took on her tennis idol as part of the exhibition "Match for Africa Silicon Valley" at the SAP Center in San Jose. TODAY's Al Roker was also there to cheer her on in person (and handle the pre-match coin toss).
The result was a big win for children in Africa.
The Roger Federer Foundation, which supports educational initiatives for African children, raised $2.5 million at the event.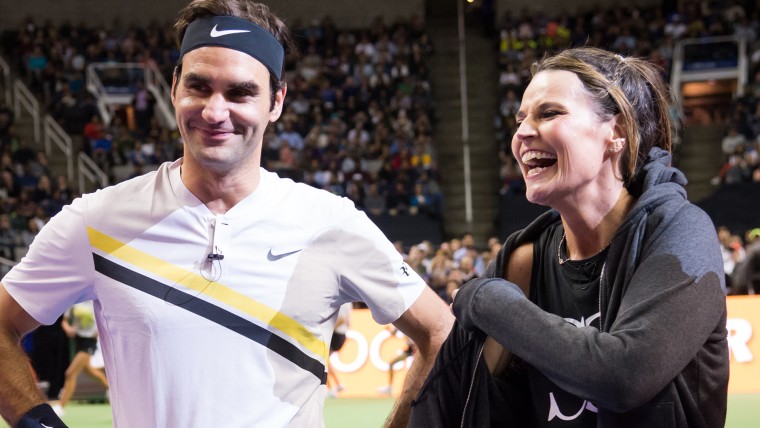 "Here's the bottom line: the highlight reel for my tennis is real, real short, but the highlight reel for life, it is long, and I am still pinching myself,'' Savannah said.
Wearing a custom "SG" outfit, Savannah teamed up with the top-ranked American men's player, Jack Sock, to face off against Federer and pink-shirted Microsoft co-founder Bill Gates in a one-set doubles match.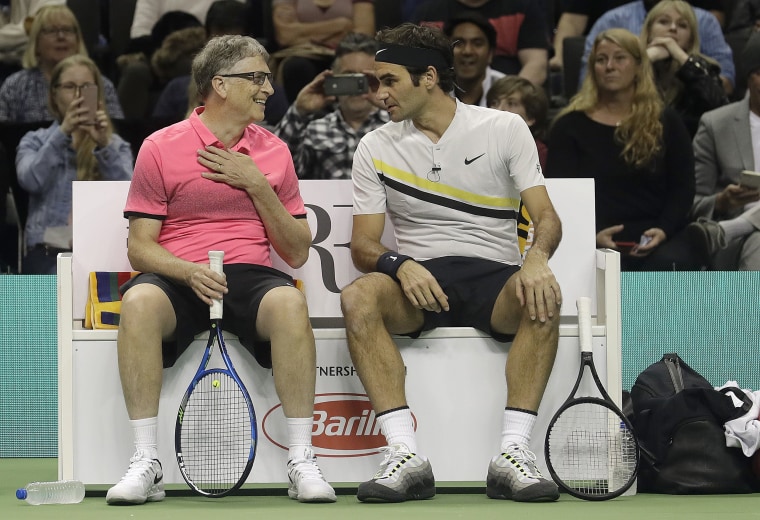 Savannah's focus was admittedly off when she realized Roger Federer was really right across the net.
"You have to start looking at the ball and stop looking at me,'' he said.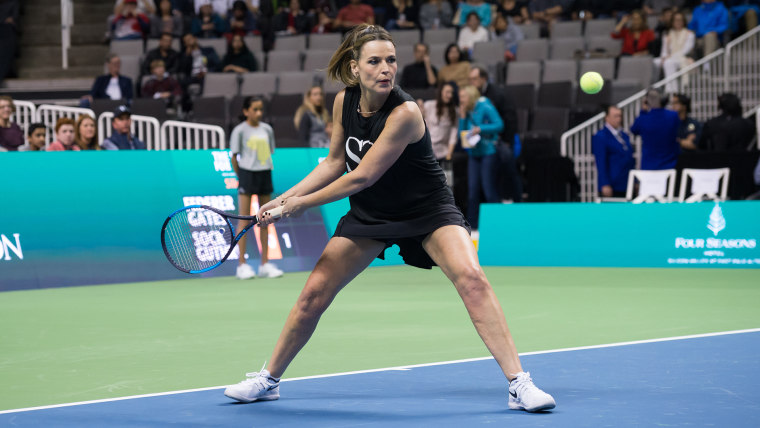 "I was just totally distracted by everything that was going on," she told Federer afterward. "And you."
Despite a few blazing backhands from Savannah, Federer and Gates came out with a 6-3 victory.
Savannah had done everything she could to get ready to face the most accomplished men's tennis player in history, including even practicing while she was anchoring TODAY's Winter Olympics coverage in Pyeongchang, South Korea.
Her husband, Mike Feldman, provided an exclusive look at her rigorous preparation.
Her daughter, Vale, 3, also made sure to get mommy properly pumped up for the match.
In the end, the Swiss superstar and billionaire philanthropist were able to hold off Sock and Savannah, but it was a night she won't soon forget.
She and Federer made sure to hug it out after their epic match.
"In all the times that I imagined the worse-case scenario, it was actually way worse in terms of my tennis, but it was so fun, I'm really, really glad I did it,'' Savannah said.
Follow TODAY.com writer Scott Stump on Twitter.