Sarah Ferguson adamantly defended her ex-husband, Prince Andrew, on Tuesday against claims he forced an underage woman to have sex with him, calling the allegations a defamation of character against a "humongously good man."
"I will have not one word said about him on any level, any level," she told TODAY's Matt Lauer about the allegations against the prince. The couple, who have two grown daughters, divorced in 1996 but have remained close friends.
Prince Andrew was among those named in a federal lawsuit who allegedly forced the defendant to have sex with her. The claims were put forth by an American woman claiming the ordeal was orchestrated by the prince's friend, New York financier and convicted sex offender Jeffrey Epstein.
Buckingham Palace adamantly denied the claim in a statement and Ferguson, the Duchess of York, declared: "We stand by that denial."
"I went to stand by him, because I know what it feels like to have salacious lies made up about you," she said, calling the claims "just shockingly accusatory allegations."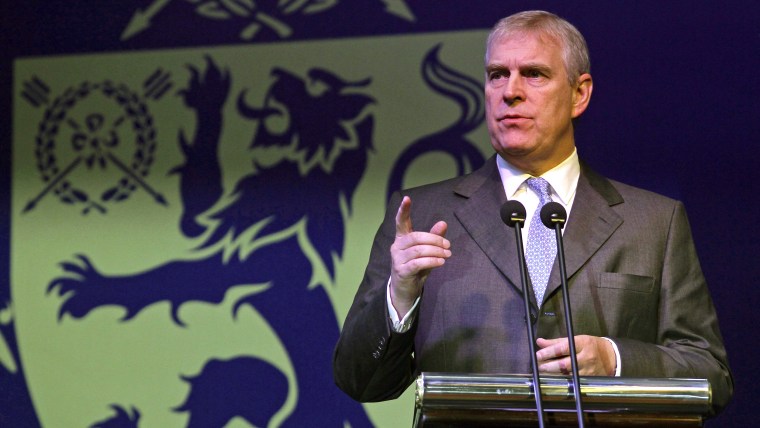 She called Andrew "a great father and a humongously good man" and noted "all the work he does for Britain."
"I won't stand by and let his character be defamed to this level," she said.
Others named in the lawsuit also have repudiated the claims, including attorney and former Harvard Law school professor Alan Dershowitz, who called the charges "totally false and made up."

In addition to her former husband, Ferguson also spoke about how she was able to lose 55 pounds over the past year.
"Fergie fit at 55," she said, an alliterative reference to her age.
Ferguson said she lost the weight through good nutrition and sensible exercise. She also had to overcome a food addiction she has had since she was a child.
"I've been a comfort eater since I was 12 years old and I used food as my friend," she said. 
The turning point came about a year ago when she weighed 190 pounds.

"I couldn't bear looking at myself any minute longer," she said. "In fact, the size of my ass probably saved my life. Sorry, to speak like that, but let's be honest."
Follow TODAY.com writer Eun Kyung Kim on Twitter.