A woman exposed on TODAY last December as a con artist posing as the aunt of a 6-year-old victim of the Sandy Hook Elementary School shooting was sentenced Tuesday to 8 months in prison.
On Dec. 21, 2012, TODAY aired a Rossen Reports investigation about a heartless scam to profit from the tragic shooting. Just one week after the massacre, Nouel Alba was collecting donations online by posing as a victim's relative.
After she was exposed on TODAY, the FBI moved in, and now that con artist is going to prison for 8 months.
Last December, Nouel Alba was hiding behind her door after TODAY caught her taking donations for Noah Pozner, a 6-year-old boy killed at Sandy Hook, then pocketing all the money. After finding out, Noah's uncle, Alexis Haller, said she was a fraud. "I'm disgusted by it," Haller said then. "I think it's disgusting behavior."
Want a scam, rip-off or issue investigated? Email Rossen Reports.
The TODAY investigation found that within hours of the Sandy Hook massacre, Nouel Alba went on Facebook posing as Noah's aunt, writing: "All we know is 18 kids have been killed....still no word on my nephew."
Then, days later, she went after money: "We've set up a funeral fund for my brother ... anyone willing to make a donation can make one...." Noah's real family never saw a dime.
"It's trying to turn a profit on a horrible tragedy, on the death of kids, 6-year-old kids, 7-year-old kids," Alexis Haller said last December. "And to me, that's just a horrible thing to be doing."
At the time, TODAY tracked Alba to a home in the Bronx, N.Y. She wouldn't allow cameras inside, but did allow this audio exchange to be recorded: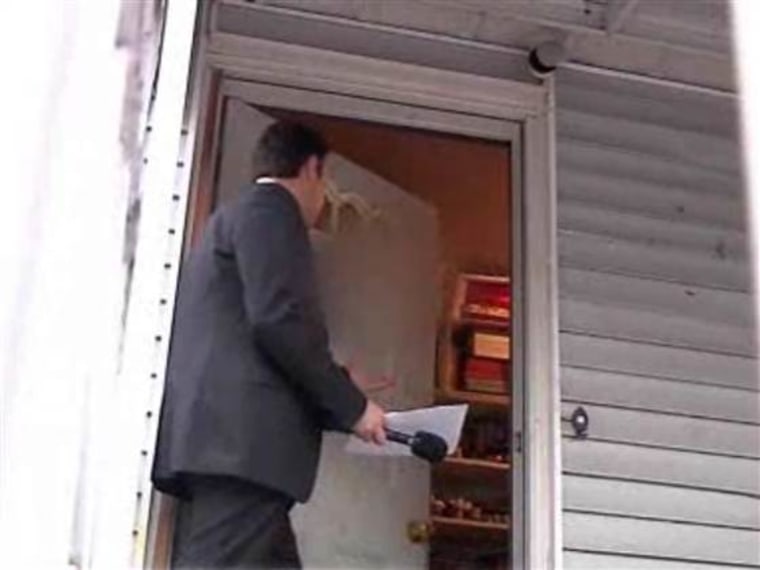 "Did you send this message over Facebook?"
"No, I never sent any message on Facebook."
"Then why is your account number on it, your bank routing number, your email, and your PayPal information?"
"Because I sell things online." Alba said.
"Because you sell things online? But then why were you posing to be a member of the Pozner family? They say they've never met you before."
"I never did that."
But just a week after the story aired, the FBI arrested Alba. She's since pled guilty to wire fraud and making false statements to the government. On Tuesday the judge sentenced her to eight months in prison.
Connecticut's attorney general warns that while Alba's scheme is shut down, other scammers are still out there. "It sickens me," George Jepsen said. 
Jepsen warned of red flags that potential charitable givers should look for: "Avoid telephone solicitations, e-mail solicitations, because you can't really trace where it comes from." And, of course, Facebook: "Make sure you check out the charity."
Authorities say these criminals always come to the surface after big tragedies, trying to exploit the grief. It's gotten so bad, the federal government has even set up a special agency to track complaints and investigate.
Bottom line: Donating to charity is a wonderful gesture, but make sure you check out who you're really giving money to.
You can donate to the family of Noah Pozner and other victims of the Sandy Hook shootings at My Sandy Hook Family Fund.
Have an idea for an upcoming edition of Rossen Reports? Email us.