The daughter of slain Sandy Hook Elementary School principal Dawn Hochsprung said her mom brightened every room she entered and took the time to let her children know they were loved.
A mother and stepmother to five children, Hochsprung, 47, was one of six adults from the school who died along with 20 children in a mass shooting on Friday at Sandy Hook Elementary in Newtown, Conn. Her daughter, Erica Lafferty, 27, spoke to Savannah Guthrie on TODAY Tuesday alongside her fiancé, Christopher Smegielski.
"To say she was a wonderful person is the understatement of the century,'' Lafferty said. "She put her life into making everyone else's life so much better. Her smiles lit up every building she walked into. She made an impact on everyone that she's ever come across — every adult, every child. Especially the kids, the light of her life.''
Hochsprung, who became Sandy Hook's principal in 2010, is being hailed as a hero for confronting gunman Adam Lanza. Her actions may have helped save the lives of several children. While Lafferty understands why her mother chose to run toward danger, it has taken her a while to come to grips with that decision.
Slain Sandy Hook principal's daughter tweets photo of her baby, Obama
"I had a really hard time not being mad about it, but that's who she was,'' Lafferty said. "She faced every single problem that she ever had in her life head on. My cousin referred to her as a bull yesterday. There's no stopping Dawn when she has a mission. She gets it done, and she gives it everything she has.''
Lafferty has cherished several "just because'' letters that her mother had written to her. She read one on air that she found on Monday night that Hochsprung wrote when Lafferty moved out of the house for the first time.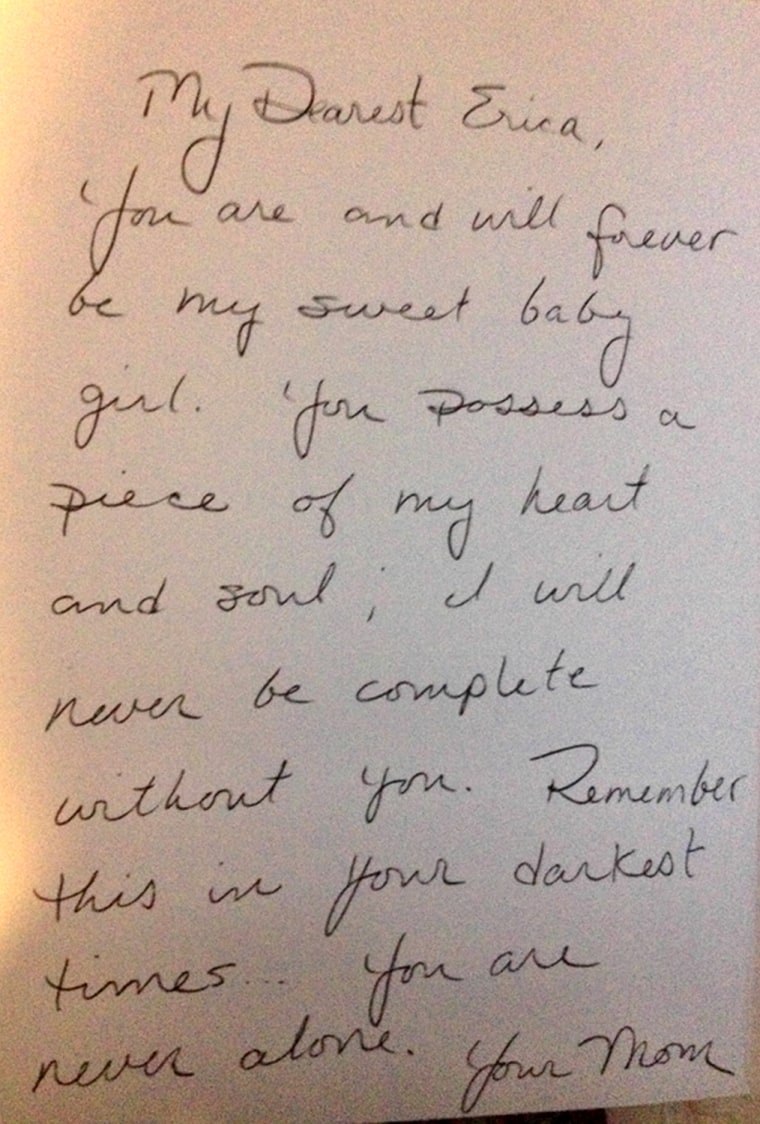 "Today I stopped and thought what a wonderful daughter I have, and I thought I'd tell you,'' Lafferty read. "My dearest Erica, you are and forever will be my sweet baby girl. You possess a piece of my heart and soul, and I will never be complete without you. Remember this in your darkest times...you are never alone. Your Mom. Be safe, be well, be happy. No one deserves it more!'' 
Read more: