Marcie Fisher-Borne was overjoyed when the Supreme Court struck down a key part of the Defense of Marriage Act last month: The federal government would finally acknowledge her same-sex marriage.

Yet, there was one critical thing the DOMA ruling couldn't give either Marcie or her wife Chantelle: full legal parental rights to their two biological children, 5-year-old Miley and 20-month-old Eli.
The Fisher-Bornes, both 38, have been together for 16 years and were legally wed in Washington, D.C. in 2011, but live in North Carolina, a state that bans same-sex couples from second parent adoptions. Since adoption law is the domain of state courts and legislatures, the DOMA ruling has no bearing on whether or not same-sex couples have the same legal parental rights as heterosexual couples.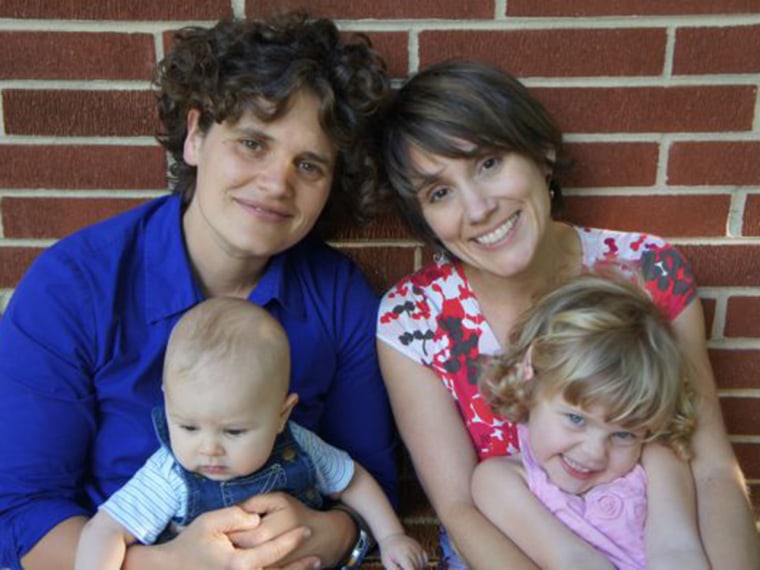 In the Fisher-Borne household, this means that until North Carolina's ban is overturned, Marcie is Miley's only legal parent and Chantelle is Eli's only legal parent. In the case of either woman's death, the other mother would be considered a stranger by the court system. Even a legal document like a will would not override a judge's court order to place the child with relatives or even into the foster care system.
The Fisher-Bornes are not alone. Several states, including Ohio, Utah and Mississippi, explicitly prohibit same-sex couples from jointly adopting or entering into a second parent adoption. In other states where same-sex adoptions are not banned, the laws can often be murky and dependent on variable factors, like county practices or a sympathetic judge.
"It's a fear and insecurity that's real and palpable in our lives," says Fisher-Borne of the couple's limited legal rights.
This dread is why the couple, along with their children, decided to become the lead plaintiffs in an American Civil Liberties Union suit challenging the adoption ban in their state last year. Since the Supreme Court ruling, the ACLU amended its suit to also contest the constitutionality of North Carolina's ban on same-sex marriage.
Elizabeth Gill, an ACLU staff attorney working on the Fisher-Borne case, said that Justice Anthony Kennedy's majority opinion in the DOMA ruling, which referenced the law's unfairness to gay families, might provide an important advantage to their lawsuit and similar cases.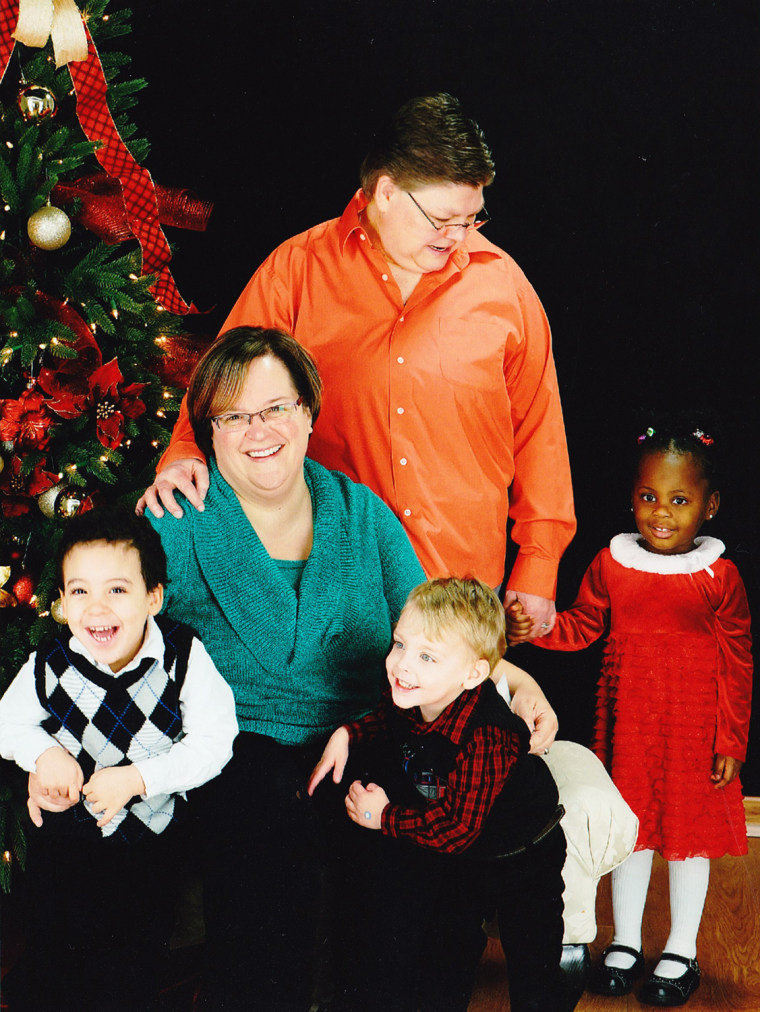 "It humiliates tens of thousands of children now being raised by same-sex couples," Kennedy wrote of DOMA. "The law in question makes it even more difficult for the children to understand the integrity and closeness of their own family and its concord with other families in their community and in their daily lives."
Kennedy's opinion also heartened April DeBoer, who has adopted three children with her partner of 13 years, Jayne Rowse.
"It gives us hope that maybe somebody is finally listening and they'll allow these children to have two parents," DeBoer says. The Michigan couple is suing the state over the constitutionality of its adoption code, which bars unmarried couples from second parent adoption.
The road to parenthood has been long and sometimes heartbreaking for DeBoer, 42, and Rowse, 48, who went through in vitro fertilization and several unsuccessful adoption attempts in their attempts to have children.
"Being a same-sex couple, wherever we went we were told all the time it would be a long wait, a very difficult placement," says DeBoer. "Most [people] are looking for a traditional married couple, and we didn't fall within that range."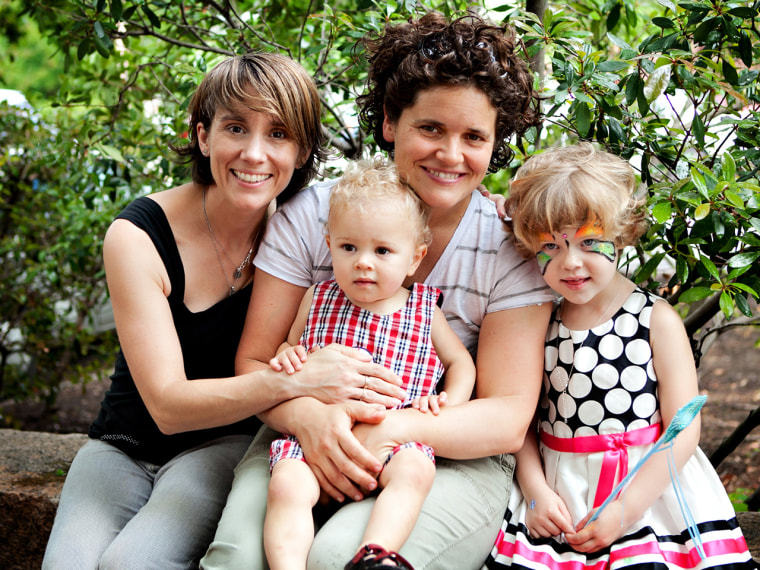 DeBoer was ultimately able to adopt their daughter Ryanne, now 3, in 2011, and Rowse adopted their two sons, Nolan, 4, and Jacob, three-and-a-half, in 2009 and 2011, respectively. But the couple soon realized, after averting an accident on a snowy road, that the family they'd worked so hard to build could be broken apart instantly due to their lack of legal protection. When they asked a lawyer how they could both ensure parental rights for all the children, they discovered the difficult truth.
"A lot of gay families go into adoption thinking you write your will and wishes and they'll be granted by the court, and that's how you get around from not being able to adopt together," DeBoer says. "But a judge can come along and decide that my boys would be better off with a heterosexual couple."
Dana Nessel, the co-counsel working pro bono to represent DeBoer, Rowse and their children, has previously handled cases in which children of same-sex couples were taken from a parent. There are also practical considerations, like Social Security and insurance benefits, which can't be extended to children of a same-sex parent lacking legal rights.
Since the DOMA decision, Nessel has amended the couple's complaint to also challenge Michigan's ban on same-sex marriage. If that's overturned, the couple could marry and file for legal adoption rights.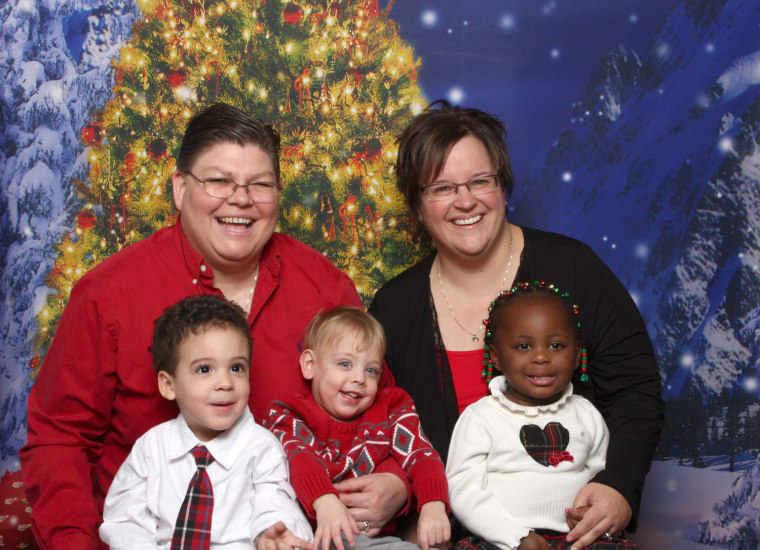 Sarah Warbelow, state legislative director for the advocacy organization Human Rights Campaign, says the federal cases in North Carolina and Michigan could eventually make their way to the Supreme Court. If either adoption ban is deemed unconstitutional, it would give families like the Fisher-Bornes and DeBoer-Rowses the ability to gain the same legal protections as heterosexual couples.
"What we hope for and are working toward is that nobody will be discriminated against based on their sexual orientation in the adoption process," says Warbelow.
Marcie Fisher-Borne says she doesn't know how she'll react if the North Carolina ban on adoption is upheld; the case is currently pending in federal district court. She and Chantelle have discussed moving to a state where they could both have legal parental rights, but the couple is from the South and has long considered North Carolina home.
"It's a hard call," she says. "This is where we want to be. We want this community to acknowledge that and be as open and offer as many opportunities to our family as it does others."