Could revelations about the U.S. government's massive surveillance program be sending people hunting for that classic novel about a nation under the oppressive rule of "Big Brother?"
Amazon has recorded a spike in sales of the George Orwell novel, "1984" in the wake of revelations about the National Security Agency's data collection programs.
The centennial edition of the book ranked number 4 on the seller's "movers and shakers list," as of Tuesday afternoon. Book sales increased by more than 6,000 within the last 24 hours, jumping to the 123rd spot on book sales overall, from it's spot at 7,636 the previous day.

The book, originally published in 1948, centers on a rebellious effort against totalitarianism and was meant to serve as a futuristic look into a government with overreaching powers.
Sales may have received a boost as the book has been referenced by politicians in relation to the news.
President Obama mentioned the novel last week when he defended the surveillance programs."In the abstract, you can complain about Big Brother and how this is a potential program run amok, but when you actually look at the details, then I think we've struck the right balance," he said last Friday.
U.S. Sen. Bernie Sanders also used the book to describe the programs overseen by the super-secret NSA.
"Kids will grow up knowing that every damn thing that they do is going to be recorded some place in a file," the Vermont Independent told MSNBC's Chris Hayes on Monday. "And I think that will have a very Orwellian and very inhibiting impact on the way we live our lives."
A representative for Penguin, the novel's publisher, said there's clearly a link between the NSA news and the book's surge in sales.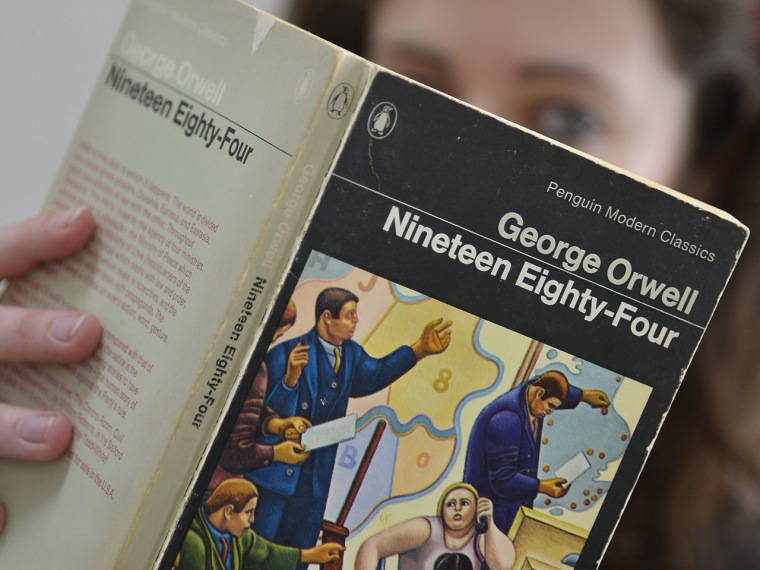 "Absolutely," Liz Keenan told TODAY.com via email. "The current coverage has translated in a surge in mentions and conversations about Orwell's classic providing new platforms of discovery to bring readers to the book."
While she acknowledged that the novel is often popular this time of year as students prepare for the upcoming school year, she called the current uptick in sales "dramatic" and noted the publisher is happy to have the book in the public conversation.
"It is exciting that Orwell's classic is being discovered by a new readership and rediscovered by readers, but not surprising," she said. "It is a perennial classic on the Plume perpetual bookshelf, and the interest and relevancy of it has never really waned since its original publication. Of course the themes and political and social issues explored in the book feel even more relevant. And the current news cycle, prophetic."