First the Cincinnati Bengals showed they had Devon Still's back while his 4-year-old daughter battles cancer, and now fans have shown their support by purchasing his jersey in record-setting fashion. 
Still was initially released by the team during the preseason and then re-signed to the practice squad so that he could retain his health benefits to pay for 100 percent of the treatment for his daughter, Leah. On Tuesday night, the Bengals elevated Still, a 2012 second-round draft pick out of Penn State, back to the 53-man roster. That came a day after the team announced on Monday night that it would be donating all of the proceeds from sales of Still's No. 75 jersey to the Cincinnati Children's Hospital to support the fight against pediatric cancer, resulting in an outpouring of support. 
"Personally I was hoping that I was able to sign back with the Bengals for a lot of reasons,'' Still told ESPN's SportsCenter. "One being that they stuck with me since June 2 when this all came out about my daughter. They've been very helpful with just talking to me, just being there for me when I needed somebody to talk to (while) being away from my daughter."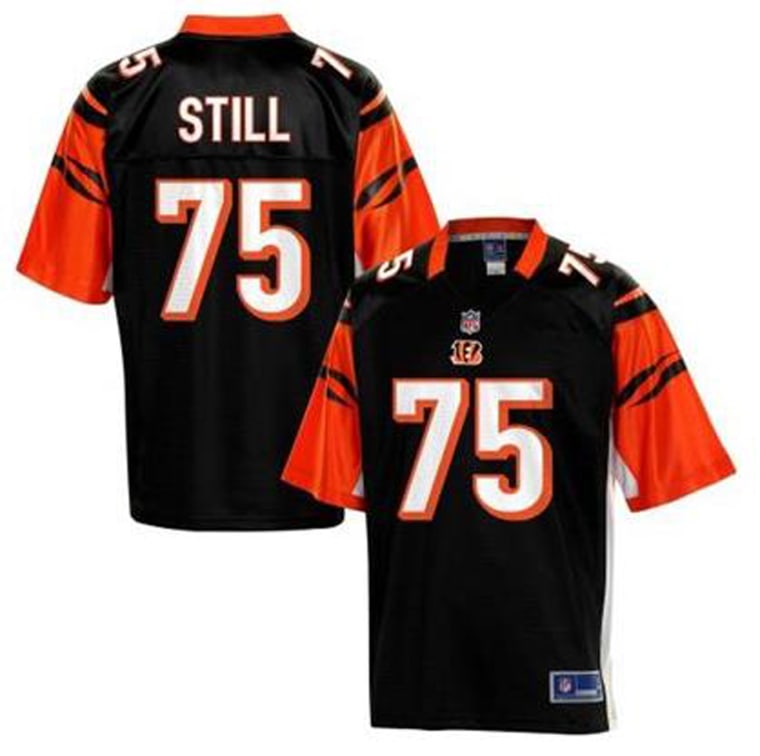 In the first 24 hours following the team's announcement, more than 100 of Still's jerseys were purchased at $100 each, setting a team record for the most jerseys sold in one day, Bengals director of sales and public affairs Jeff Berding told TODAY.com. A good-selling jersey day up to that point had been five or 10 jerseys of stars like wide receiver A.J. Green or quarterback Andy Dalton, according to Berding. That turned out to only be the beginning. 
"In the second 24 hours, we sold 10 times what we did in the first 24 hours and are now processing orders that will total over 1,000 Still jerseys in two days, with a large percentage of orders coming from out of state,'' Berding said. 
Sales then doubled overnight from Wednesday to Thursday, with more than 2,500 jerseys now sold, according to Berding. The team has received a large outpouring of support from non-Bengals fans who just want to donate, so it has added a link for those who don't want a jersey but want to help the cause. 
Follow TODAY.com writer Scott Stump on Twitter and Google+.