/ Source: TODAY contributor
Four student crew members and the captain of a capsized Texas A&M University sailboat are alive after 26 hours in the Gulf of Mexico without a life raft — thanks to a heroic coach who gave his life to save two students, as well as their own survival training."The students are here today because they did a great job. They were positive, they didn't panic. They kept working as a team and taking care of each other," Steve Conway, skipper of the "Cynthia Woods," told TODAY's Matt Lauer Monday from Galveston, Texas. "We pretty much did a textbook drill. We held onto each other very tightly, and we used our belts and our rigging to lash ourselves together."Conway and the four student sailors — Steven Guy, Travis Wright, Ross James Busby and Joseph Savana — had been rescued at 2 a.m. Sunday, 26 hours after their 38-foot sloop lost its keel, filled with water and capsized so rapidly they didn't even have time to get to the boat's inflatable life raft.A sixth crew member, safety officer Roger Stone, the assistant coach of the school's ocean-water sailing team, died after saving Guy and another student who were sleeping below decks when the boat began to take on water.
'Water! Water!'
For reasons that are still unknown, the boat's keel fell off shortly before midnight Friday, 10 hours after the Cynthia Woods set sail as one of 25 yachts competing in the biennial Regata de Amigos, a 700-mile race from Galveston, Texas, to Veracruz, Mexico. When the keel separated from the boat, it opened a hole in the hull and water began pouring in. Stone, 53, saw the water pouring in and yelled, "Water! Water!" rousing the two sleeping students.
Guy said Stone saved his life.
"I actually grabbed my life jacket because the boat hadn't gone completely over," Guy told Lauer. But the boat quickly rolled over onto its side.
"We had between 30 and 60 seconds between the time we noticed the boat was taking on water until the boat completely turned over," Busby told Lauer.
The boat first rolled over on its side. When it did, Guy said, he dropped his life jacket in the water and it inflated automatically. His only way out was the narrow companionway leading to the boat's cockpit, and Guy said he realized he wouldn't fit through the opening if he put the jacket on, so he left it behind.
"Roger gave me a shove up and I cleared the cockpit and surfaced next to Steve," Guy said.
Stone never made it out. His body was discovered on Sunday in the sunken hull of the ship.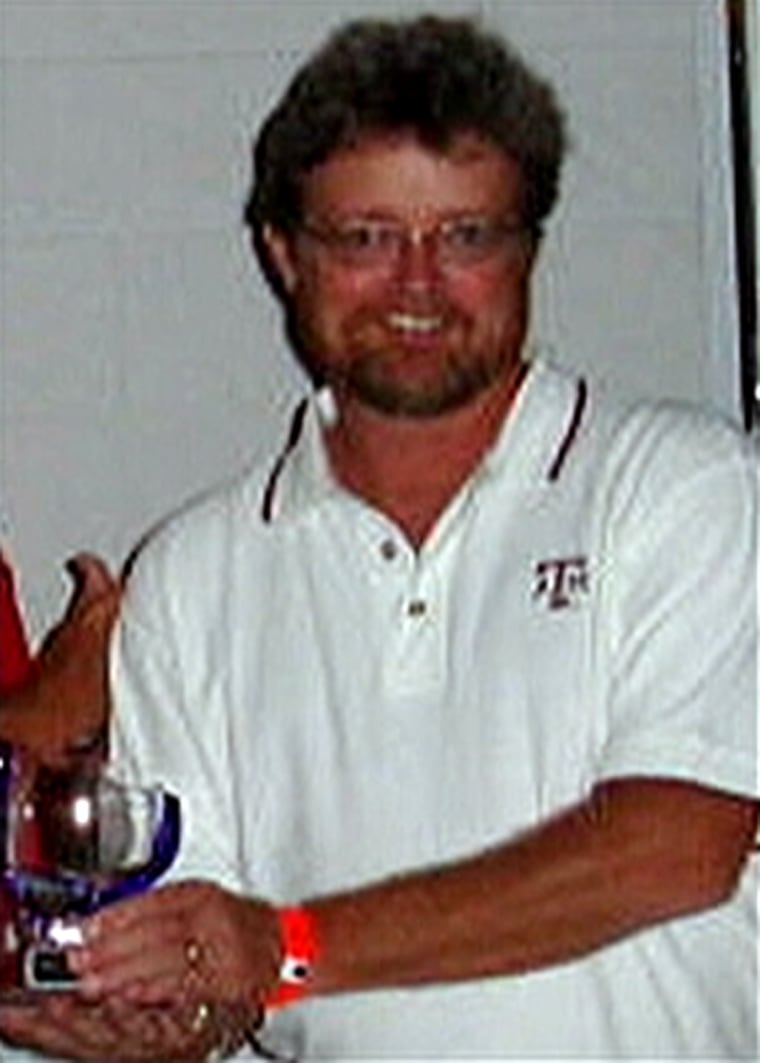 "He died doing what he loved, and he died doing his job," his widow, Linda Stone, told The Houston Chronicle. "My husband was a hero."
"Roger was a friend, a great sailor, a good coach and a true hero," Conway told Lauer. "Our hearts go out, our prayers go out to his family in their time of loss." Stone, who had been married to Linda for 18 years, left a 14-year-old son and 12-year-old daughter.
Couldn't call for help
The survivors had no way to signal for help. The Cynthia Woods carried two transponders that relayed its position back to land, and one showed that the boat's progress stopped at midnight. But no one was aware anything was seriously wrong until the boat didn't report in by radio as scheduled at 8 a.m. on Saturday.
A search was launched, and the U.S. Coast Guard located the wreckage around 5 p.m. Saturday. By then, the five survivors had drifted with the current in 6-foot seas far away from the boat.
Conway and the four students had four life jackets among them, so they shared the flotation devices, treaded water, and held tightly together in a circle. Busby credited Conway with keeping them from panic.
"Steve told us stories to keep us entertained and keep us focused and basically gave us all a positive outlook on everything," he said.
Day turned into night without rescue. Finally, at 2 a.m. Sunday, as they were drifting toward an oil platform they could see in the distance, they heard a helicopter overhead. Conway, a retired veteran of the Coast Guard, caught its attention by shining a flashlight.
When plucked from the water, they were sunburned and dehydrated, but otherwise unharmed.
The three survivors who appeared on TODAY had different reactions to their ordeal.
"I will most likely never sail offshore again," Guy said.
"I still love to sail, but I haven't quite made a decision yet if this is still something I want to do," said Busby.
Conway let his wife, Mary, speak for him.
"His life and love is the ocean. It always has been. I would very much like to see him go back out and enjoy it," she said. "Accidents happen. After 26 years in the Coast Guard, he knows that all too well. He also knows the pure joy of being out there in the air. Absolutely, I would encourage him to go back. He loves it."