Previously on the long-running drama we call Awards Season: Ben Affleck's "Argo" is an early Oscar best picture favorite until Steven Spielberg's "Lincoln" arrives. Then Affleck gets clotheslined by the directing branch of the Academy leaving "Lincoln" sitting pretty. Until "Argo" surges at the Golden Globes.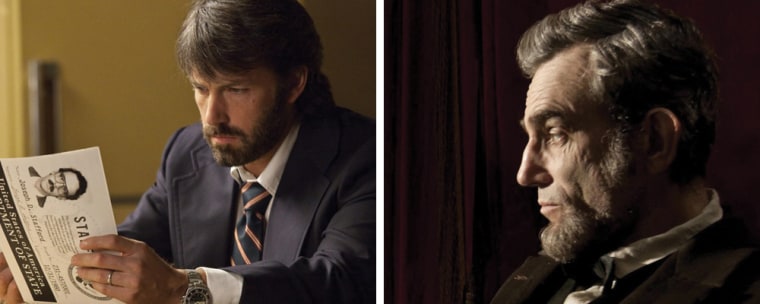 All this brings us to our new episode, also known as the Screen Actors Guild Awards.
SAG Award nominations: snubs and surprises
Here's a look at the storylines that could emerge from Sunday's show:
"Lincoln" reemerges as, well, "Lincoln": It wins the ensemble award, reminds that the Globes are just the Globes (a contest reflecting the views of exactly zero Oscar voters), and continues on its presidential way toward the best picture prize on Feb. 24. If you take stock in such things, this is is how oddsmakers and pundits think Sunday will go.
"Argo" gives "Lincoln" a lot to think about: On the heels of its Globes success, it wins the ensemble award, and demonstrates how deep the affection for the 1970s-vibing thriller runs among Affleck's fellow actors, or as they are more properly referred to this time of year: the largest voting branch of the Academy.
"Silver Linings Playbook" gives "Lincoln" and "Argo" a lot to think about: It wins the ensemble award (an ensemble, mind you, that the aforementioned acting branch of the Academy showered with four nominations), emerges as the new best picture candidate to beat, and reaffirms just how good Harvey Weinstein is at this sort of thing -- i.e., blindsiding Spielberg. (See: "Saving Private Ryan's" stunning 1998 best picture loss to "Shakespeare in Love.")
"Les Miserables" gives oddsmakers a lot to think about: It wins the ensemble award, reclaims its Christmastime mojo and likely perks up on the best picture leader board after falling out of a dead heat with "Lincoln."
"The Best Exotic Marigold Hotel" gives everyone a lot of to think about: If this no-shot best picture contender, which was not nominated for the Academy's top prize, wins the ensemble award, it will make an unpredictable awards season a real, live mystery.
More movie news: