/ Source: TODAY contributor
For Irina Shayk, the fifth time proved to be the charm. A regular in Sports Illustrated's annual swimsuit issue since 2007, the Russian stunner has moved to the cover of the magazine that's been heating up wintertime mailboxes since 1964.
Speaking to TODAY's Matt Lauer and Meredith Vieira Tuesday, the 25-year-old said that making the cover hadn't quite sunk in yet. "I'm still so surprised to be with you guys on the TODAY show," she said. "And to be on the cover of Sports Illustrated is a dream come true.
"We Russians, you know, we know all the secrets, but I didn't know I was landing on the cover of Sports Illustrated, and it was so surprising to me," she added. "I was in shock; I was crying."
The 25-year-old Shayk learned the big news when appearing on "The Late Show With David Letterman" Monday.
"There were 10 models there to do the Top 10 List, and nobody knows until the last minute who the cover will be," she told The Associated Press. "And then I saw it, and I couldn't believe it."
From Russia with love
Shayk now joins a select company of beauties to grace the iconic cover, a major career boost for such cover girls of yore as Christie Brinkley, Heidi Klum, Tyra Banks and Rebecca Romijn. She admitted she was taken aback when she learned she would be following in their footsteps in the sand — she did shoots for the magazine in Hawaii and the Philippines last year, but the magazine guards the identity of its cover girl until the last minute.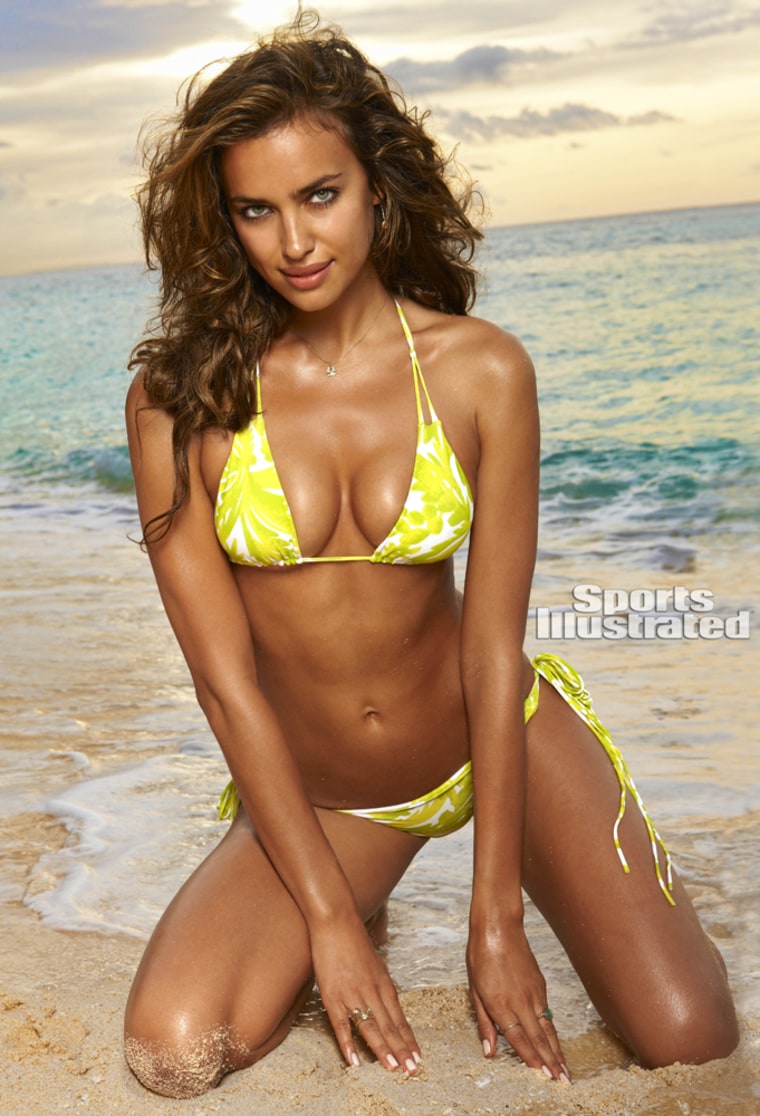 However, Shayk did say she remembered how much she loved the pink-and-yellow halter bikini she wore for the shoot that eventually landed her on the cover. "I never get to see the photos when we take them, but I remembered the swimsuit."
Shayk is a coal miner's daughter, hailing from a tiny Russian village called Yemanzhelinsk. "I'm from a very, very small city in the middle of nowhere; it's actually like one street, and everybody knows everyone," she told Lauer and Vieira.
But though her origins may be humble, she continues a recent tradition of S.I. swimsuit cover girls who have a celebrity connection. Bar Refaeli, the cover girl in 2009, is the off-again on-again girlfriend of actor Leonardo DiCaprio; last year's cover girl, Brooklyn Decker, is the wife of tennis star Andy Roddick, and Shayk has been linked to international soccer sensation Cristiano Ronaldo.
Shayk, however, was coy about the reputed relationship when Lauer brought it up on TODAY Tuesday. "You can ask, but I wouldn't respond," she said with a smile. "We Russians, we like to keep secrets — you know, KGB, Russian spy!"
Legend-ary modelStill, Shayk isn't the only current Sports Illustrated model with star power in her life — also appearing in this year's swimsuit issue is Chrissy Teigen, who's dated soul superstar John Legend for the past three years.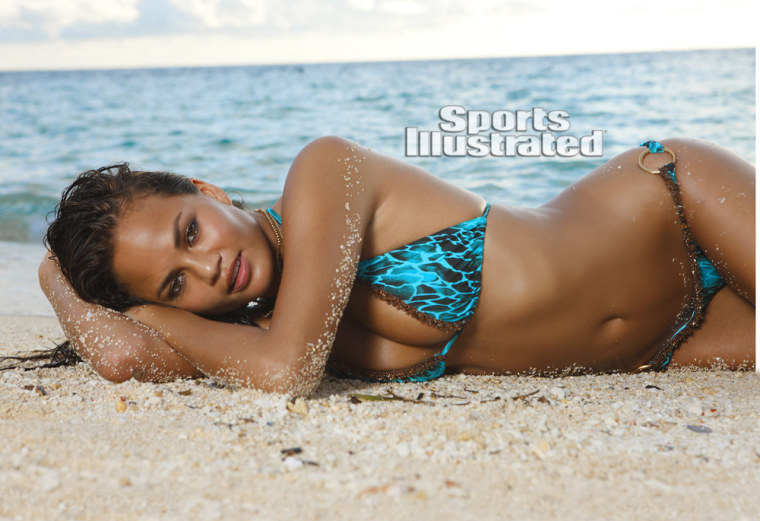 In fact, Teigen accompanied Legend to the Grammys Sunday night in Los Angeles, where he scooped up three awards. From there she headed straight to the airport to catch a red-eye flight to New York City to appear in a Tuesday segment on TODAY subsequent to Shayk's.
Speaking with TODAY's Al Roker and Natalie Morales, Teigen said she had only just had her first glimpse of the swimsuit issue. Meanwhile, Legend could be seen thumbing through the magazine himself on the sidelines of the set. When the camera turned to him, Roker asked Legend for his opinion. "Thumbs up!" he said.
This year's swimsuit issue marks Teigen's second appearance in Sports Illustrated; last year she was named S.I.'s swimsuit "Rookie of the Year." Teigen told Roker and Morales that she's enjoying her second go-round more than the first; she talked up the issue at the Super Bowl, and was heading to Las Vegas later Tuesday for more promotion.
"It's really fun this time," Teigen said. "Last year, of course, it was absolutely secret; when you're a rookie you can't say anything.
"It's a career changer for anybody," Teigen added. "For any model that is trying to get out there, it's a game changer."
That includes Shayk, of course. But while the Russian's career is sure to get a boost from the magazine cover, she told the Associated Press that there are other benefits to being a swimsuit model — like all the extras she gets to keep.
"When I'm going to vacation on my own — I get the swimsuits after the shoots — I have so many choices!" she said.
Shayk added that with her modeling, what you see is what you get — she doesn't diet in preparation for a photo shoot.
"I do work out five times a week, but I'm never dieting," she said. "I try to be healthy because to be happy and healthy on the inside shows on the outside."
But while she certainly looked happy on TODAY Tuesday, Shayk said she hasn't had time to wrap her head around whether the S.I. cover is going to springboard her to the kind of fame many of her predecessors have enjoyed. "I'm trying to enjoy my moment right now, because I'm still in shock," she said.
For more about this year's Sports Illustrated swimsuit issue, .