Russia launched attacks on multiple cities in Ukraine on Thursday, a decisive escalation after months of military buildup that stirred dire warnings from the United States and its allies.
The first blasts rang out just minutes after Russian President Vladimir Putin gave a televised speech Wednesday evening saying that he was authorizing military action. He warned other countries that if they tried to intervene they would face a Russian response "so severe that no foreign nations have ever experienced it before."
Ukrainian officials reported that cruise or ballistic missiles targeted military control centers in the Kyiv area. Air raid sirens rang out across the capital of Kyiv and explosions were seen and heard there and in other cities across the country, NBC News reporters on the ground said.
In a speech broadcast Thursday morning, Ukrainian President Volodymyr Zelenskyy called on Ukrainians to take up arms.
"We are being attacked from the south, north, east and from the air," he said. "We are giving away weapons and we will continue doing so to anyone who will ask for it in order to protect our sovereignty. Our future depends on each and every citizen."
In the first announcement of casualties, Ukraine's General Office of the National Police said that at least six people were killed and seven others wounded in a bombing in the southern Odessa region.
NBC News was not immediately able to confirm the government reports of casualties, battles and troop movements.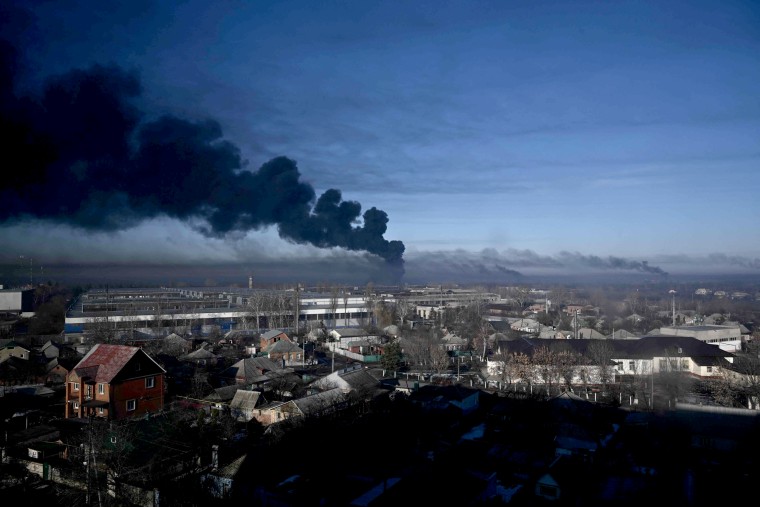 Zelenskyy also declared martial law across the country, closing schools, placing hospitals on high alert and telling everyone not involved in crucial infrastructure to stay at home.
Ukraine said that the Russian military was attacking with the help of Belarus, where Russian troops have been deployed for months. Surveillance video broadcast online by the Ukraine's Border Guard Service showed tanks and armored vehicles crossing into Ukraine from Belarus.
The Ukrainian military said that battles were taking place in the areas around Kharkiv in the east and Kherson in the south. 
The Ukrainian State Emergency Service said that two villages in the country's east had been captured by Russian forces. Meanwhile, the government reported "mass cyberattacks" on its websites.
Ukraine said its troops had returned fire, and it was clarifying information on injuries, its interior ministry said.
Putin said he was taking action to "demilitarize" Ukraine because the West had pushed too far in trying to draw the country into the NATO alliance and had threatened Russian-speakers in eastern Ukraine.
"I urge you to immediately lay down your weapons and go home," Putin said, speaking to Ukrainian soldiers during a special televised address. 
There is little evidence of Russia's claims of Ukrainian aggression, and the U.S. has been warning for months that Moscow was trying to manufacture a pretext to start a conflict.
Reporting from the capital, NBC News' Erin McLaughlin said that as dawn broke "people here are terrified. They have been staying up all night monitoring the situation and there has been an element of disbelief up until this point that the Russians would go after the capital."
Highways out of the city were gridlocked with cars as families attempted to flee, according to live television pictures and NBC News journalists in the city. They reported that there were long lines at ATMs, grocery stores and gas stations.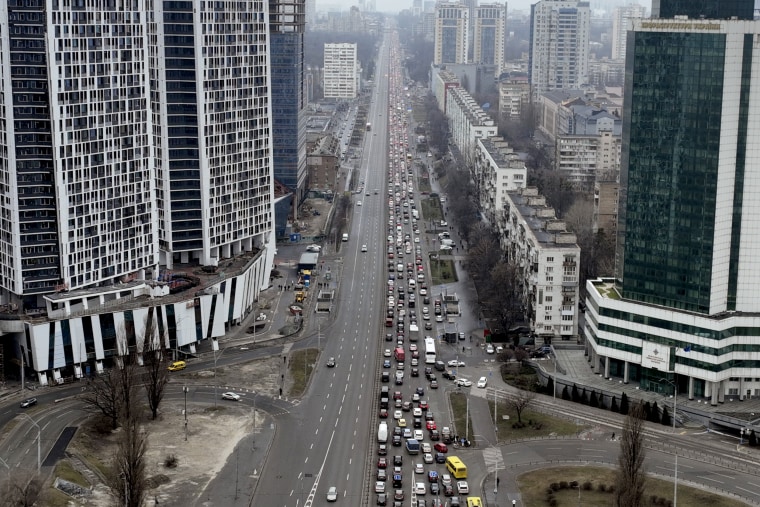 In the northeastern city of Kharkiv, less than 20 miles from the Russian border, NBC News foreign correspondent Matt Bradley reported that the mood had shifted dramatically as the sun rose from the relative calm of just a day before. As explosions rang out in the distance, some people were panic-buying from stores and trying to gain entry into other shops that weren't open yet, he said.
Ukrainian officials said the full invasion had begun. Foreign Minister Dmytro Kuleba said in a tweet that "the world can and must stop Putin."
At the United Nations, Ukrainian ambassador Sergiy Kyslytsya spoke directly to his Russian counterpart, saying, "There is no purgatory for war criminals. They go straight to hell."
The attacks drew swift rebuke from President Joe Biden, who vowed to take action.
"Russia alone is responsible for the death and destruction this attack will bring, and the United States and its allies and partners will respond in a united and decisive way," he said in a statement. "The world will hold Russia accountable." 
Russia has surrounded Ukraine on three sides with some 150,000 troops, in addition to air and naval forces. The buildup, allied with Moscow's bold security demands, prompted fears of an invasion and stark predictions for civilian and military casualties.
The move leaves Europe facing one of its gravest security crises since the Cold War, and Biden confronting perhaps his greatest foreign policy challenge since taking office. He previously said a Russian invasion would be "the most consequential thing that has happened in the world, in terms of war and peace, since World War II."
It comes after a tense standoff between Moscow, the U.S. and NATO over the Kremlin's desire to halt what it sees as its neighbors' unacceptable drift toward the West — a trend at the heart of Russian demands that formed the basis of weeks of diplomatic efforts to ward off a deadly new conflict. Putin has also repeatedly said he does not believe Ukraine has the historical right to exist as an independent country.
The fresh crisis comes eight years after Moscow annexed Ukraine's Crimean Peninsula and backed pro-Russian separatists in the country's east, a conflict that has remained unresolved and claimed an estimated 14,000 lives. 
In recent days an escalation in shelling there, followed by Russia recognizing the breakaway regions' independence and sending in troops, stoked fears that Putin was creating a pretext for an attack.
The Kremlin said Wednesday that the separatist leaders in eastern Ukraine had asked for military assistance to defend against what it has called Ukrainian "aggression." In reality there is little or no evidence Ukraine has been attacking the separatist regions.
Focus is also turning to Biden's next steps and the response of Western leaders who have already imposed sanctions on Moscow but vowed more severe consequences in the event of such an attack.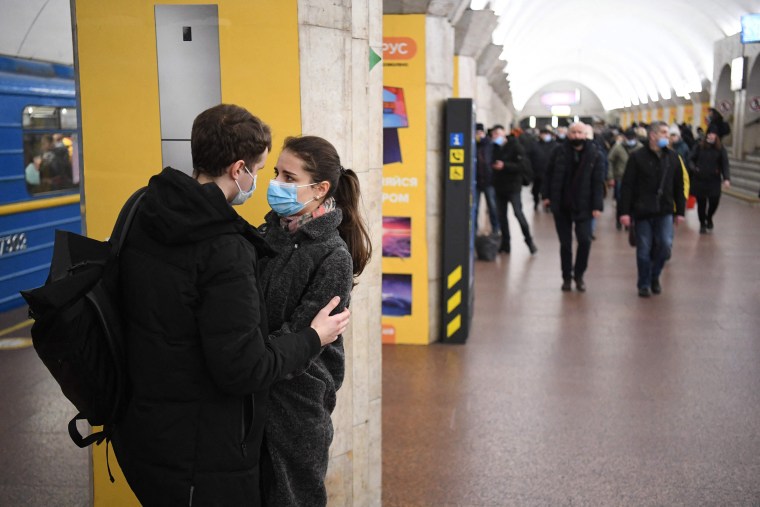 That response could take many forms, from personal sanctions against Putin to banning Russia from the SWIFT global payments system. Biden has ruled out sending U.S. troops to Ukraine, but pledged millions of dollars worth of military aid to Kyiv and deployed thousands of troops to Eastern Europe to bolster NATO allies.
Russia's move caps off years of tensions between the Kremlin and the West, sparked by Washington's accusations that Russia meddled in the 2016 presidential election, used chemical weapons to go after its enemies abroad, and intensified a crackdown on any form of dissent at home.
After seeking a pivot to Asia to counter the threat of China, the U.S. may now be forced to turn its focus back to Europe as Putin moves to restore Russia's influence over its neighbors, three decades after the collapse of the Soviet Union.
This story originally appeared on NBCNews.com.