On May 6, day of the coronation, the official palace website changed to reflect Queen Camilla's new title. Rather than queen consort, the former Duchess of Cornwall is now listed as queen.
After Queen Elizabeth II died in September 2022, Camilla, the wife of King Charles III, received the title of queen consort. During her platinum jubilee, the late queen expressed her "sincere wish" her daughter-in-law would take on that title.
There is a subtle difference between queen and queen consort.
As NBC royal commentator Daisy McAndrew explained to TODAY.com, a "queen consort is a woman who married a man who is king," and a "queen is a woman who is born to be queen and is head of state — not the wife of a monarch."
In the lead up to the coronation it became apparent that Camilla would be known colloquially as queen, not queen consort. Invitations for the coronation had the phrasing "queen."
Queen Camilla and King Charles III were married in a civil ceremony in 2005. However, they met long before that and their romance was often the topic of public scrutiny. Charles admitted to carrying out an extramarital relationship with Camilla while he was still married to Princess Diana, whom he divorced in 1996, a year before her death in 1997.
On May 6, the palace website changed to reflect her new title. The URL altered from "the-queen-consort" to "the-queen." Screenshots below show the change.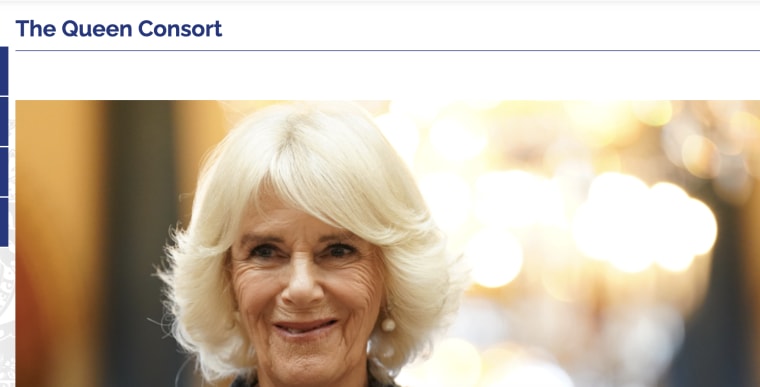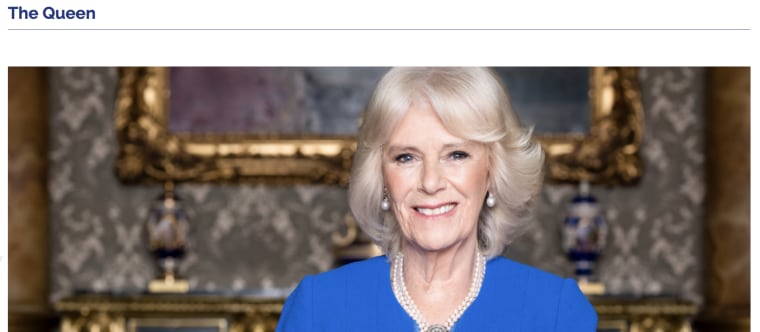 As the royal family continues to settle after the death of Queen Elizabeth, the palace website is monitored for changes. Recently, for example, the titles prince and princess for Prince Harry's children were added to the royal website.
May 6 served as Queen Camilla's coronation day as well. Like Charles, she was anointed and presented with a crown.
Camilla chose to wear Queen Mary's Crown, which marks the first time since the 18th century that a consort will use an existing crown for their coronation rather than commission a new one.
She wore the same 26-diamond necklace that Queen Elizabeth II and every queen since Queen Victoria wore at their coronation — fittingly called the coronation necklace. In doing so, she took the baton from a line of queens, and became one herself.