It was the moment royal watchers had been waiting for. Following their coronation ceremony, King Charles III and Camilla, the queen consort, gathered on the balcony of Buckingham Palace, wearing their crowns, to wave at the crowds.
Prince Harry, the son of Charles and Princess Diana, did not join him. Where was he?
A source familiar with the coronation planning told NBC News that Harry was not invited to join the royal family on the balcony following the coronation.
Buckingham Palace declined to comment.
As seen in photographs, Harry left Westminster Abbey in an SUV while members of the royal family processed to Buckingham Palace in a gold carriage.
Just as Harry arrived solo, he left solo.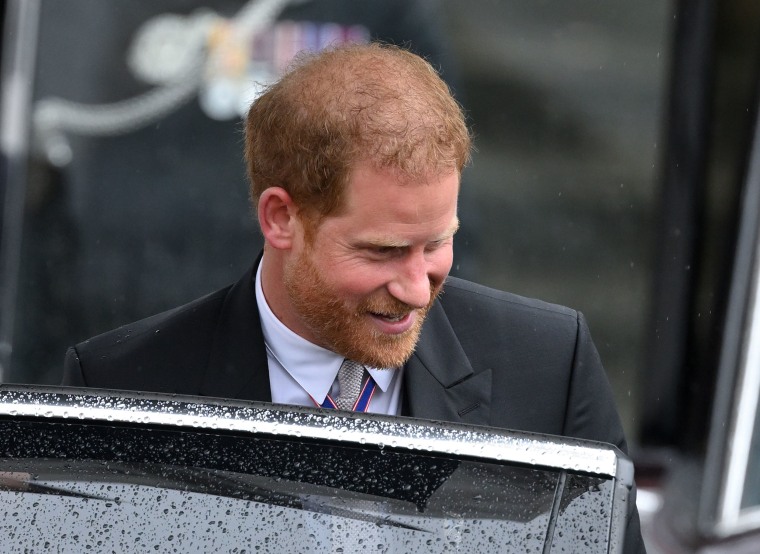 It appeared that only working royals were part of the traditional balcony moment. The newly minted king and queen were joined by William and Catherine, the Prince and Princess of Wales, and their three children, Prince George, Princess Charlotte and Prince Louis.
Charles and Camilla's eight pages of honor also stood on the balcony, including George, three of Camilla's grandchildren — Gus Lopes, Louis Lopes and Freddy Parker Bowles — and her great-nephew Arthur Elliot.
Along with Harry and Prince Andrew, Princesses Beatrice and Eugenie were not seen on the balcony, but did attend the coronation ceremony. Neither Harry nor Andrew are working members of the royal family.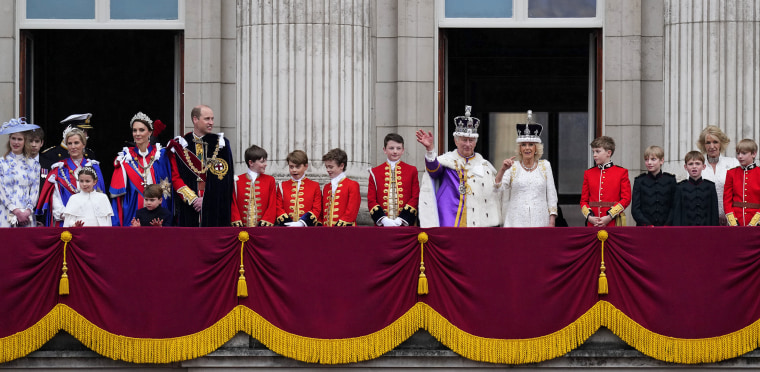 The prince was all smiles both while getting into the vehicle on the rainy Saturday in London, as well as while sitting in the third row of his father's coronation ceremony.
The coronation marked the first time Harry was publicly with the royal family since publishing his tell-all memoir "Spare," which had bombshell revelations about his upbringing and details about his fallout with his brother. Harry alleged his older brother Prince William physically attacked him during a fight about Meghan.
Since calling out the royal family both in "Spare" and in the press, Harry and Meghan's presence at the coronation was in question. In January, he told British network ITV that "the ball" was "in their court."
"There's a lot that can happen between now and then," he said at the time. "But, you know, the door is always open."
In addition to his father's coronation, May 6 also marks Prince Archie's 4th birthday. Harry's son is currently in California, with 1-year-old sister Princess Lilibet and his mom, the former Meghan Markle, who did not attend the coronation.
The planned absence of Meghan, the Duchess of Sussex, was announced April 12.