When Meghan Markle walks down the aisle toward Prince Harry, she will no doubt be carrying a sprig of myrtle in her bridal bouquet — a nod to a royal tradition that dates back centuries.
She also will probably have a backup bouquet somewhere nearby — another royal tradition but one rooted to the modern monarchy of Harry's grandmother, Queen Elizabeth.
With mere weeks until the May 19 royal wedding, anticipation continues to swell, along with a sense of nostalgia and numerous comparisons to matrimonial ceremonies of the past.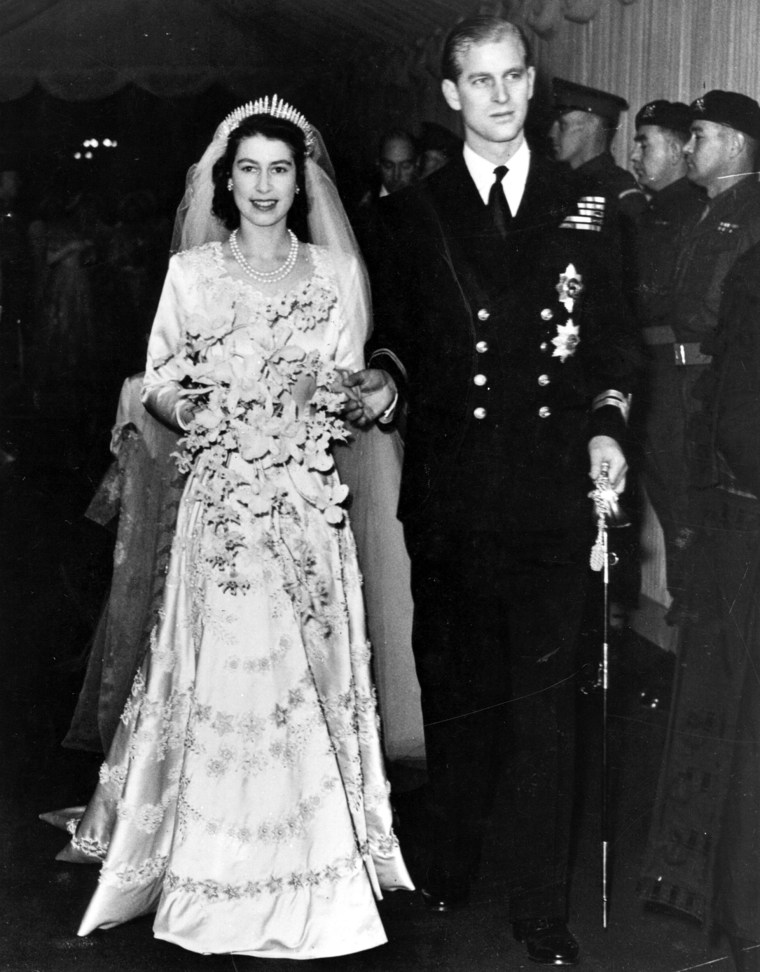 Here's a look down royal wedding memory lane and some trivia tidbits intended to hold royal watchers over until the next set of wedding bells ring outside St. George's Chapel in Windsor Castle.
Not everything goes according to plan
The diamond fringe tiara that then-Princess Elizabeth planned to wear at her November 1947 wedding to Philip Mountbatten snapped as it was being put on. Luckily, the royal jewelers summoned to repair the tiara ended up fixing it in time for the wedding.
But that wasn't the only problem Elizabeth faced that day: Her bridal bouquet went missing.
The floral arrangement disappeared sometime after the Westminster Abbey ceremony as the newlyweds headed to Buckingham Palace, leaving the future queen empty handed for the wedding photos.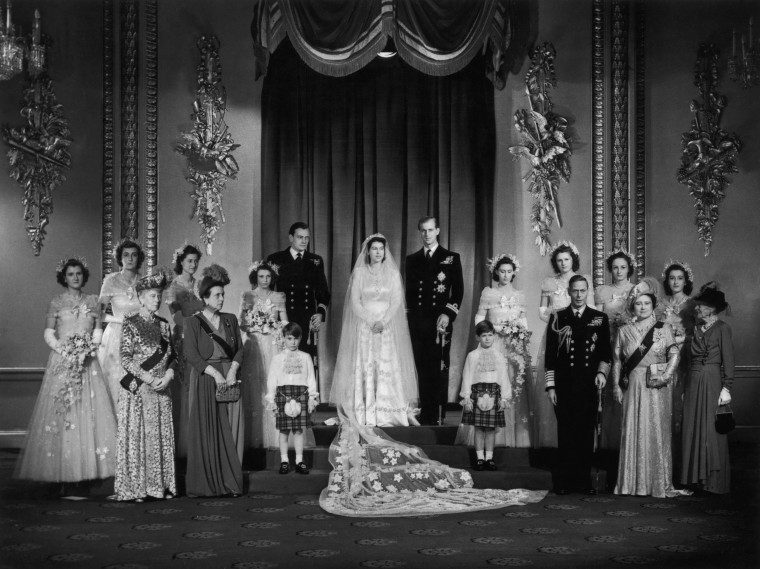 "For Princess Diana's wedding, we were asked to make two identical bouquets because someone at the Palace remembered what had happened in 1947," longtime royal florist David Longman said in a 2007 London Telegraph interview.
Longman, whose father was the florist for Elizabeth's wedding, said in a recent ITV special that the tradition of providing a backup bouquet will continue with Markle.
But even when royal wedding schedules run like clockwork, old-fashioned jitters can still throw things off.
At the July 1981 wedding of Harry's parents, Lady Diana Spencer recited the wrong name during her vows, despite getting help from the officiant who guided her through them. Instead of taking Charles Phillip Arthur George as her wedded husband, Diana declared her commitment to Philip Charles Arthur George.
But Prince Charles wasn't without blunder that day. When asked whether he would offer to share "all my worldly goods" with his bride, he proposed sharing "all thy goods" instead.
Keeping up with some traditions …
No matter how many bouquets Markle will have available to her on May 19, all of them will include a piece of myrtle as part of a tradition honored by every royal bride since Queen Victoria.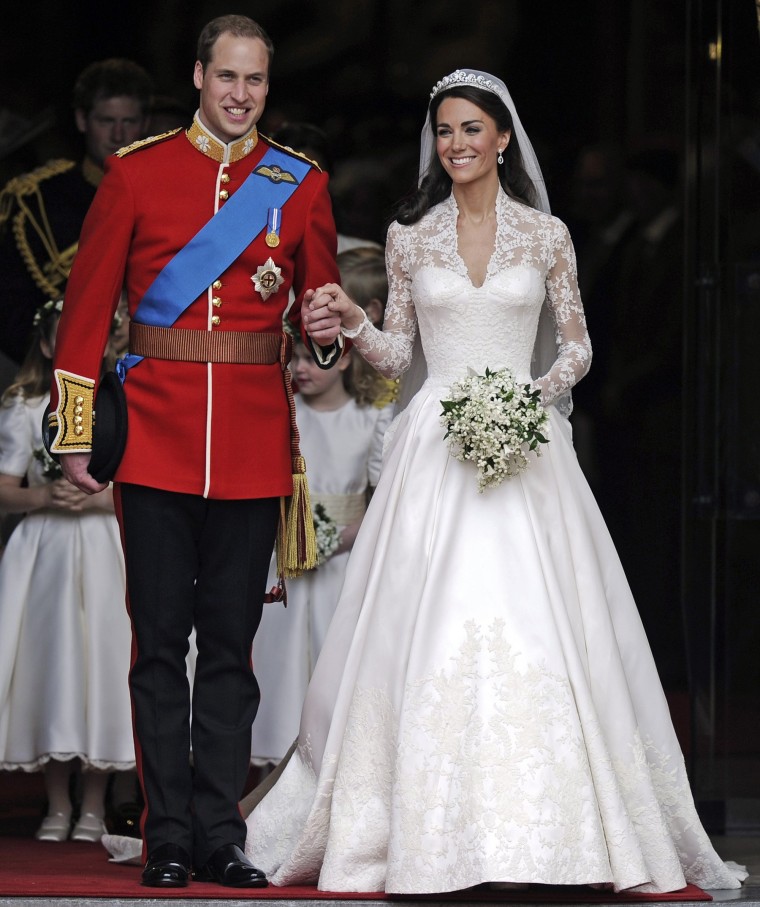 A myrtle plant given to Victoria by the grandmother of her husband, Prince Albert, was taken by the royal couple back to their home on Isle of Wight. Sprigs from that original plant have been a part of royal weddings ever since.
Myrtle, which represent love and marriage, has been used in the bouquets of Queen Elizabeth and Princess Diana. Duchess Kate also followed this practice when she walked down the aisle to marry William.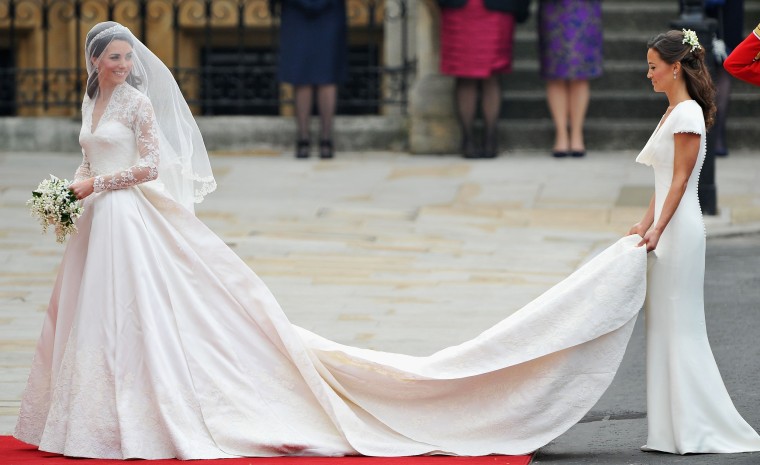 At that wedding, Kate followed another informal custom, one set by her late mother-in-law. She donned a wedding gown with an extensive train, famously kept in order by her sister Pippa Middleton.
The 9-foot skirt, however, didn't come close to the one on Diana's gown, which was trailed by 25-feet of lavishness.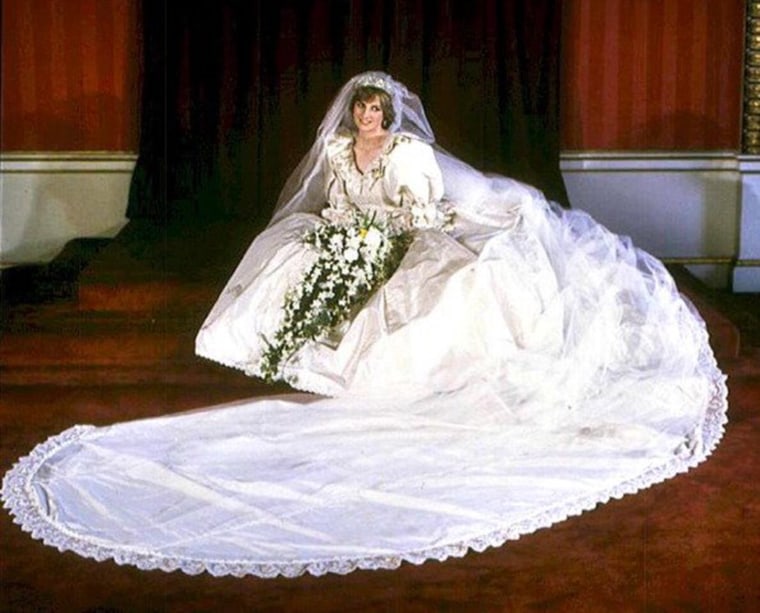 ... and breaking with others
Markle has repeatedly demonstrated her feminist streak as an adult, although she has fought for women's rights since she was 11 years old. In other words, don't expect her to recite wedding vows that include a promise to "obey" her husband.
She wouldn't be the first. Harry's mother Diana was the first to break with royal precedent when she eliminated the word "obey" from her 1981 wedding. But that decision didn't set a royal trend.
The two British royal brides who got married after her — Sarah Ferguson in 1986 and Sophie Rhys-Jones in 1999 — both elected to recite traditional church vows that had them promising to "obey" their groom.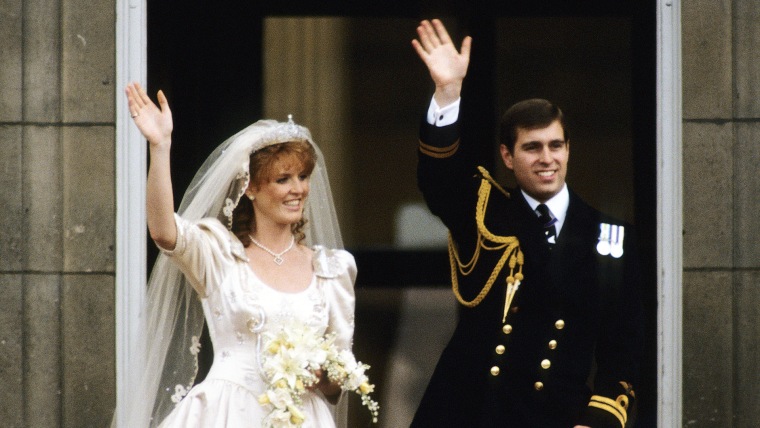 But Markle's future sister-in-law, Kate, the Duchess of Cambridge, went back to dropping the pledge of obedience from her vows when she married William.
Kensington Palace has yet to shed light on what Markle will say during her ceremony with Harry, but it's a safe bet she'll stick to basics such as "love, comfort and honor" and stay away from anything that includes the word "obey."
In addition to obedience, or lack thereof, another break from tradition Markle will definitely be taking is one that will literally take the cake.
The rings
When Harry proposed to Markle, he presented her with a custom-made engagement ring he designed using two diamonds from his mother's personal collection. The band was made of yellow gold.
Jewelers will probably have to match that shade if they end up using the royal supply of rose-tinged Welsh gold to fashion Markle's wedding ring.
The ritual dates back to Harry's great-grandmother, Elizabeth Bowes Lyon, whose 1923 wedding ring from the future King George VI was fashioned from a gift of Welsh gold. The same nugget was used to create wedding rings for other royal family members, including Queen Elizabeth, her daughter, the late Princess Margaret, and Princess Diana.
Kate, the Duchess of Cambridge, also has a wedding ring made of Welsh gold .
The registries
In April, Harry and Markle requested that wedding guests and well-wishers alike make charity donations in their honor instead of sending them presents.
The same request was made by Harry's brother, Prince William, as he approached his April 2011 wedding to Kate Middleton. The pair ended up raising $1.7 million for charity.
But not every British royal pair has shunned the notion of gift registry. Take William and Harry's parents, for example.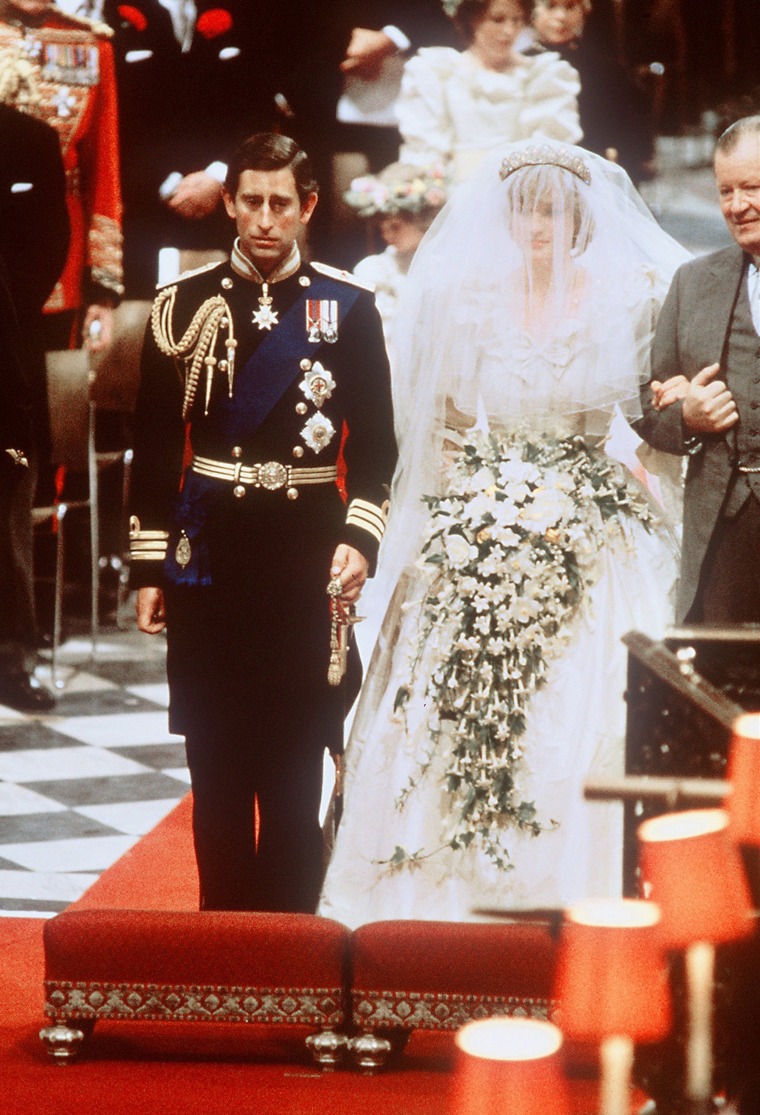 When Prince Charles and the former Lady Diana Spencer got engaged, the couple had a specific list of wedding wants, according to a 1981 New York Times article. Their registry, however, was kept secret at a fashionable specialty store in London's Chelsea neighborhood.
"Friends wishing to see the list must first be approved by Buckingham Palace," the Times reported.
Among the reported items on the couple's wish list were garden furniture, a wine cooler, ceramic candlesticks and a pair of breakfast-in-bed trays.
Queen Elizabeth did not have a gift registry but received more than 2,500 wedding gifts anyway from around the world, including a piece of cotton lace spun by Mahatma Gandhi of India.
The royal wedding beard
Will he or won't he? Harry will be the first royal in modern history to sport a beard if he decides to keep it for the wedding.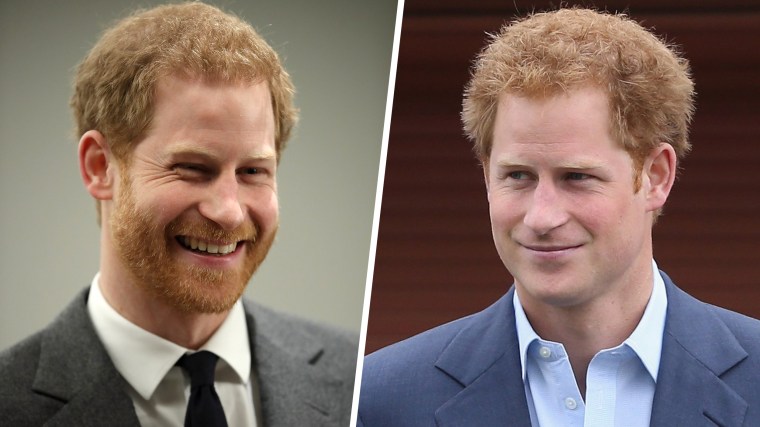 The prince first grew it out at the end of 2013 while undergoing the organization a 200-mile trek across the South Pole to raise awareness for the organization, Walking With the Wounded.
But he shaved it off shortly after his return. Queen Elizabeth reportedly expressed to him her disdain for facial hair, even though the rest of his family liked it. (His cousin, Zara Tindall, was rumored to have called him "Prince Hairy.")
The prince grew his ginger beard back for good in 2015.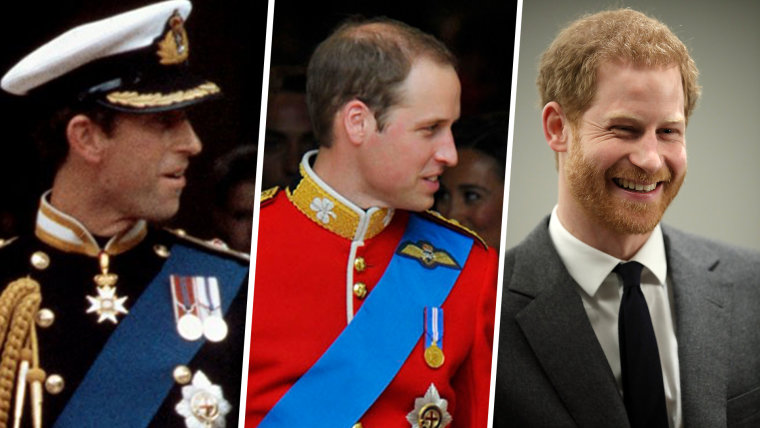 If Harry continues to sport his beard at his wedding, it would be a departure from the direct line. His brother, William, his father, Charles, and his grandfather, Philip, all were clean-shaven for their wedding ceremonies.
What new stories will emerge from the royal wedding on May 19? Wait and see!