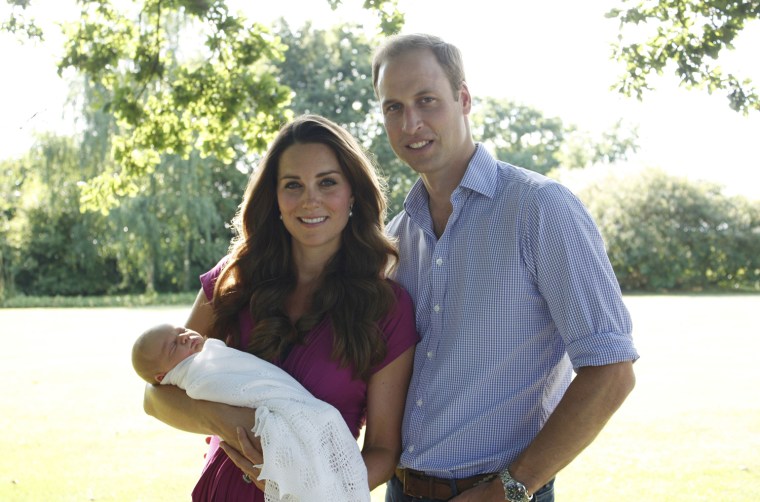 Like any proud parents of a newborn, the Duke and Duchess of Cambridge are showing off their baby pictures.

In the first family photos since he gave the world a tiny wave outside the hospital where he was born on July 22, Prince George is featured in a pair of images released by Kensington Palace on Monday. The intimate photos were taken by the child's grandfather, Michael Middleton, and show Prince William and Duchess Kate with their first child in early August in the garden of Kate's family home in Bucklebury, England. The happy family is also pictured with Tilly, a retriever and Middleton family pet, and Lupo, the couple's cocker spaniel.
Prince William: I changed baby George's first diaper
The new parents look relaxed as Kate beams in a chic purple dress while holding a sleeping George next to William on a sunny summer day. George is swaddled in a white baby blanket that resembles the one used when the young family left St. Mary's hospital after the birth.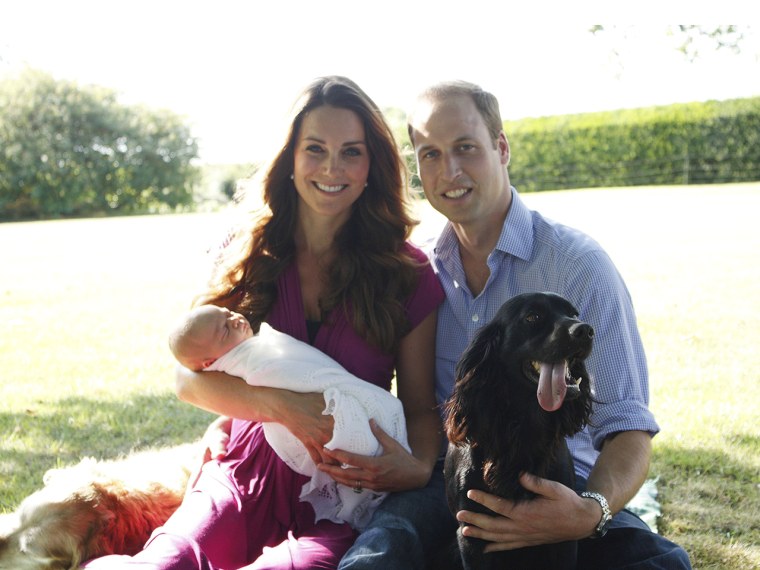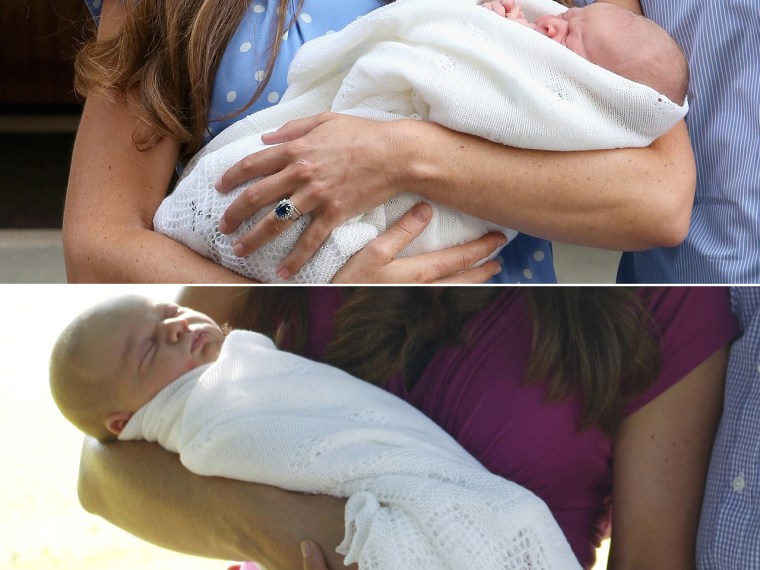 Prince George Alexander Louis of Cambridge made his initial appearance on the steps of St. Mary's hospital on July 23 after the couple exited the Lindo Wing, where Kate gave birth.

"He's got her looks thankfully,'' William joked to the screaming crowd outside the hospital.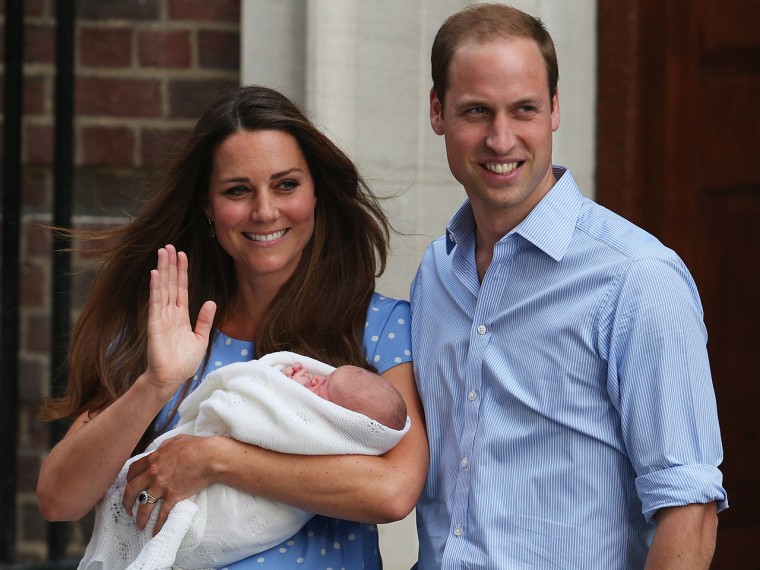 Prince William, 31, is now experiencing life as a first-time dad, complete with diaper changes and helping Lupo adapt to the palace's newest addition.
"I did the first nappy, a badge of honor," he said, using the British word for diaper, in an interview with CNN on Monday. "I had every midwife staring at me.
"For me, Catherine and now little George are my priorities — and Lupo," he said. "As a lot of people know who have got dogs and bringing a newborn back, they take a little bit of time to adapt, but he's been all right so far. He's been slobbering around the house a bit, so he's perfectly happy."
He also admitted that he worked to hone his skills at putting a baby into a car seat in advance of taking George home.
"I know there's been a lot of speculation about that," he told CNN. "I had to practice. I really did. I was terrified that it was going to fall off."
New dad Prince William: I'm on diaper duty
As far as George's personality, William revealed the baby is "a little bit of a rascal. He either reminds me of my brother or me when I was younger, I'm not sure, but he's doing very well at the moment."
Acclimating to dad duty has been William's primary focus, even when he slips away to play some polo like he did earlier this month.
"I was in baby mode out there, thinking about nappies, I wasn't really in the zone," he told reporters after the match. 
Readers, share your favorite newborn photo
Meanwhile, Kate, the Duchess of Cambridge, 31, will reportedly step out for her first public engagement since the birth of her son at a charity dinner next month.
The Duchess will join Prince William at a Sept. 12 awards dinner for a wildlife conservation organization patronized by her husband, according to an ITV report. Tusk Trust is a charity that protects endangered wildlife in Africa.
As Prince George makes his portrait debut, take a look at these photos of royal babies throughout history.