Proud papa Prince William has formally registered the birth of his son, Prince George, on a certificate that lists his and his wife Duchess Kate's occupations as "prince" and "princess."
William signed the birth registry on Friday, providing the full name for his son: His Royal Highness Prince George Alexander Louis of Cambridge.
The certificate lists William as the father and "Catherine Elizabeth" as mom. He also provided their occupations as Prince and Princess of the United Kingdom. 
When the couple married on April 29, 2011, Kate was formally given the title the Duchess of Cambridge — not princess — by Queen Elizabeth II, even though she was wedding a prince. She was also given the courtesy titles Countess of Strathearn and Baroness Carrickfergus. 
But the relationship between "princess" and "duchess" is not always clearly defined, according to Live Science. While a princess technically outranks a duchess, the two titles can overlap. For example, when Sarah Ferguson married Prince Andrew, she became a princess, but because Andrew was Duke of York as well as a prince, she also became Duchess of York.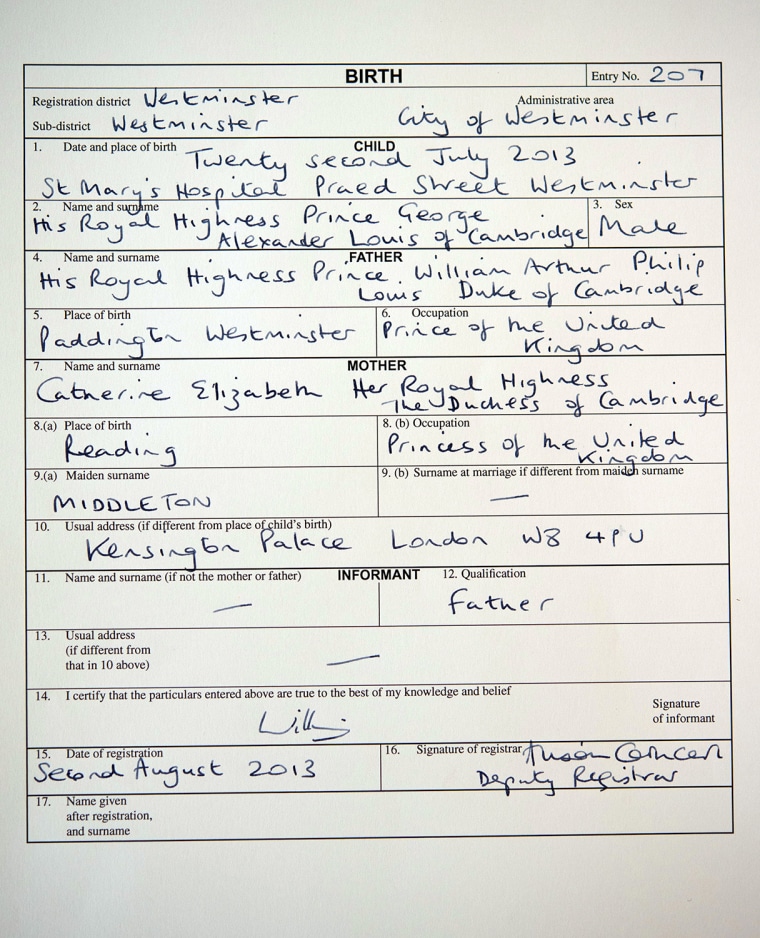 The Washington Post's Royal Watch blog addressed the topic at the time of the royal wedding, and concluded that Kate "can still technically be described as a princess even though that's not her title."
"Under British law, wives take the rank and status of their husbands on marriage," said Andrew Roberts, a British historian.
William signed the certificate with just his first name.
His son, Prince George, was born July 22, becoming third in line to the British throne behind his father and grandfather, Prince Charles. His residence was listed as Kensington Palace.