The widow of pitcher Roy Halladay recounted the couple's life story, from her husband's shaky start in the Major League to their quiet post-retirement life, in a blunt, humorous and heart-wrenching eulogy to his friends, family and teammates.
Brandy Hallady was the last to take the stage at her husband's memorial service Tuesday at Spectrum Field in Clearwater, Florida, the spring training home of the Philadelphia Phillies, one of two franchises Halladay played for during his 16-year career.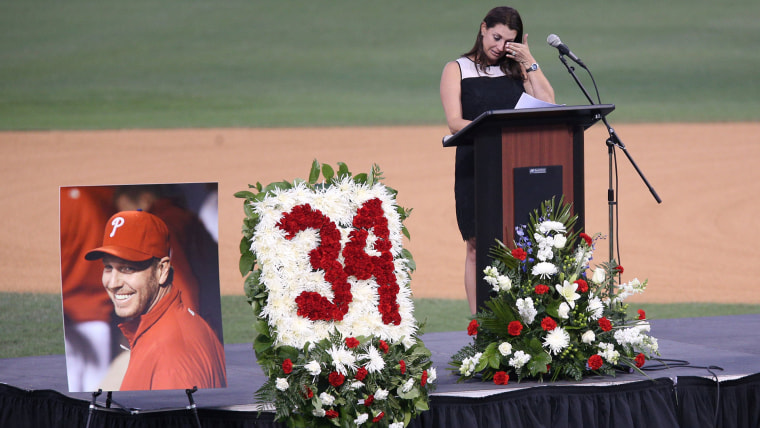 "All eyes are on me," Brandy Halladay told the crowd in her emotional tribute. "I'm really fortunate that I've gotten used to that feeling because I've been literally standing next to a man for 21 years that people could not take their eyes off of."
"He was awe-striking. He was beautiful, inside and out," she continued. "Without saying a word, he always seemed to have the right thing to say. And when he did speak, people listened."
The two-time Cy Young winner, who also played for the Toronto Blue Jays, died Nov. 7 when the private plane he was piloting crashed into the Gulf of Mexico off the coast of Pasco County, Florida. He was 40.
"I'm not sure how to be me without him," Brandy Halladay said. "I didn't know how big my heart was until I felt the amount of hurt in it with him gone."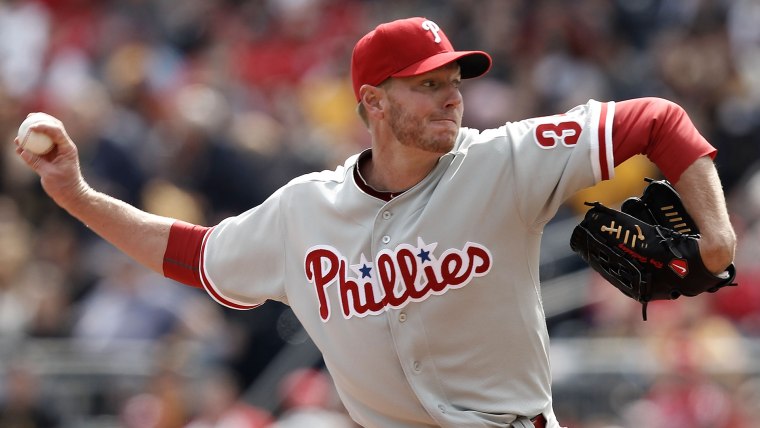 Brandy Halladay recounted how the couple met as teenagers in their Colorado hometown. They got married and eventually had two sons, Ryan and Braden, who sat in the front row of the service.
"We had a huge life. We had a beautiful family and we kept going," she said. "No matter what, we never stopped. It was just what we did. It's what you do in baseball and it's what we're going to keep doing."
Halladay said her sons have stepped up their efforts to care for her since their father's death.
"Slow down. I'm not done being a mom yet," she told them. "I'm so proud to be your mom. So let me be the crazy one. I do that well, too. I know you're hurting and I am too. It's unfair, it is. And we miss him. But we still have so much of him."
She noted "the million phone cords and iPads" around their home, along with "enough cigars to open our own store."
"Best of all, I still get to see him every day. Because I look at you. And if this is what it took for me to have you boys, then it's worth it," she said.
The memorial, streamed live on MLB.com, started with Halladay releasing a container of butterflies into the stadium. It concluded with her encouraging everyone to "hug your families a little tighter because you can."
"Take a minute each day to remember how truly blessed we are," she said. "Thank you all so much for everything. Not just today. But every minute that we've ever been able to share with you. I'm so grateful."