/ Source: TODAY contributor
Regardless of whether or not Cupid's arrow has struck your heart, it's still a great time to spread some love! From coffee cups that provide a bit of bling to clothing for two and roses that are really lingerie, Bobbie Thomas, TODAY Style editor and author of the Buzz column for In Touch Weekly, offers ideas for everyone on your list (including yourself)!
Love yourself first
It's the official day to celebrate love, so why not indulge yourself with a little treat? Beyonce taught us that "if he liked it then he should've put a ring on it." Now you can buy your own bling with a 2 Carat Coffee Cup from Fred and Friends ($14.99; perpetualkid.com).
For some serious self-induced care, opt for adult luxury brand Booty Parlor's bath and body treasures such as their Naughty Bubbles and Flirty Little Secret Body Butter ($10-$32; BootyParlor.com). 
In "Sex and the City: The Movie," Jennifer Hudson keeps her custom $6,800 H. Stern "LOVE"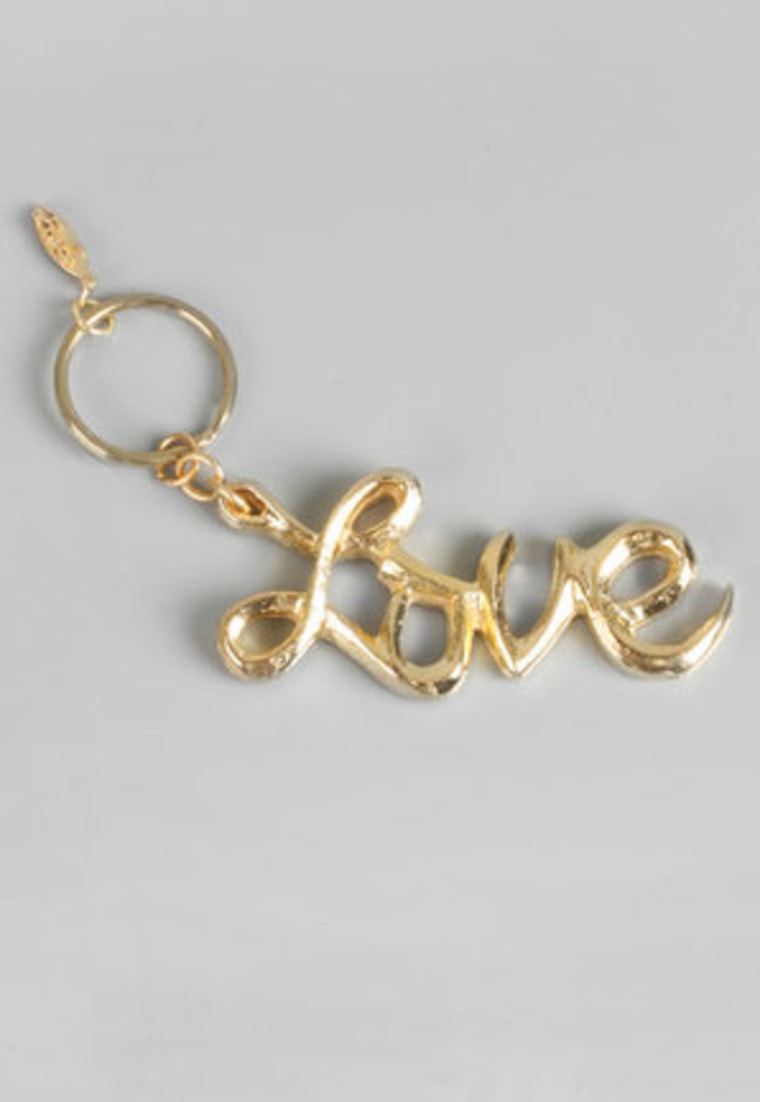 key chain close to her heart, and now you can too, for a fraction of the cost, thanks to this lust-worthy replica ($85; shopintuition.com). 
For those who haven't found their soul mate just yet, a chocolate boyfriend or girlfriend should serve as a very suitable substitute ($12 each; shopintuition.com). At least you'll know for sure that they'll always be sweet!
A "Life is Beautiful" calendar by Sarah Love Creations is bound to bring a bit of beauty into your life ($11; sarahlovecreations.com). With optimistic artwork and a positive message on every page, it's easy to feel inspired every day!
Finally, you can follow in Reese Witherspoon's footsteps and pick up a Mantra Candle from JK Soul Salts ($26; jksoulsalts.com). Positive affirmations written on each candle, like "I follow my heart wherever it may lead me," will start you off in the right direction (after all, it seems to be working for Reese)!
Something for your sweetheart There are plenty of gifts you can enjoy together this Valentine's Day! Max Brenner's Romantic Chocolate Dinner Set allows you to indulge in the ultimate aphrodisiac, even before you get to dessert ($50; maxbrenner.com). 
Nothing says "I love you" like breakfast in bed — especially if the food is shaped into a heart! Food molds such as the Heart Egg Molder and I Heart U Toast Stamper ($4.95-$5.95; baronbob.com) and the Love Cake Pan ($18.99; target.com) are a delicious way to tell your special someone how you feel! 
For couples who can't stand to be even a few inches apart, we've found fashion and accessories made for two! Smitten Mitten's Hand Hugger glove ($9.95-$11.95; handhugger.com), Fundies underwear ($10; shopinprivate.com) and Skymall's double umbrella ($20; skymall.com) take sharing to the extreme!
Finally, couples may be transported back to their pasts thanks to Spin Me, the brand's sexy "spin-off" of the teen party pastime Spin the Bottle. Unlike the classic kissing version, the advanced game features adventure strips that direct you to tease and please your partner in various ways. ($35; jimmyjane.com)
Don't forget friends and family
Show your circle of support how much you care with flowers that won't fade away, and photo-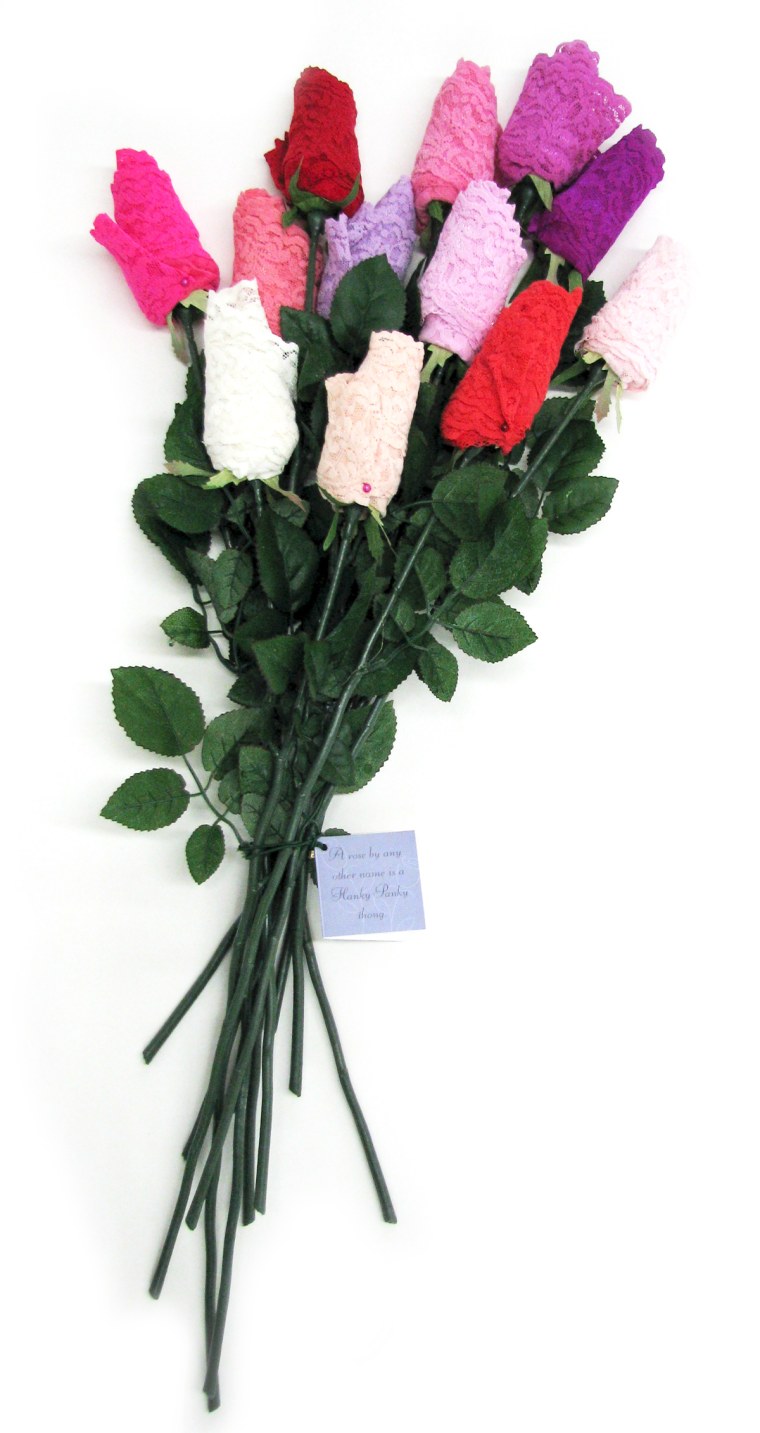 filled gifts! Special for Valentine's Day, Hanky Panky's cult-favorite thongs have been wrapped around rosebuds and made to look like a bouquet of flirty flowers ($250 per dozen, $130 per half dozen; barenecessities.com). 
For a fun take on a typically traditional gift, try an Instant Cup of Flowers, a Forever Bouquet or a Blooming Heart Plant ($4.95-$14.95; baronbob.com). 
Celebrate the people who complete your heart with customized puzzles of your friends and family ($25.95; jigsaw2order.com or $17; jigsawpuzzle.com). You can also make a chocolate puzzle mold in the shape of a heart and reward yourself by eating it once you've completed the puzzle ($25; jigsawpuzzle.com)! 
Long-distance Valentines will feel right at home thanks to CEIVA's digital photo frame. The frame comes with its own e-mail address, so friends and family can constantly send the latest pictures ($99; Ceiva.com). 
Last but not least, Chantilly Lane's Singing Dolls are sure to bring a smile to anyone's face ($30-$45; Linens et al, 310-652-7970). From Smellvin the Skunk's "Love Stinks" song to the Forget-Me-Not Duet from an elephant and a mouse, there's nothing like a little tune to brighten someone's day!