Former first lady Rosalynn Carter, who devoted much of her life to advocating for mental health and caregivers in the United States, died on Sunday, Nov. 19. She was 96.
The Carter Center confirmed in a statement that Rosalynn Carter died at her home in Plains, Georgia, with her family beside her. Rosalynn Carter was married to 39th President Jimmy Carter for 77 years. The former president is 99 years old.
"Rosalynn was my equal partner in everything I ever accomplished," President Carter said in a statement. "She gave me wise guidance and encouragement when I needed it. As long as Rosalynn was in the world, I always knew somebody loved and supported me."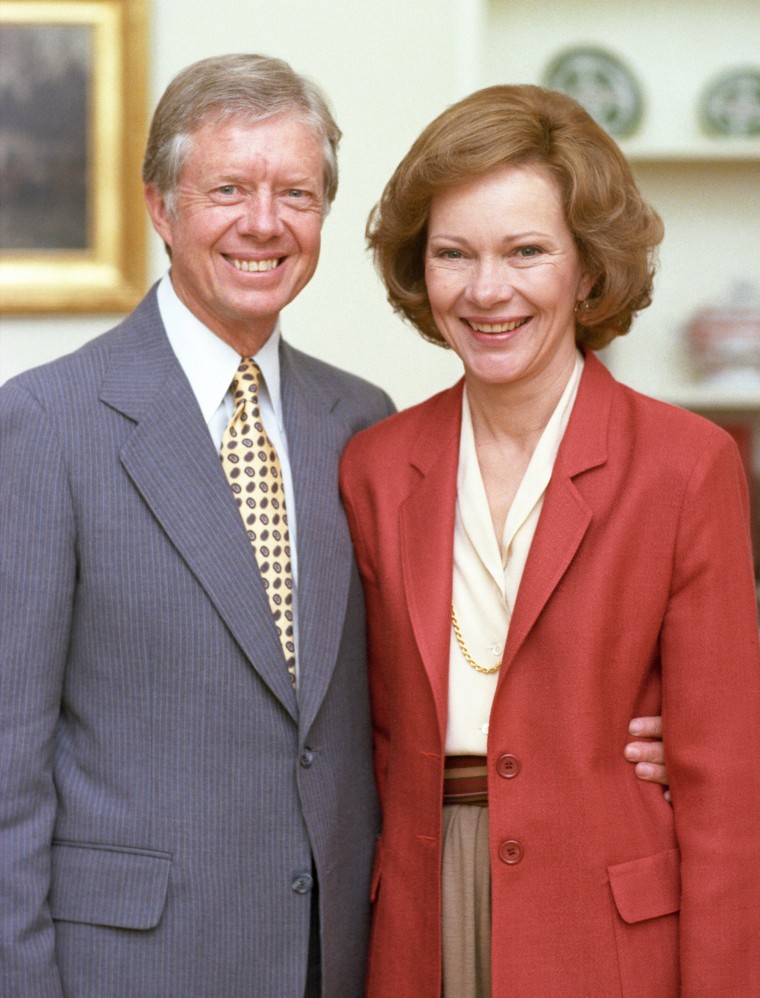 Chip Carter, the couple's 73-year-old son, said, "Besides being a loving mother and extraordinary First Lady, my mother was a great humanitarian in her own right. Her life of service and compassion was an example for all Americans."
He added, "She will be sorely missed not only by our family but by the many people who have better mental health care and access to resources for caregiving today."
The news of Rosalynn Carter's death comes two days after NBC News reported that she had entered hospice care at her home. Her family also shared earlier this year that the former first lady had dementia.
Jimmy Carter is currently receiving hospice care at their home.
Eleanor Rosalynn Smith was born in Plains, Georgia, in 1927. The eldest daughter of a God-fearing family that lived on a humble farm, she was encouraged to pursue an education. Carter's father, Wilburn Edgar Smith, owned an auto repair shop and was also a bus driver. Her mother, Allie M. Smith, worked as a teacher and became a dressmaker following Smith's death. At the time, the future first lady was just 13 years old.
In 1984, Carter published her autobiography "First Lady from Plains" and wrote about having grown up three miles away from her future husband. Carter also reflected on the impacts of growing up in the segregated South, an issue that would inspire the couple's politics and interest well into their years in the White House.
Well before they would become a political team, Carter and Jimmy were children of two separate families that were also particularly close. In addition to being childhood best friends with Jimmy's younger sister, Ruth Carter Stapleton, the late first lady had a younger sister, Lillian Allethea Smith Wall, who was partly named after the Carter family's matriarch Lillian Gordy Carter.
In "First Lady from Plains," Carter described 1944 as "the year I fell in love with Jimmy's picture."
At the time, the future president was enrolled at the United States Naval Academy at Annapolis. She became infatuated with a photo that Ruth had pinned up on her bedroom wall.
"Plotting a fantasy romance with him became a great game between Ruth and me," she wrote.
In the summer of 1945, when Rosalynn Carter was 17 and her future husband was 20, the two were reunited thanks to the efforts of Ruth. While on school leave, Jimmy Carter invited her to see a movie with Ruth and her boyfriend at the time. Of the experience, Rosalynn Carter wrote in her autobiography, "I have no idea what movie we saw. My mind was somewhere else. After dreaming about him for so long, I was actually with him, and it couldn't have been more wonderful."
That Christmas, Rosalynn Carter turned down his proposal so that she could continue her education. In July 1946, after they both graduated from their prospective schools and she was 18, they wed.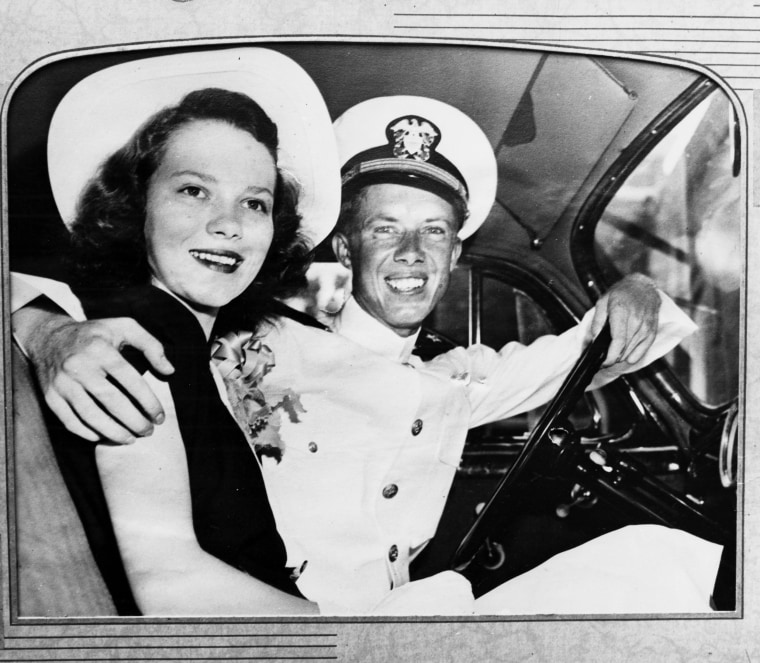 A year later, the Carters began their family. With Jimmy chasing a career in the Navy and Carter following closely behind him, each of their children would be born across the United States.
In Virginia in 1947, Carter welcomed their first child, a son named John William "Jack." Later, they had James Earl "Chip" III in 1950 in Hawaii. Donnel Jeffrey "Jeff" was born in Connecticut in 1952. Finally — following the death of Jimmy's father — the couple returned to Georgia, where they had a girl, Amy Lynn, born in 1967.
By 1970, Carter had helped secure her husband's career in politics. That year, he won the Georgia governorship as a Democrat, and Carter became First Lady of Georgia.
A shy woman, Carter wrote in her autobiography of her early struggle with being in the public eye. This proved to be a particular challenge she would work to overcome as she increasingly stepped in for her husband for public appearances.
"Suddenly, everyone was looking at me, and I was too proud to tell them I was too scared to speak," she recalled of her first time speaking at a rally on his behalf. "On the way to the rally, where I had to take my turn with all of them- all men, including Lester Maddox, who was running for lieutenant governor-- the pressure and nervousness got the better of me. As we reached the city limits, I said... 'Stop the car, I'm going to be sick.' And I was. It got much easier for me, though, and before the campaign was over, I was making brief speeches often."
In 1977, Jimmy Carter became the 39th President of the United States.
During her husband's presidency, it became clear that the little girl from the South who once lived in poverty could not be taken out of the woman who would run the White House.
Feminine and practical, Carter came to be described as a "steel magnolia" by the press during her time at 1600 Pennsylvania Avenue. To this, she replied in her autobiography as being "just as well."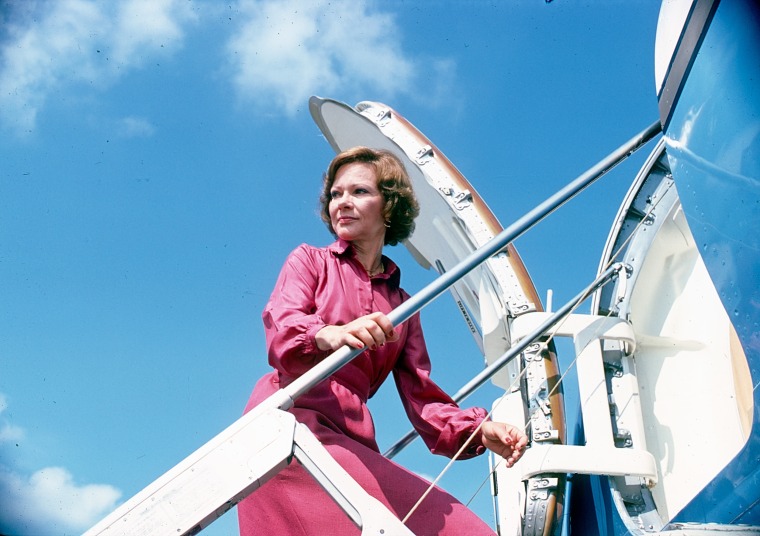 "Once something is printed, it repeats and repeats," she wrote. "I had the reputation of being frugal, for example, because someone wrote while Jimmy was governor that I was so stingy I would hire anyone to cut the grass at the Governor's Mansion, and I put cows on the lawn to graze instead. I hope I am frugal, but I never thought of putting cows on the lawn!"
As a proponent of the equal rights movement, Carter was known for making straightforward feminist statements.
Carter famously re-wore the same blue chiffon gown that she had first worn to her husband's 1971 inauguration ball as governor for his presidential inaugural ball.
In 1979, The New York Times reported that she addressed a group of professional women at an awards luncheon and spoke about sexism and how it affected her role as First Lady. She described the media as being "not very interested" in her focus on mental health, seniors and the underprivileged because they were viewed as not "sexy."
As part of her duties, Carter threw herself into social obligations and cabinet meetings. She set a new standard in 1978 when she became the first First Lady to set up an office in the East Wing of the White House. Continuing with her early focus as the First Lady of Georgia — as First Lady of the U.S., Carter made mental health her focus. She served as the honorary chair of the President's Commission on Mental Health.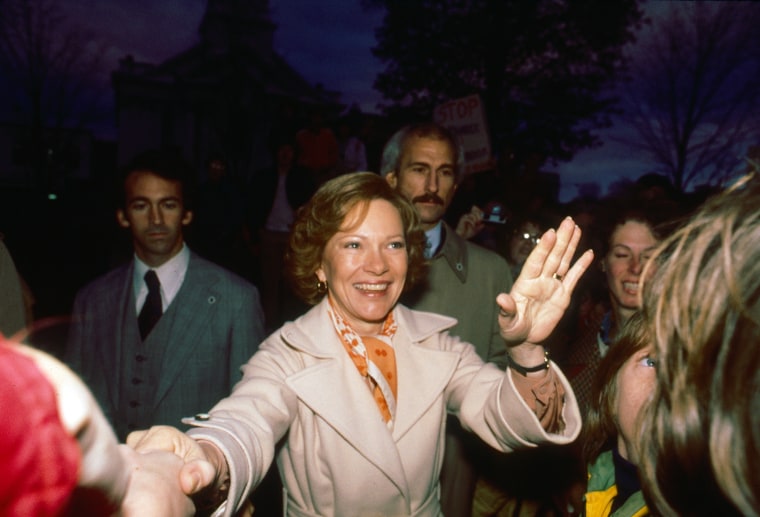 She campaigned for her husband's re-election for a second presidential term in the 1980 election. Ultimately, he lost to the Republican Party's Ronald Reagan.
Following the defeat, the Carters returned to Georgia once again. This time, they were in low spirits and in serious debt.
In an interview with the Washington Post, the president recalled how they returned to find his peanut business $1 million in debt after it had been held in a blind trust throughout his presidency.
To make money, the couple began to write books. Jimmy became the author of 30 published books. By 2010, Carter published, "Within Our Reach: Ending the Mental Health Crisis."
In 1982, Carter and her husband partnered with Emory University to found The Carter Center, a private, not-for-profit aiming to advance human rights and stop human suffering.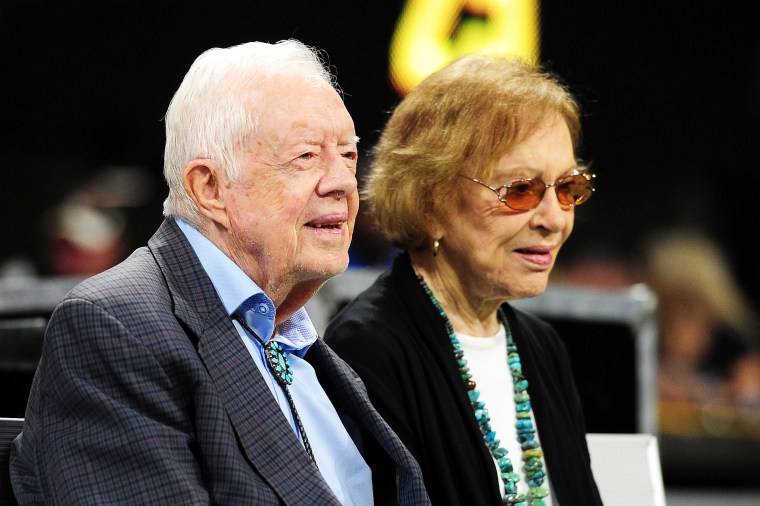 Like her days as a new bride, Carter remained at her husband's side after it was announced in 2023 that he would receive hospice care.
That same year, The Carter Center announced that the former first lady had been diagnosed with dementia. In a statement regarding her condition, the organization explained that "she continues to live happily at home with her husband, enjoying spring in Plains and visits with loved ones."
Rosalynn and Jimmy Carter's grandson, Jeremy, died in 2015 at the age of 28.
Rosalynn Carter is survived by their four children, Jack, Chip, Jeff and Amy, along with 11 grandchildren and 14 great-grandchildren.