As the Czech Republic's Katy Emmons was on the verge of winning the first gold medal of the 2008 Olympic Games on Saturday, there was at least one person in the venue more nervous than she — her husband and fellow Olympic shooter, American Matt Emmons.
"Whenever you're watching the other one, you're always more nervous than the one shooting," Matt Emmons said.
Matt and Katy Emmons are living an Olympic fairy tale. They met in 2004 in Athens, where Katy won bronze and Matt not only won gold, but also made history … albeit not the kind he was hoping to make.
Matt entered the finals of the 50m rifle 3 position final with a huge lead, and essentially only needed to hit the target to win. But instead of securing his second gold of the games, he aimed at the wrong target, received a score of zero, and plummeted to eighth place.
Katy, who was watching the match, felt so bad for Matt that she approached him at a beer garden later that day to console him. The chemistry between the two was instant. They began dating, and the couple married in 2007.
Beijing is their first Olympics competing as husband and wife.
"I think it's wonderful having my teammate, my wife, with me every day, and that's perfect," Matt said. "But it would be less stress sometimes, because you're worried about the other one when they're competing. So instead of just worrying about yourself, now there's another person."
Matt was nervous but confident as he watched Katy in the first event of these Beijing Games.
"I knew she was prepared," Matt said. "I knew she could do it."
Her surprising win
Katy's victory may not have been a surprise to Matt, but it was somewhat surprising to others. The 10-meter air rifle was chosen as the first event of the games because Chinese officials expected shooter Du Li, the defending champion, to win easily, thus capturing the first gold medal for the host country. Li finished a disappointing fifth.
"I feel bad for [Li]," Katy said. "They pretty much put the pressure on her that if she does not win, she will disappoint the people. I mean, if someone tells you that, I think I would be done. It's just a lot. She has all my respect."
Instead of China, it was the Czech Republic celebrating the first gold medal of the Beijing Games, and the response was overwhelming, Katie said. On Saturday evening, she was lavished with gifts at the Czech House — an inscribed traditional Czech glass, two cakes and flowers — and toasted by her countrymen; she also received a plethora of congratulatory messages from home.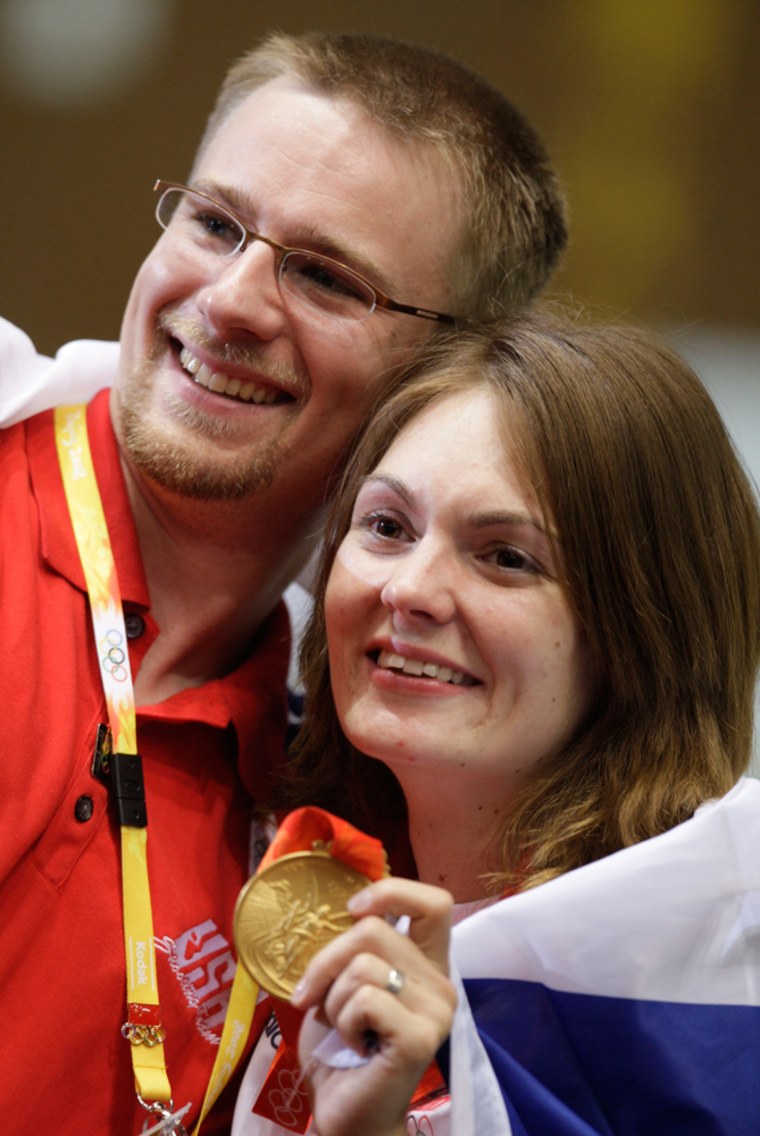 "I think they were so proud of me, I got such great feedback," Katy said. "I got so many messages and e-mails it was just great …. I could just feel that they were proud."
Katy has another chance to make her country — and her husband — proud when she competes in her second event on Aug. 14.
"It's so motivating to have Matt by my side because he's the same level athlete and we can talk about it at the same level," Katy said. "I'm sure it helps both of us."
Katy is hoping to help Matt remember to aim for the right target at his events on Aug. 15 and 17. Taking home four gold medals between them would certainly add a storied chapter to their Olympic romance, but for Katy and Matt, the happily-ever-after doesn't depend on hardware. They are going to try to add a little Olympian to their family.
"We're hoping to start after the games. We're hoping to start soon. That's something that's very important to us," Matt said. "Family is much more important to us than sports, so we're looking forward to it."