/ Source: The Associated Press
A prominent cigarette paper maker with drug-culture cachet is accusing a T-shirt company of stealing its distinctive style for a design celebrating President-elect Barack Obama's victory.
Bambu Sales Inc. — a 244-year-old firm that proudly notes its products' inclusion in such films as "Totally Baked: A Pot-u-mentary" and the "Cheech and Chong" series — filed a federal trademark-infringement lawsuit Friday against Love Fatigues LLC. The suit says Love Fatigues copied the curvy script and beige-and-white striped background used on Bambu's packages and its own T-shirts.
Love Fatigues' shirts say "Obama" in Bambu-like type. Some feature a version of the Panama-hat-clad smoker found in some Bambu logos — but with Obama's face.
The design could "subject Bambu to criticism and scorn" if people take it to depict the future president smoking marijuana, the company wrote in a complaint filed in federal court in Manhattan.
Making matters worse, Bambu complained, Love Fatigues advertised its gear in a Bambu standby: High Times magazine.
Love Fatigues is "capitalizing on and profiting from Bambu's stellar reputation," the Westbury-based company complained.
But Love Fatigues owner and Obama supporter Seamus McGovern said the design is an artistic twist on a familiar symbol — not commercial copycatting.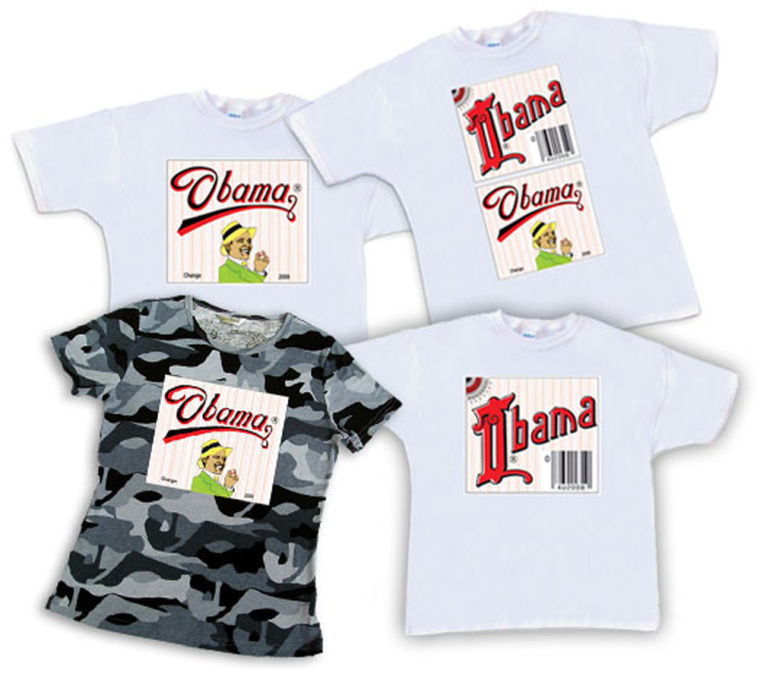 McGovern launched the Brooklyn-based company three years ago with camouflage designs formed out of embracing human figures. He said he has copyrighted several designs involving derivative artwork, or art that builds on an existing creation.
"I feel very confident I'm not in any copyright infringement" with the Bambu-related image, McGovern said in an interview. "They're coming out and just trying to stop a form of expression, the need for change."
He said the Obama shirts were inspired by the Bambu lettering — not by the Democrat's on-and-off cigarette smoking habit, which he has said he has tried to quit.
Bambu wants a judge to award it the T-shirts' profits, as well as unspecified damages. It also wants the T-shirts turned over to be destroyed.
Obama representatives did not immediately respond to an e-mail inquiry late Friday.