One of Rob Porter's ex-wives is defending another woman who was previously married to the former senior White House aide and also accused him of abuse.
"Of course I believe her," a tearful Jennie Willoughby said Friday on TODAY, speaking of Colbie Holderness, the woman who was married to Porter before she was.
Porter recently resigned amid multiple domestic violence allegations. Willoughby said she was subjected to abusive behavior from the former White House staff secretary about a year into their four-year marriage.
"It was very strongly verbally and emotionally abusive," she said. "A lot of attacks on my character and intelligence. And things that I felt to be true about myself were systematically and repeatedly attacked so that it was an emotional breakdown."
Willoughby said Porter once pulled her out of the shower following a fight "to continue the rage." She said he let go of her once he saw how frightened she was.
Willoughby also obtained a temporary protective order against Porter while they were separated and he punched through the door of their home, she said, adding that she obtained the order on the advice of police at the time.
All of the abuse allegations arose while the FBI investigated Porter's background for his White House job. He was denied permanent security clearance although the reason why has not been given.
Holderness, Porter's first wife, also has alleged that he was abusive, producing a photo of herself with a black eye she said Porter gave her.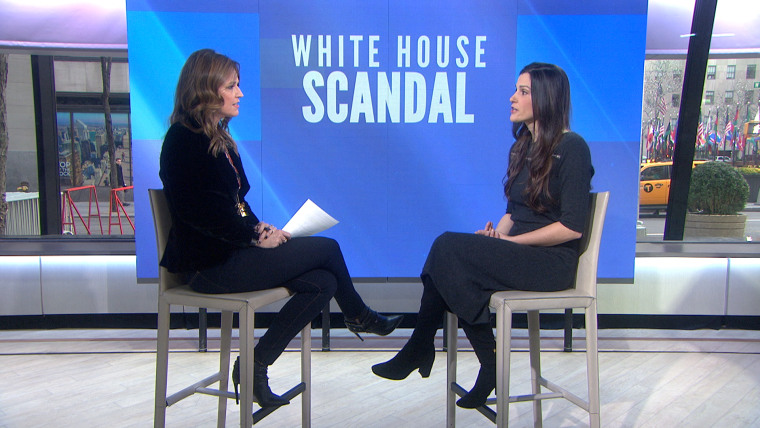 Porter resigned Wednesday amid the abuse charges, but in a statement he rejected what he called "these outrageous allegations" and described them as "vile claims" that were part of a "coordinated smear campaign."
But Willoughby said she never sought out the spotlight in which she now finds herself.
"There was no coordination of this," she said. "This is unexpected that I would have to be speaking about this, and mentioning his name and describing the details of my marriage is nothing I wanted."
"Anybody who has been in a toxic or abusive relationship recognizes that on some degree that you feel that it's your fault and you carry that shame with you," she said.
She added that she never coordinated any of her statements with Holderness, whom she only recently met.
"You don't really feel like you can talk to anybody about it," she said. "Or that anybody would understand, so to meet Colbie and to hear her story and to recognize that we both had that experience was a release. It was a recognition. We really were in this together."
Willoughby said she doesn't wish Porter any harm and hopes he can rehabilitate himself.
"I'm really hopeful that he can face the reality of these issues that he's dealing with," she said.
In the wake of losing his job and possibly his reputation, Willoughby said she wants Porter to eventually recover.
"I think he is good at his job. I liked that he was in that administration, but this is the consequence of his actions," she said.