It was a "Gronk"-ing to remember on TODAY Friday.
New England Patriots All-Pro tight end Rob Gronkowski, chugger of beers and lover of puppies and kittens, recapped his antics at the Patriots' Super Bowl parade, gave his take on the big game's controversial final play and charmed the TODAY family, notably diehard Patriots fan Dylan Dreyer and our puppy with a purpose, Wrangler.
"I've got to admit, Wrangler is amazing,'' Gronkowski said.
The NFL star also narrated his greatest hits from Wednesday's Super Bowl parade in Boston, from "shaking his booty" with some dance moves, to downing a can of beer tossed to him by a fan in the crowd.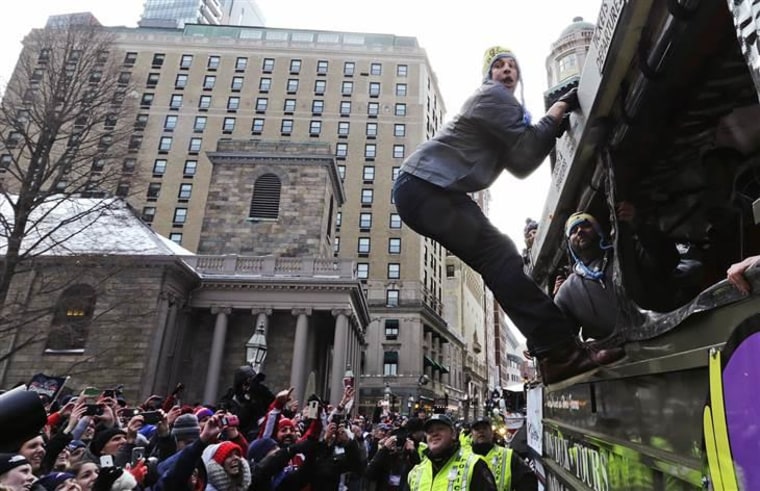 "If a fan throws you a beer, you have to chug it,'' he said.
Getting a head start on his training, he busted out some calisthenics during the parade in between beer chugging.
"Doing some push-ups, getting ready for next season,'' he said. "You just can't slack off.'' There were also dance moves.
Gronkowski also drew notice for wearing a light-blue "Gronk" winter hat that looked like something from the Pippi Longstocking collection.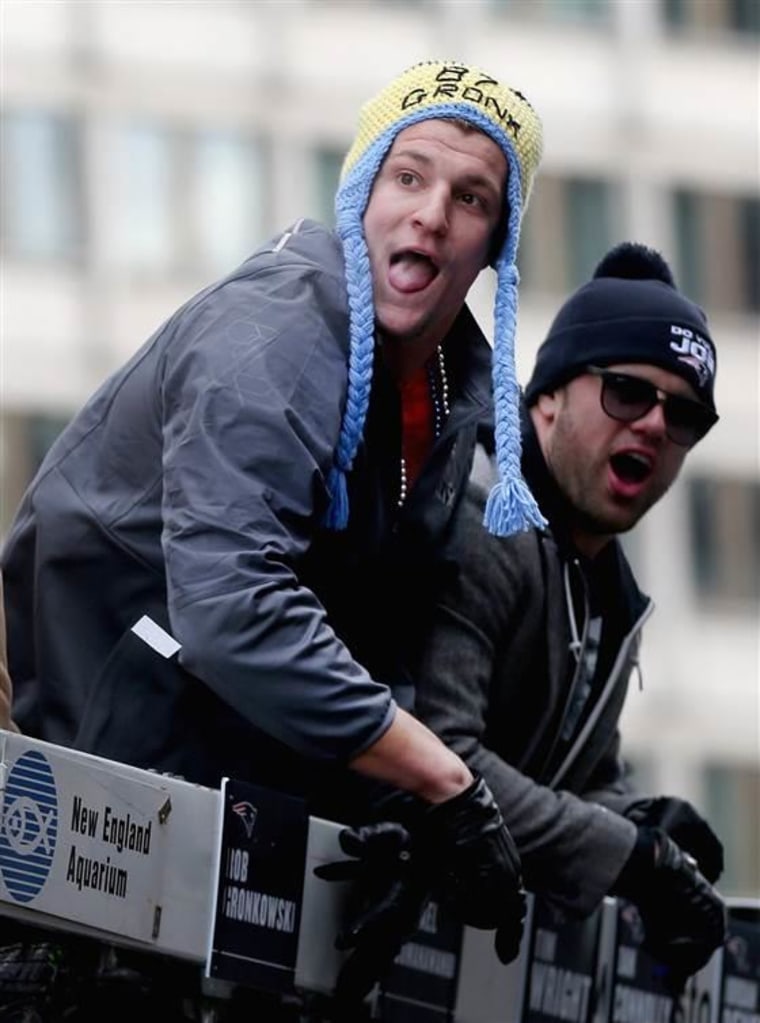 "Someone made it for myself and my friend,'' he said. "I saw it in my house just sitting there and I said, 'I'll wear this to the parade.'''
Gronkowski also touched on his softer side, including a photo shoot with a tiny kitten that was part of an ESPN the Magazine story in December.
"Kittens are great,'' he said. "I never really hung out with a kitten before until the past couple of weeks. I love puppies, too.''
Gronkowski wrapped up his memorable visit with his take on Seattle's final playcall of the Super Bowl, a pass down near the goal line that was intercepted by teammate Malcolm Butler to seal the win for New England in the final seconds.
"I loved it,'' he said. "I just think it's the game of football. You really can't say it was a bad playcall. It's just what happened at the moment. I believe Butler made a great play, and you've got to give him huge credit."
Follow TODAY.com writer Scott Stump on Twitterand Google+.