Last December, Delanie Strykul was riding along with her friend Vanessa Gladieux on Interstate 80 in Placer County, northern California, when the driver of a Ford Explorer sport utility truck repeatedly tailgated and cut them off.
"I flip her off," Strykul recounted. "And I say, 'Can you pay attention to the road?'"
In response, the Explorer pulled in front of the little Mazda that Gladieux was driving and came to a sudden stop. Its driver, 50-year-old Deirdre Orozco of Santa Clara, got out and approached the Mazda, claiming she was a sheriff and that the two young women were going to jail.
Gladieux responded by speeding away. Orozco got back in her truck and pursued the two women. Pulling in front of them, she forced the Mazda to a stop.
Once again, the two young women fled. Strykul called 911 in a panic as Orozco pursued them again and struck the Mazda from the side, trying to push it off the road.
Following the 911 dispatcher's instructions, the two women drove to where California Highway Patrol officers were waiting to help them. Orozco was arrested for assault with a deadly weapon, reckless driving and resisting arrest.
It turned out that five days earlier, she had been arrested for another hit-and-run incident in nearby Roseville, California. Orozco has pleaded not guilty to all charges related to both incidents.
Violent acts of road rage are only getting worse. In Las Vegas, Erich Nowsch, 19, was arrested in connection with the fatal Feb. 12 shooting of Tammy Meyers, a mother of four, in what Capt. Christopher Tomaino of the Las Vegas Police called a "road rage homicide." (Nowsch's lawyers have said the incident has been incorrectly labeled as road rage, but have not offered an alternative timeline of events.)
Nearly 1,500 people have been killed in crashes involving road rage and aggressive driving since 2008 according to the National Highway Traffic Safety Administration. Now police are cracking down.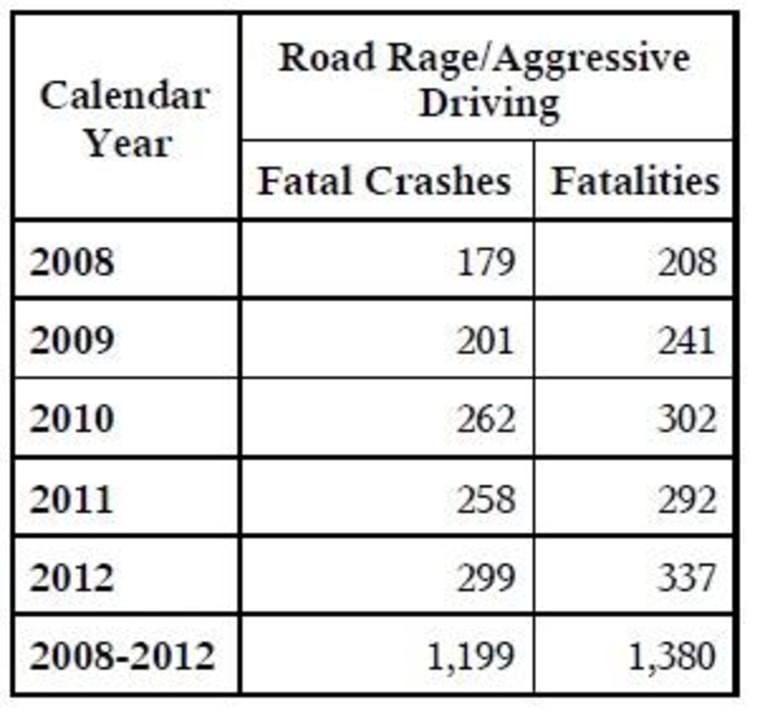 The Rossen Reports team rode along with Pottstown, Pennsylvania, police as they looked for aggressive drivers, seeking to stop road rage incidents before they occurred. They observed one driver tailgating, swerving between lanes and speeding, and pulled him over, slapping him with four violations.
Police say that if you ever encounter an aggressive driver, slow down and let them go. And if they do attack, police advise, call 911 and stay on the phone with the dispatcher until the aggressive driver leaves.