Rihanna, who is no stranger to going under the needle, showed off her latest (and pretty large) tattoo Sunday on Twitter, and shared that it was dedicated to her late grandmother.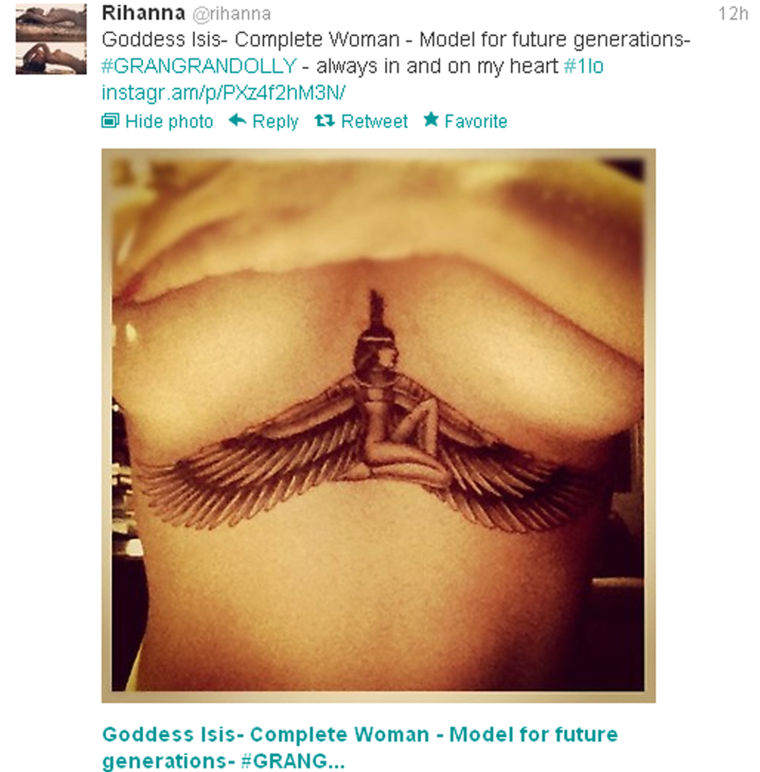 "Goddess Isis- Complete Woman - Model for future generations- #GRANGRANDOLLY - always in and on my heart #1love," she tweeted.
Ri-Ri's body art shows Isis, with her throne-shaped headdress, bent down on one knee with her wings spread out under the singer's breasts. Isis is the ancient Egyptian goddess of rebirth and is one of the most common images of empowered femininity.
Rihanna performs with Jay-Z and Coldplay at Paralymics Closing Ceremonies
Less than three months ago, Rihanna lost her grandmother, Ciara "Dolly" Brathwaite, to cancer. Afterward, the "We Found Love" singer went to Twitter, posting touching photos and tweets about "Gran Gran Dolly."
"Goodbye #grangranDOLLY get your beauty rest until I see you," she wrote.
Check out other girls with tattoos here!
What do you think of Rihanna's latest tattoo? Tell us on Facebook.
Related content: