/ Source: The Associated Press
Want a virtual bite of what you'll eat before ordering from the menu?
An Asian-themed restaurant in London's theater district is giving its customers just that, projecting images of dragon rolls, black cod, and other dishes directly onto diners' plates.
Ready to place your order? Just tap the touchpad — your sashimi will be with you shortly.
Entrepreneur Noel Hunwick says he came up with the idea for the restaurant, named Inamo, several years ago while eating at a busy pizza parlor with his friend and future business partner, Daniel Potter.
"We were desperately trying to attract a waiter's attention," Hunwick said. "We thought: Wouldn't it be great if we could press a button and get our food?"
The idea had legs. Hunwick, who spoke at a table across from Inamo's onyx-topped bar, explained how the system worked: A projector above each table beams down a virtual, interactive tablecloth, with icons for browsing the menu, ordering food, and checking up on the bill.
The plate stays blank until customers use a touchpad to open the menu and click on items, when the projector beams down images of, say, crispy pork belly or Thai beef salad.
Once a dish is chosen, the order's sent to the kitchen. A waiter will greet a customer before a meal, but the next time he or she makes an appearance it's to bring the food.
The concept is a high-tech, high-end take on picture menus long common to Asian restaurants. But Hunwick, a 29-year-old Oxford graduate, said the addition of a click-to-order menu has had several big benefits since this branch of Inamo opened six months ago.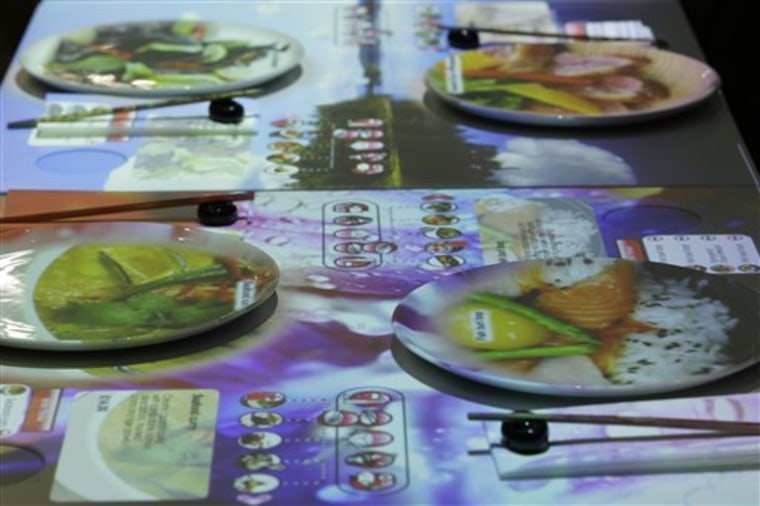 Having customers compose their own orders meant the restaurant could cut back on staff, while not having to rely on waiters running to and from the kitchen shaved about 15 minutes off the length of an average meal. And Hunwick said the system encouraged customers to make spur-of-the-moment orders.
"They can impulse buy," he said. "They don't have to attract a waiter's attention. They can order that drink NOW."
The whole restaurant experience is streamlined. Customers waiting for their food can even play games — like battleship — while those wrapping up their meals can order a taxi or browse the interactive subway map.
Head chef Sebastian Francis said there were benefits for those working in the kitchen too. For one, having the customer communicate directly with the cooks meant there'd be less in the way of bungled orders.
"It cuts out the middleman — and human error," he said.
So what happens to "Can I take your order?" If virtual menus and push-button ordering spreads (Hunwick says he's hoping to license the concept to restaurants in Europe, the Middle East and North America) will waiters become obsolete?
Charmaine Mok, a freelance food critic who dined at a branch of Inamo, in London's Soho neighborhood, said she found the experience "rather depressing after the initial novelty wore off."
"Sometimes I feel like you do want some human interaction — a bit of banter, a few questions about what's on the menu, what recommendations your server might have," she said in an email.
Jakub Kiss, Inamo's 27-year-old head waiter, argued that the system actually lets staff be more social. He took a break from his job navigating the restaurant's wood-and-onyx partitions to point out that ditching the pen and notepad gave waiters "free hands to actually give more true service to the guests."
Customers sharing lunch at Inamo on Monday seemed to agree.
"Really quick," was 48-year-old Mark Smith's verdict. "It's great to be able to see what you're ordering."
Smith recommended the restaurant for first dates, saying that the whole interactive experience made for a great conversation piece. That failing, the couple can play battleship while waiting for their food. And if the evening really goes awry, he joked, "you can order a cab from the table."