A 10-year-old Florida boy who had been reported missing for more than 14 hours was safely reunited with his family after a television reporter spotted him next door in a neighbor's yard looking tired, dirty and a bit worried about being in trouble for scaring everyone.
Paul Ezekial Fagan had been playing outside of the Tampa home he shares with his grandmother on Thursday afternoon when she noticed the boy had disappeared. Friends and family members searched for roughly four hours before Paul's grandmother called the Hillsborough County Sheriff's Office to report him missing.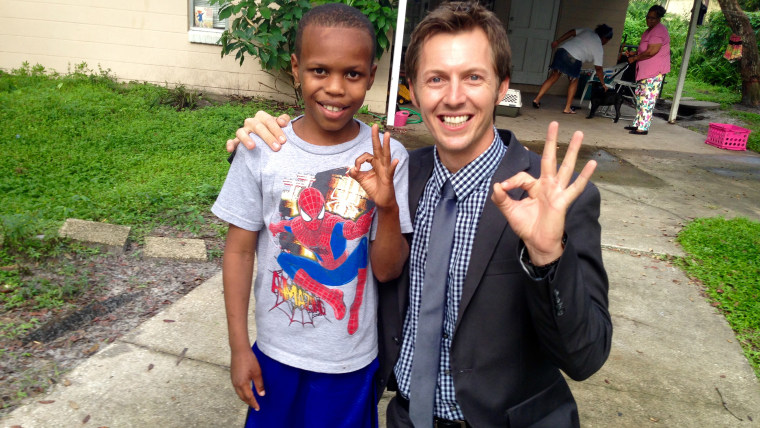 Authorities searched overnight with the help of sheriff's dogs and helicopters but were partly hampered in their efforts by a rainstorm that moved through the area. They held a news conference early the next morning to let media know about the missing boy.
Shortly afterward, around 7 a.m. Friday, WFTS-TV reporter Cameron Polom started walking through the child's neighborhood with his cameraman when he noticed a muddied and tired-looking young boy climbing out of some overgrown vegetation in a yard nearby.
"He's looking at me and I'm thinking, 'Could this possibly be this kid? Is this really happening?' It was a very surreal moment," he told TODAY.com on Monday.
Polom, 29, said he called out to the boy and asked for his name. He then picked the boy up over the fence and walked him to nearby sheriff's deputies.
"There was a sense of relief from everybody there, all the journalists, all the investigators. And seeing the family respond the way they did, it was awesome," he said.
Debbie Carter, a public information officer for the Hillsborough County Sheriff's Office, said the child apparently wandered around overnight. He not hurt and was "just fine" when he was found, she said. 
Polom said the boy didn't know how long he had been hiding next door, but "he did say he spent part of the night in that backyard taking what he called a cat nap." He also told Polom that he originally left home because he wanted some space away from his adoring but ever-present younger brother.
"When I saw him, he looked not only tired, but he looked scared he might be in trouble," said Polom, who spent some time talking with Paul after the boy reunited with his family. "He's 10 years old and he's a smart kid — he knew he was in a little bit of trouble for what he had done."
It's unclear why the boy decided to walk out at the moment Polom strolled by, but the reporter wonders if it had something to do with his unassuming appearance. He said Paul has described him to family members as "the skinny guy in a suit."
"Look, I'm not a guy who's walking around with a gun on my hip. I don't have a badge on my chest. Maybe he just wasn't afraid to come up to me," the reporter said.
But Polom doesn't give himself any credit himself for cracking the case.
"I was just in the right place at the right time. I wasn't out there all night looking for him like the deputies were," he said. "Those guys did all the work. I just happened to be there at the right time. "
Follow TODAY.com writer Eun Kyung Kim on Google+ or on Twitter.