New York Rep. Michael Grimm apologized Wednesday to a reporter he physically threatened after being asked about a federal investigation into his campaign finances. He also released a statement saying "I was wrong" for his behavior.
Local NY1 reporter Michael Scotto said Grimm called him to apologize for his behavior, explaining that it was "not me" the previous evening.
"He really kind of backtracked from what he said in that statement earlier this morning, in which he really didn't apologize at all," Scotto said during an interview on the network. 
The outburst was caught on camera Tuesday night when Scotto spoke to Grimm inside the Capitol just after President Obama delivered his State of the Union address.

Scotto said Grimm did not make any physical contact but the Republican congressman was definitely livid.
"He did not touch me, but he did seem angry. He seemed angrier than I have ever seen a politician talk to a reporter about a question that he or she didn't like," he said earlier Wednesday on MSNBC's "Morning Joe."
During the exchange, Grimm had been talking about the president's speech but then walked away from the interview after Scotto began to ask a question about the lawmaker's fund-raising problems. 
Seconds later, he returned while the camera was running and began making threats.

"I will break you in half. Like a boy," Grimm can be heard telling the reporter in the footage.
"Let me clear to you. You ever do that to me again, I'll throw you off this f----g balcony," he said.

"Why? I just wanted to ask you," Scotto replied, adding, "Why? It's a valid question."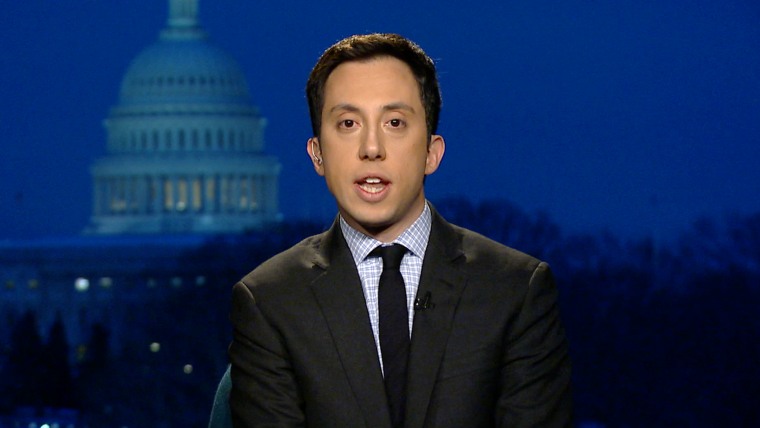 "No, no, you're not man enough. You're not man enough. I'll break you in half, like a boy," Grimm said.
Scotto told TODAY's Tamron Hall he was caught off guard by the exchange.
"I'll just say I was not expecting that response. I was expecting him to say, 'I was disappointed you asked that question' or something to that effect," he said during an Orange Room interview Wednesday. "Even when we were on camera, for him to maybe say, 'This is not something I want to talk about tonight.' Typically when I deal with congressional members here, it's on a very professional basis so that remark did take me by surprise."
The statement Grimm released was his second. He initially released one after the incident late Tuesday night, refusing to apologize. He recanted the next morning.

"I was wrong. I shouldn't have allowed my emotions to get the better of me and lose my cool," he said in the second statement. I have apologized to Michael Scotto, which he graciously accepted, and will be scheduling a lunch soon. In the weeks and months ahead I'll be working hard for my constituents on issues like flood insurance that is so desperately needed in my district post Sandy."
Scotto told MSNBC he has no intention to take any kind of legal action against Grimm.
"I'm going to leave it as is. I think the tape speaks for itself, so I'm just going to leave it the way it is," he said. 
The exchange attracted widespread response on social media from journalists, political wonks and the general public.

Hall noted the social media tidal wave, but wondered if the jokes would be as funny if the genders were reversed. 
"If this were a female reporter, would people have jokes behind it?" she asked in the Orange Room. "Or would they see it as a more serious situation?"
Grimm, 43, a Staten Island congressman and former Marine, is the subject of a federal investigation into his campaign finances. This month, the FBI arrested a former fundraiser, Diana Durand, on charges that she funneled more than $10,000 into his campaign. Grimm has denied any wrongdoing. 

In a statement released late Tuesday, Grimm refused to apologize.
"I was extremely annoyed because I was doing NY1 a favor by rushing to do their interview first in lieu of several other requests," he said. "The reporter knew that I was in a hurry and was only there to comment on the State of the Union, but insisted on taking a disrespectful and cheap shot at the end of the interview, because I did not have time to speak off-topic. I verbally took the reporter to task and told him off, because I expect a certain level of professionalism and respect, especially when I go out of my way to do that reporter a favor. I doubt that I am the first member of Congress to tell off a reporter, and I am sure I won't be the last."
However, Scotto said Grimm sounded sincere during their talk Wednesday morning. He said he was shocked by the ordeal because the two had a very professional relationship until the exchange, which is why he was "really kind of shocked at how aggressively he went after me."
Follow Eun Kyung Kim on Twitter @eunkim