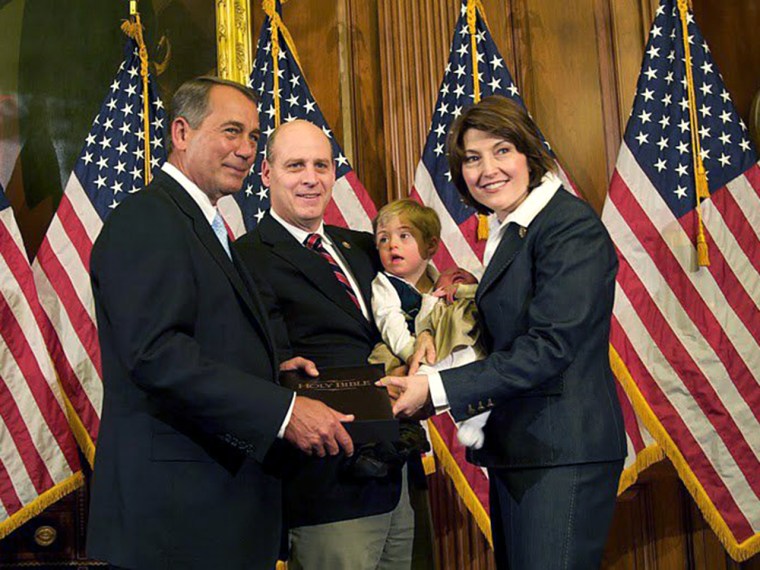 Rep. Cathy McMorris Rodgers belongs to an exclusive club on Capitol Hill: Lawmakers who have given birth while serving in Congress.
Already the only member to have had two babies while in office, McMorris Rodgers will soon put her record out of reach: She's pregnant with her third child, due in December.
It's all pretty surprising for the Washington state Republican, who wasn't even married when she first got elected to Congress in 2004.
"I went through a time when I thought, 'Well, maybe I'll be single for the rest of my life,' because I wasn't getting a lot of dates," she told TODAY.com.
The highest ranking GOP woman in Congress, McMorris Rodgers currently chairs the U.S. House Republican Conference, the body responsible for electing that chamber's leadership. When she announced her pregnancy, she promised that neither her political duties nor her re-election campaign would be affected.
"I think it's becoming more and more accepted," she said. "As more women serve in Congress, you'll see it will become more common for women to have babies while they're serving. It'll become easier in that people probably just won't think as much about it."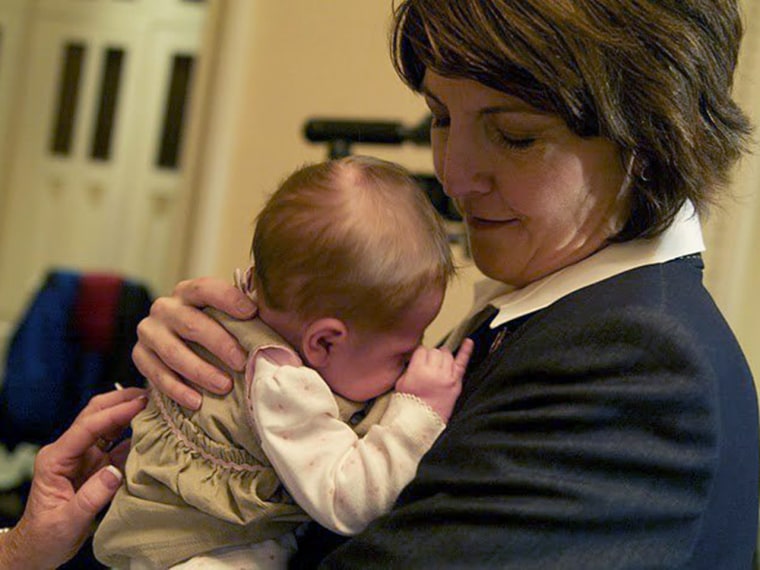 But for now, it's still a rarity on Capitol Hill. Despite the record number of women in Congress – 78 in the House, 20 in the Senate – very few have given birth while serving. Only eight have ever done so, and all were from the House.
The first was Rep. Yvonne Braithwaite Burke in 1973. An AP article at the time said she was the first lawmaker "granted a maternity leave."
When McMorris Rodgers joined the congressional mom club, she was the fifth person to do so and the first in more than a decade. She had Cole in 2007 and Grace three years later.
Rep. Linda Sanchez was the last lawmaker to give birth while office, in 2009. The California Democrat proudly notes that feat on her website.
Rep. Jaime Herrera Beutler of Washington will join the group later this year.
While the number of women who have given birth while in Congress remains small, the figure will start to increase as the average age of women elected to office decreases, McMorris Rodgers said.
"It's still a small number, but you are now seeing more women getting elected to Congress and at a younger age. With that you're going to see an increase in the number of women giving birth while serving," McMorris Rodgers said.
It wasn't that long ago when Sen. Kirsten Gillibrand, D-N.Y., made news for being the first lawmaker to breast-feed her child while in office. She was in the House when she had her second son in 2008, but moved to the Senate to fill the vacancy left by Hillary Clinton, who had been selected to become Secretary of State.
McMorris Rodgers, 44, said she and her husband, Brian Rodgers, had been hoping to have a third child.
"When you get to my age, you don't necessarily get to plan," she said.
McMorris Rodgers said women lawmakers who are mothers bring an important perspective to the Congress. Her first child, Cole, has Down syndrome, and his disabilities have opened her to a new range of issues and legislation.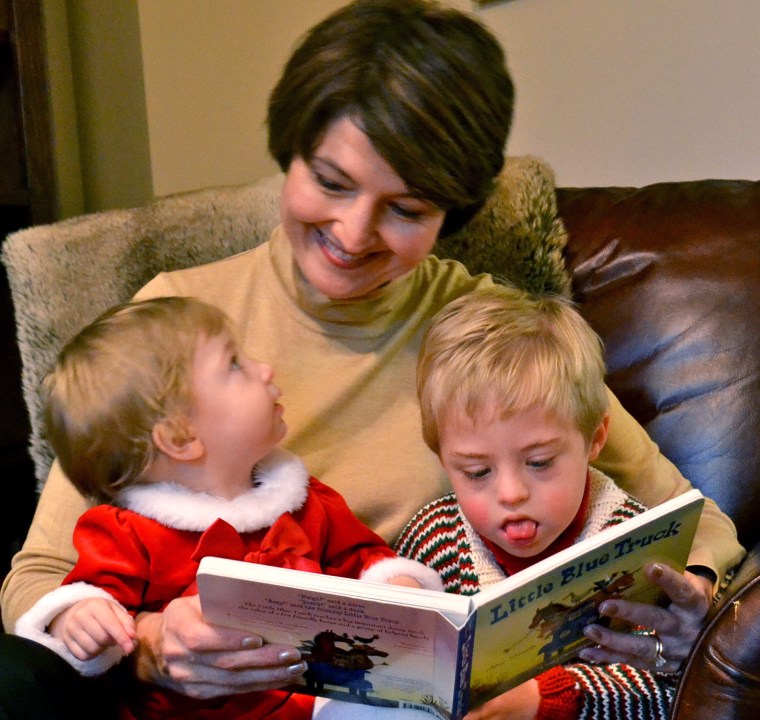 "Because of Cole, I have met people and built relationships across the aisle over in the Senate that I would have never had otherwise. So it's been fascinating to see that happen," she said.
"And kids are just a fun conversation to have with your colleagues. They open doors and allow you to build relationships."
Kids are also nonpartisan. She said a baby shower thrown for her when she had her first child was organized by a bipartisan group of lawmakers.
McMorris Rodgers said she has no doubt she will be able to continue her work and that she will have the support of her colleagues.
"To date, they've had confidence enough to elect me to the leadership position, and I expect that to continue," she said. "They see me as a working mom, but not that different than millions of other working moms in America balancing and juggling from day to day the responsibilities of a job and the demands of being a wife and a mom."
Women who have given birth while serving in Congress:
1. Yvonne Braithwaite Burke (1973)
2. Enid Greene (1995)
3. Susan Molinari (1996)
4. Blanche Lincoln (1996)
5. Cathy McMorris-Rodgers (2007)
6. Kirsten Gillibrand (2008)
7. Stephanie Herseth Sandlin (2008)
8. Linda Sanchez (2009)