The portrait of Jesus Christ that hung in Royster Middle School in Chanute, Kansas for over half a century has finally moved on.
Last week, when Superintendent Richard Profitt was contacted by a lawyer representing the Freedom From Religion Foundation with a letter that called the picture "an egregious violation of the First Amendment," he realized it could not longer hang in the school's hallways.
So down it came.
"The attorneys were very clear that it was a violation of the Establishment Clause in the way that it was hanging," Proffitt told TODAY.
The Establishment Clause in the First Amendment of the U.S. Constitution prohibits the government from supporting any one particular religion. A public school, funded with public taxes, is considered to be an extension of the government and therefore legally is not permitted to appear to support a particular faith.
This is just the latest in a series of small battles being fought between groups like Freedom From Religion and local communities. Group co-president Dan Barker says that they have received over 3,000 complaints from people around the U.S. regarding a number of school and religious-based issues, from the distribution of Bibles in Florida schools to prayer before football games in Kentucky.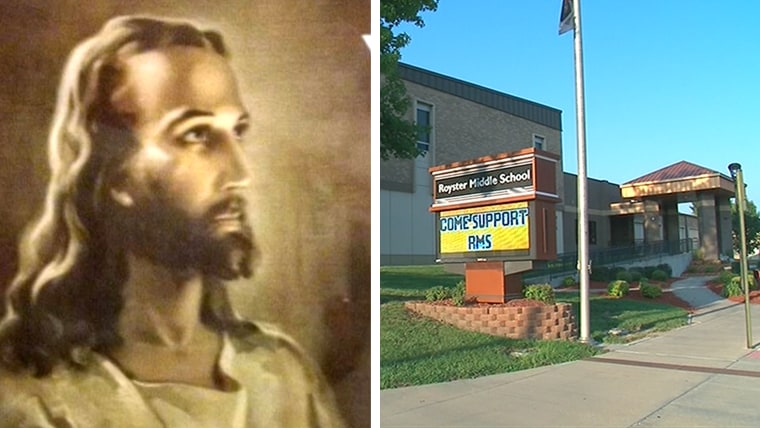 Freedom From Religion brought a lawsuit in Ohio over the same portrait hanging in another school; that school district ultimately settled the case. The painting was removed and the district paid $95,000.
Courts have consistently ruled that religious iconography cannot be displayed in public schools, but that doesn't mean everyone's happy about it.
"I just think that they shouldn't have taken it down and that it was kinda crazy," said one Kansas-based student, who wore a laminated image of the portrait on a lanyard around his neck.
"I anticipated some negative reaction," noted Proffitt. "However, we just had to act in accordance with the law."
Community backlash often paints Freedom from Religion representatives as outsiders who fail to understand local mores, but the foundation says it was a family in the Chanute community, who had children at the school, who made the original complaint.