Melinda Pike never expected to be homeless. But the Massachusetts mother and her four boys have lived in three shelters over the past year and a half.
"It's sad. I never thought I was gonna be where I'm at," she said. "You know, I wish I could do things better."
DONATE NOW: Support Matt's ride to help lift children around the world out of poverty
The family now lives in the shadows of wealth, in the basement of a church in the affluent New England town of Hingham, Massachusetts. But Pike's 13-year-old son, Dylan, said he doesn't feel deprived.
"I don't consider us poor, because if we were poor, we wouldn't be in a house or... have a roof over our head or food," he said.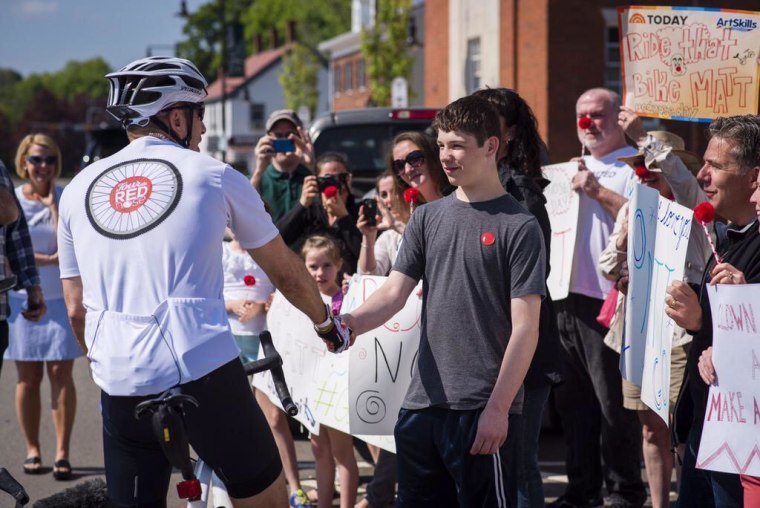 But the reality is that the family probably wouldn't have either without the support of United Way, one of the 12 charities benefitting from Red Nose Day. The national campaign raises funds to help lift children out of poverty.
DONATE: Help the Pike family by supporting the United Way of Massachusetts Bay, Inc.
About 22 percent of American children fall into that category. That figure is 15 percent just in Massachusetts, where TODAY's Matt Lauer met Dylan when the teen came out to cheer him on his 230-mile bike ride from Boston to New York.
Dylan's mom, Melinda, didn't finish high school, so she said she's doing everything possible to make sure her boys do. She said their one job is to do well in school.
"They'll be men one day and they'll have families of their own," said Pike, who has battled substance abuse and lost her family home after leaving behind the boys' father because of what she described as an abusive relationship. "And do they want to end up where I'm at? It's not a good place to be."
Every morning, Dylan and his brothers board a bus to school in their old community, the working class town of Hull.
Keeping grades up has been a struggle while living in shelters, but Dylan's school has helped with extra tutoring. He also has found a release in his one true passion: football.
"All of the anger, you just put on the field," he said.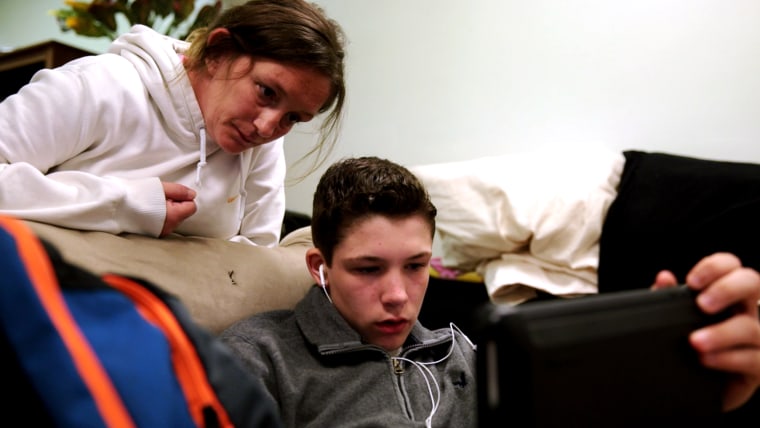 Dylan said he hopes to one day attend the University of Michigan, the alma mater of his idol, New England Patriots quarterback Tom Brady.
But first, Dylan has to overcome obstacles — like being homeless. Because of the time spent on his commute to school, he can no longer play on the football team.
"I think it bothers him a lot. But he deals with it," his mother said.
Dylan brushes it off, saying there are more important things, like family.
"As long as you have each other, it's okay," he said.
Follow TODAY.com writer Eun Kyung Kim on Twitter.