When Letzny Leyva, 20, sees the overwhelmed and nervous looks on the faces of the high school students she counsels when applying for college is brought up, she knows exactly how they feel.
It was only two years ago that Leyva was sitting in the same seat as part of the first graduating class at Veterans Memorial High School in Brownsville, Texas, where college seemed like a distant dream in one of the poorest school districts in the United States. Leyva's mother was born in America but raised in Mexico, her father is an immigrant from Mexico, and neither of them attended high school or spoke English.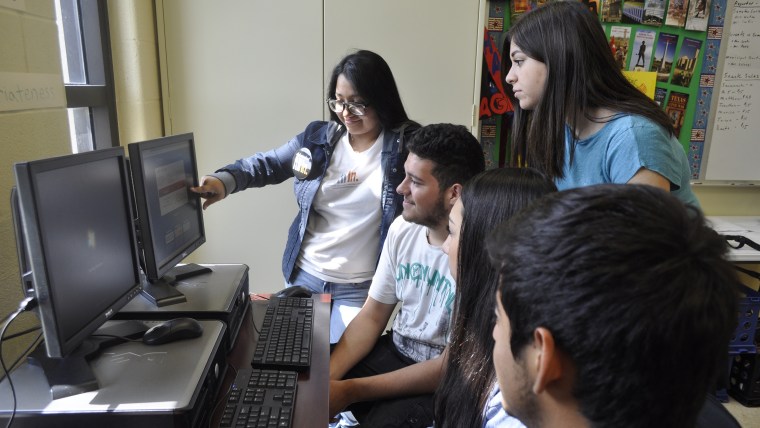 "My parents weren't going to help me with college because they didn't really know how,'' Leyva told TODAY.com. "I don't know what would have happened to me, or where I would've gone to find out what I needed to know for college if it wasn't for this program. It can be really hard. I feel like a lot of the students I work with now are going through the same thing, so I got out and talk to them in case they don't get help at home."
Leyva began working with student ambassadors from the "All In" program that is run by the United Way of Southern Cameron County, and has since become one herself. Helping the program achieve its goals is Red Nose Day, an annual tradition in Britain for nearly 30 years that the United States has joined this year by raising money for 12 international charities, including United Way.
MORE: Matt Lauer finishes 226-mile Red Nose ride on TODAY plaza
The student ambassadors helped change Leyva's life, and she is now paying it forward by serving as one herself while still pursuing her own education. She is enrolled at Texas State Technical College as an architecture, design and engineering graphics major. The All In program is part of a larger initiative by the United Way that aims to assist underprivileged students in the Brownsville Independent School District from kindergarten all the way through high school.
"They taught me how to apply for college, and they pushed me,'' Leyva said. "Every Wednesday we would meet, and they were always asking me how my classes were going, when I was graduating, and if I needed anything."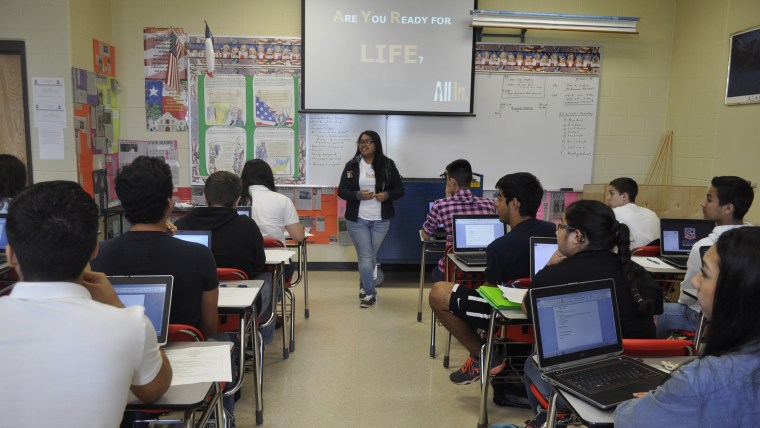 "The program involves the basics of how you apply for college, how you get financial aid for college, who's eligible, and other basic things that families in our community are not exposed to because so many of these students are the first in their family to even complete high school,'' Traci Wickett, the branch's president and CEO, told TODAY.com. "They require a lot of support, and having that come from a near peer, someone who was in their shoes a year or two years ago, makes a big difference because of the credibility of that student."
Leyva also works with the parents of many students, who often want to help but don't know where to begin because they never applied for college themselves and may speak limited English in a school district that is largely Hispanic.
"The parents are better than the students sometimes,'' Leyva said. "They're very thankful for the help that we give their kids because they say they wouldn't have known what to do."
DONATE NOW: Support Red Nose to help lift children around the world out of poverty
The program also has "student passports," which are small booklets where students can feel free to ask questions that might be embarrassing or personal to ask in a group or to adults.
"Sometimes students aren't really comfortable with (school guidance counselors), and we're more around their age and have been through what they've been through so they confide in us,'' Leyva said.
The student ambassadors have now become part of the curriculum in the Brownsville district, which faces challenges many other districts in the country do not. Since its inception in 2012, the program has reached 2,000 students, according to All In Student Ambassador Coordinator Blanca Davila, 26, who recently completed a master's degree in public policy and management at the University of Texas-Brownsville.
"There's different challenges,'' Davila told TODAY.com. "It's about effectively delivering the message so students apply for college and do the financial aid applications. We have to go back and explain everything. The parents don't know how to support the students. They want to, but they don't know how, so we try to guide them. It's been a learning process."
"It's a curriculum written by Brownsville people, for Brownsville people,'' Wickett said. "This is the poorest community in the U.S., so sometimes a family mandate is that once a student is out of high school, he or she is expected to contribute to the family income, so to balance that and get a post-secondary degree can be very challenging. Convincing families of the long-term benefit of the secondary credential, we have to show it in hard dollars and long-range earning potential."
Money raised by Red Nose Day will also be put toward working with third-graders in Brownsville on reading skills.
"If a student is not reading at grade level by third grade, the likelihood of being successful in school just plummets,'' Wickett said. "We just want to prepare our young students and give them the tools to be successful."
The hope is to create more students like Leyva, who not only excel in their own lives but give back to the community.
"We feel that's one of the most special pieces of the program — when a student wants to help others,'' Wickett said. "Letzny was one of the first people to raise her hand. She immediately wanted to start giving back."