/ Source: TODAY contributor
In a family built on determination and faith, Kim and Krickitt Carpenter have learned that love not only conquers all, it also fills seats in movie theaters.
The Carpenters' heart-tugging real-life story — Kim pulled out all the stops to make his wife Krickitt fall in love with him again after she lost her memory in a car crash — proved to be box-office catnip for moviegoers. The film "The Vow," starring Channing Tatum and four-hankie queen Rachel McAdams, earned nearly $42 million in its first three days.
Kim is thrilled the movie is a runaway hit, he told TODAY Monday, because it tells a story he's wanted the world to hear.
"We live in a society where vows are constantly broken...Years ago, till death do us part meant the death of a soul mate; today it's the death of a marriage that society has accepted," he told Ann Curry in a live interview alongside Krickitt, crediting "two very faithful sets of parents that took great care of us" for their determination towards commitment. "Accompany that with our faith, that's what you do. You do the right thing."
Story: Spa for two: Couples get close with Valentine's Day packages
For Kim Carpenter, the right thing was to hold a marriage together despite his spouse's inability to recall a thing about him.
The pair met in 1992. Kim, living in New Mexico at the time, called a sporting goods store in California and became enamored by the voice on the other end of the phone — Krickitt's. He kept calling, with more than basketballs on his mind. A few months later, he traveled to the Golden State to meet Krickitt face to face, and sparks flew. Just two months after their first meeting, the couple were engaged; three months later, they married.
Story: Channing Tatum takes on McConaughey on 'SNL'
In November 1993, just weeks into their marriage, they were traveling to Arizona for Thanksgiving when they were involved in a horrible car accident. "I heard 'Watch out!' and the most blood-curdling scream," Kim told NBC's Kristen Dahlgren. "I heard Kristen just gasp; I thought it was the last breath of air she could get."
Kim was told Krickitt was beyond medical help, given less than a one percent chance of survival. But in a story laced with miracles, she survived the crash, and made astounding progress in two months. She could remember her parents' names, but when asked about her husband, she told doctors, "I'm not married."
She moved back in with Kim, but still had no recollection of him. Kim told NBC's Dahlgren he tried everything to jog her memory. "I wanted my wife back," he said. "I became obsessed with putting pictures of us...anywhere. She couldn't sit down in the bathroom without seeing a picture."
But nothing would jog Krickitt's memory. Finally, a therapist told Kim what he needed to do — make Krickitt fall in love with him all over again. Kim began taking his wife out on dates, wooing her like it was their first go-around, and popping the question for a second time. Two and a half years after the crash, Kim walked Krickitt down the aisle in a re-dedication ceremony that Krickitt would remember as her actual wedding day.
"It was exciting that I had a memory to hold onto," Krickitt told Curry Monday. "I chose to love him, and obviously my love grew for him and he's a wonderful husband. You have to stay committed, and you know, you have trials in your life and you have to keep persevering."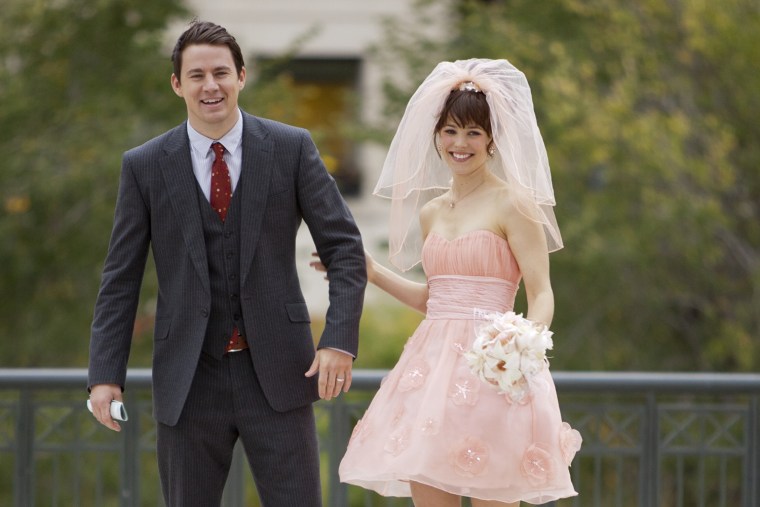 The Carpenters' amazing love story gained national traction along the way. A book, "The Vow," was released in 2000, and among their promotional appearances was a TODAY interview with Curry. The Carpenters were so touched by their conversation that they named their daughter Lee-Ann, after Curry and another TV host they befriended, Leeza Gibbons.
Kim told Curry she's now a part of their family. "We look forward to continuing to get to know you more through the years, and you've been a blessing," he said.
Story: 'The Vow' romances moviegoers to win box office
And while Kim is amused at seeing himself played on the big screen by a bonafide Hollywood hunk, much more, he's grateful that their children, Lee-Ann and Danny, can see their parents' story captured on celluloid.
"It's the greatest compliment to be able to let those kids see the enamor, the glitz and attention for doing the right thing," said Kim. "Those kids get to see what mom and dad did and all the attention you're getting, it's the greatest life lesson you could really have.
"Hopefully, this will be a real memory for them to carry on."
Kim and Krickitt have also just released an updated book version of "The Vow" that adds details from their lives since the original 2000 release.