John McCain may be gone, but his patriotism lives on.
The late U.S. senator and Navy veteran, who died Saturday of brain cancer at 81, left behind a powerful message for his "fellow Americans," urging them not to despair or turn against one another during "these challenging times."
McCain's letter was read aloud in Phoenix on Monday by Rick Davis, a family spokesperson who served as the national campaign manager of the Arizona Republican's 2008 and 2000 presidential campaigns.
"I have often observed that I am the luckiest person on earth. I feel that way even now as I prepare for the end of my life. I have loved my life, all of it. I have had experiences, adventures and friendships enough for ten satisfying lives, and I am so thankful," McCain wrote as he expressed his gratitude and love for his wife, Cindy McCain, and his five children.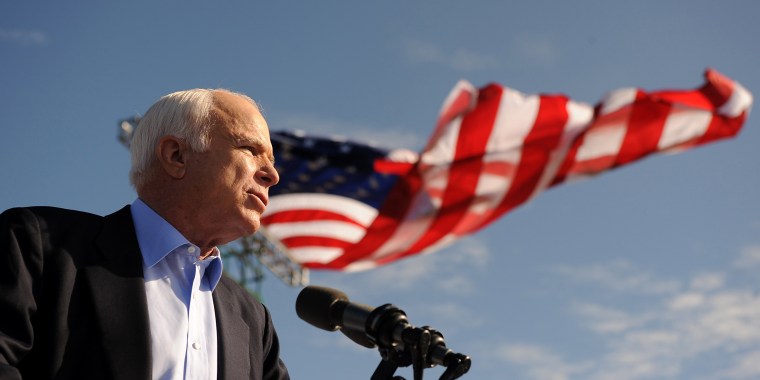 The senator, who endured brutal torture as a prisoner of war in Vietnam, shared that he "lived and died a proud American," and reminded all Americans that we are united in our values and causes — "liberty, equal justice, respect for the dignity of all people."
"We are citizens of the world's greatest republic, a nation of ideals, not blood and soil," he wrote.
McCain's letter also seemed to criticize President Donald Trump, with whom the senator often sparred, for provoking "tribal rivalries" and hiding "behind walls."
"We weaken our greatness when we confuse our patriotism with tribal rivalries that have sown resentment and hatred and violence in all the corners of the globe," he wrote. "We weaken it when we hide behind walls, rather than tear them down, when we doubt the power of ideals rather than trust them to be the great force for change that they have always been."
Although we are "325 million opinionated, vociferous individuals," he added, "we have always had so much more in common with each other than in disagreement."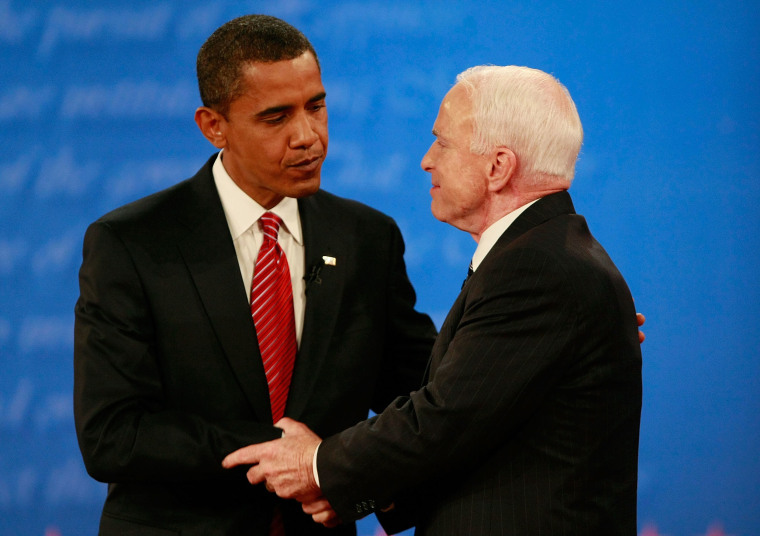 In his rousing closing, McCain referenced his 2008 presidential loss to Barack Obama, who is scheduled to speak at the senator's funeral at the National Cathedral this week.
"Ten years ago, I had the privilege to concede defeat in the election for president. I want to end my farewell to you with the heartfelt faith in Americans that I felt so powerfully that evening," he wrote,"I feel it powerfully still."
"Do not despair of our present difficulties but believe always in the promise and greatness of America, because nothing is inevitable here," urged the senator. "Americans never quit. We never surrender. We never hide from history. We make history."