Former Baltimore Ravens running back Ray Rice and his wife Janay are speaking out for the first time since Rice was suspended indefinitely by the NFL for assault — joining Matt Lauer for exclusive interviews airing Monday and Tuesday on TODAY.
Update: Watch Janay Rice's full interview and see Ray Rice discuss his NFL career and the elevator incident with Matt Lauer
NFL commissioner Roger Goodell said that the Baltimore Ravens running back's story was "ambiguous" in a June meeting with the league, when Rice explained what happened in the Atlantic City elevator where the assault took place. 
Throughout the interview, Janay was largely complimentary of Goodell, saying that the he tried to be fair. But she also said that her husband "told the honest truth" to the league and the commissioner.
"So when the commissioner of the NFL, Roger Goodell, says Ray was ambiguous and the NFL says that it was a starkly different sequence of events, is the commissioner lying?" Lauer asked Janay.
In response to Lauer's question, Janay said: "I can't say he's telling the truth. … I know for a fact that Ray told the honest truth that he's been telling from February."
When asked whether she thought NFL Commissioner Roger Goodell and the league "covered their butts" when they later claimed Rice was "ambiguous," Janay replied, "I think they did what they had to do for themselves."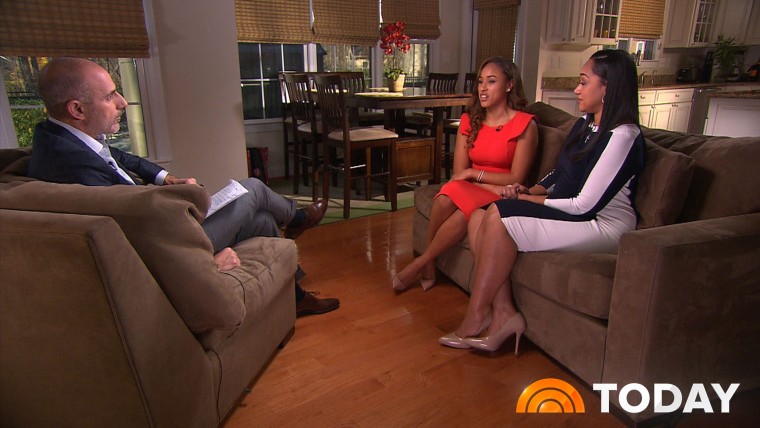 On Friday, Rice successfully appealed the indefinite suspension handed down by the NFL in September following the release of surveillance video in which he was seen assaulting his then-fiancée. Rice had been requesting reinstatement to the league ever since his contract was terminated by the Ravens on Sept. 8. He is now eligible to sign with any NFL team.
The heavy criticism over the NFL's handling of the situation led the league to change its policies regarding domestic violence. The running back had been set to earn $3.5 million this season before his contract was terminated. He has also filed a grievance against the Ravens, who signed him to a five-year, $35 million contract in 2012. 
NBC News reached out to the NFL regarding Janay's comments about Roger Goodell. The league's only comment on Saturday was that they "respect" the arbitrator's decision and acknowledge that Rice is a free agent who is now "eligible" to play upon signing a new contract.
Another excerpt from Lauer's interview will be released on Sunday, Nov. 30, airing on NBC's "Sunday Night Football." Watch the interviews on TODAY on Monday and Tuesday.
More from Matt Lauer's interviews with Janay Rice and Ray Rice:
Ray Rice's wife on elevator incident: 'Like a battle that we just can't win'
Ray Rice seeks 'second chance' for NFL, admits mistake for not apologizing to Janay
'I was done': Ray Rice's wife opens up about elevator incident
Ray Rice's wife on whether NFL, fans can forgive: 'It's going to take some work'