For the first time since former Baltimore Ravens running back Ray Rice was suspended indefinitely by the NFL for assault, he and his wife, Janay, are speaking out — joining Matt Lauer for exclusive interviews airing Monday and Tuesday on TODAY.
Update: Watch Janay Rice's full interview and see Ray Rice discuss his NFL career and the elevator incident

After being knocked unconscious, Janay says her first reaction was to be "done" with the relationship.
"I was furious,'' Janay told Lauer. "We came home and we didn't talk the entire ride. He tried to talk to me. I didn't want to hear any of it. I just knew he hit me, and I was done. I just didn't even want to entertain it. Any explanation."
But Janay and Rice stayed together, getting married on March 28, just over a month after he was arrested and charged with third-degree aggravated assault for the attack.
"Of course in the back of my mind and in my heart I knew that our relationship wouldn't be over because I know that this isn't us and it's not him,'' Janay said of the elevator incident. 
On Friday, Rice successfully appealed the indefinite suspension handed down by the NFL in September following the release of surveillance video in which he was seen assaulting his then-fiancee. Rice had been requesting reinstatement to the league ever since his contract was terminated by the Ravens on Sept. 8. He is now eligible to sign with any NFL team.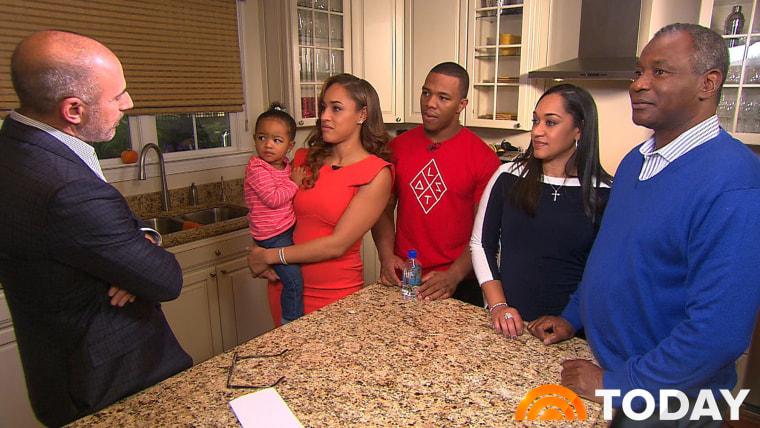 The heavy criticism over the NFL's handling of the situation led the league to revamp its policies regarding domestic violence.
In a post on her Instagram account the day after the Ravens let Rice go, Janay called the situation "a horrible nightmare" and said, "If your intentions were to hurt us, embarrass us, make us feel alone, take all happiness away, you've succeeded on so many levels."
Further excerpts from Lauer's interview will be released on Sunday, Nov. 30, with clips airing on NBC's "Meet the Press," "Nightly News," and "Sunday Night Football." Additional footage will be available on TODAY.com. Watch the interviews on TODAY on Monday and Tuesday.
More from Matt Lauer's interviews with Janay Rice and Ray Rice:
Ray Rice's wife on elevator incident: 'Like a battle that we just can't win'
Ray Rice seeks 'second chance' for NFL, admits mistake for not apologizing to Janay
'I was done': Ray Rice's wife opens up about elevator incident
Janay Rice: Husband told truth, denies NFL's 'ambiguous' claim
Ray Rice's wife on whether NFL, fans can forgive: 'It's going to take some work'