/ Source: The Associated Press
You won't find any Purina or Science Diet when 4-year-old Ginger, an Australian shepherd, digs into her dinner. Instead it's chicken, lamb and elk or, lately, raw goat with a side of fruit and veggies.
"She's my baby, and I want to do the best for her," said Ginger's owner, Marylee LaBaw, of east Orchard Mesa. "She has her own freezer. I don't have my own freezer."
As people are getting choosier about what they eat, they're insisting on providing their pets with more nutritious foods.
Even the high-priced commercial dog food didn't agree with Ginger, so LaBaw started researching other options.
For a time she made Ginger a formula of vegetables including yams, broccoli, spinach and added raw hamburger to the mix. That process became a bit inconvenient, so now LaBaw purchases goats to slaughter. Over time, Ginger will feed on the whole goat, including its organs and bones.
Story: Woman, laid off 3 years ago, pays 50K to have dog cloned
"Their carnivorous systems are designed to eat raw meat," LaBaw said. "They need the internal organs and calcium. I feed her everything; she works on the head. It's not for the squeamish at heart."
Every year, Americans spend more on their pets and the foods pets eat. Last year, Americans spent $51 billion on pets and, of that amount, $19.5 billion was spent on retail food, according to the American Pet Products Association.
Kristi Bush, owner of Chow Down Pet Supplies, said pet owners increasingly are looking for better pet food for their animals.
Story: Fat cat is adopted, and ordered tio GAIN weight
Some kinds of commercially made dog food are falling out of favor with some pet lovers because it contains meat byproducts and corn, she said. Bush doesn't carry any commercially made dog food that isn't slow-cooked or that contains less than 70 percent meat.
"There's no corn in our whole store," Bush said.
Instead, freezers that line a back wall are packed with frozen, quality meat and prepackaged meals for dogs and cat foods.
Feeding pets raw or specially made food "is not even as expensive as people think," she said.
New diet, new dog
A diet of meat and veggies likely saved Murphy, an 8-month-old Great Dane who greets customers from behind the counter.
Murphy originally ate kibble but couldn't keep his food down. He was scrawny, his coat was dull, and he looked miserable, Bush said.
Story:With Fido forever: Owners who want to be buried in pet cemeteries
Bush got Murphy on a meat and veggie diet, and now customers can't believe he's the same dog.
Denise Rayzor of Palisade had similar results with her dogs after adopting some bloodhounds a couple of years ago. The puppies, which were fed a commercial-food diet, seemed lethargic and were always scratching their fur.
Rayzor got the idea to feed her dogs the same kinds of foods she would want to eat, meat and veggies cooked in a Crock-Pot.
Story: Woman sues to prove dogs are 'living souls,' not property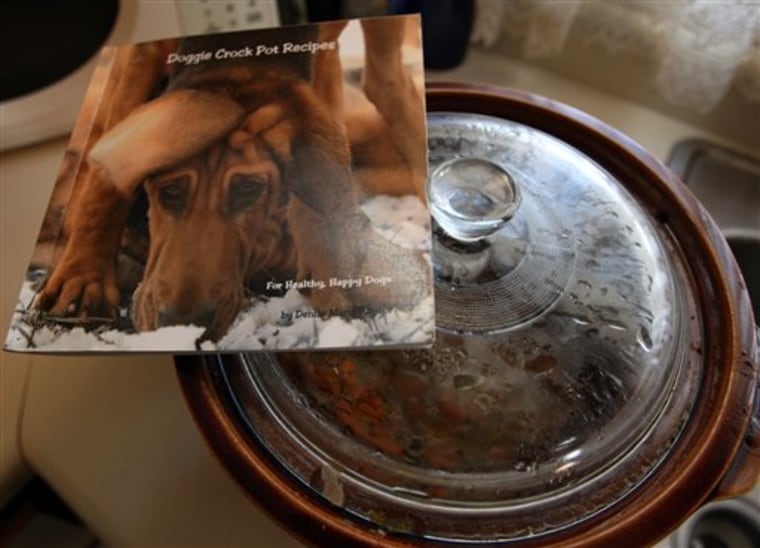 "The vets kind of scoffed it off, but they noticed how their coats got thicker and they seemed a lot more lively," Rayzor said.
She also feeds the Crock-Pot meals to her cats.
Rayzor took her idea a step further and created a cookbook of recipes, interspersed with photos of her bloodhounds: Mr. Hoover, Callie Belle and Easy Breeze.
Recipes include "Howling Beef Stew," a recipe for peanut-butter biscuits and "Cold Weather Meatloaf."
The book, "Doggie Crock-Pot Recipes" is available at http://www.blurb.com.
Rayzor said she can't afford to feed her dogs the mix of the meat and veggies every day, but she'll whip up some Crock-Pot food for her pets about twice a week.
Story: Thanks to hero dog, domestic violence shelter allows pets
"There's a lot of bad ingredients, and there's not a whole lot of control over how they manage their dog food and what's in it," Rayzor said about why she started feeding her dogs the homemade meals.
"It's encouraging there are other people out in the world trying to find good things for their pets. I do it because, in general, I am in love with them."