Written just hours before the famous ship hit an iceberg, a letter from two Titanic survivors went up for auction in England on Saturday morning. It was won in the end by an American bidder for a world record-breaking sum, according to the auction house Henry Aldridge & Son.

"This morning Eva and I went to church...and she sang out loudly, she is very bonny," wrote Esther Hart from the library of the Titanic on the ship's signature stationary, referring to her 7-year-old daughter, Eva, who was travelling to New York with her and her husband Benjamin on the ill-fated journey.
The words are part of a letter Esther wrote to her mother in England on the afternoon of April 14, 1912, shortly before the Titanic famously met disaster. The ship hit an iceberg just before midnight and sank into the Atlantic Ocean in the wee hours of the following day, killing more than 1,500 people.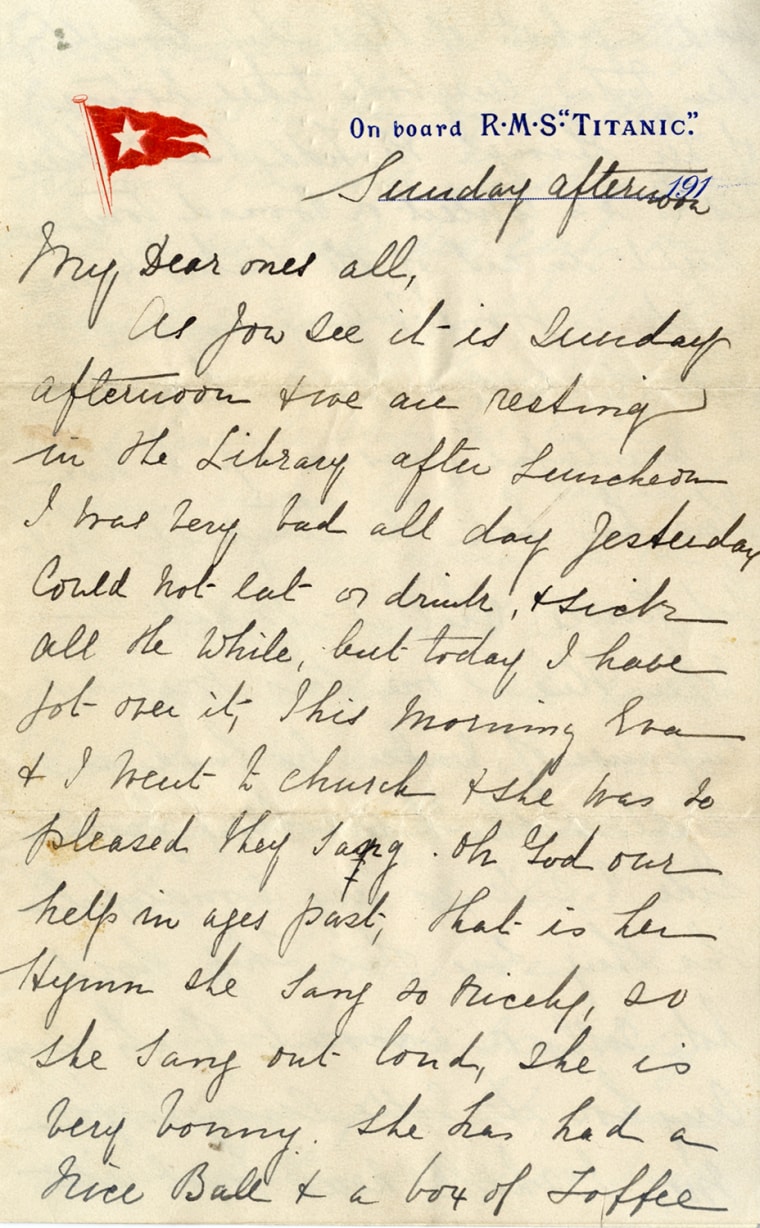 A space was left on the letter for Eva to fill with a message of her own, and the young girl's handwriting and signature can be found at the bottom.

"Heaps of love and kisses to all from Eva," she wrote.
The letter, written on stationery with a header reading "On Board RMS 'Titanic,''' was auctioned off on Saturday by Henry Aldrige and Son in Wiltshire, England. The original embossed envelope that it was placed in was also part of the auction. While the pre-sale estimate for the letter was between $120,000 and $180,000, the item ended up selling to an American bidder for £119,000, approximately $200,000.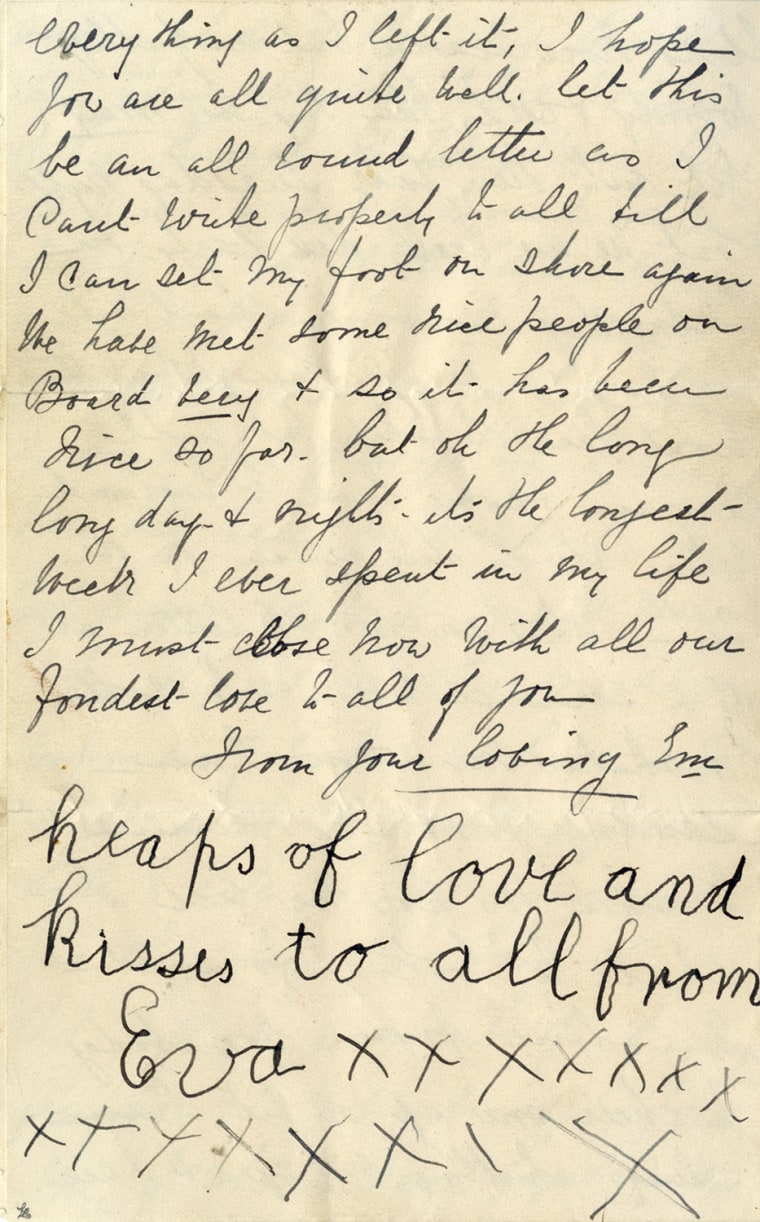 "To the best of my knowledge it is the only letter known to have survived the sinking written on board the ship on Titanic stationery only a matter of hours before it hit the iceberg," auctioneer Andrew Aldridge told NBC News.
Hart's letter also describes the quality of the journey up to that point. 
"Well, the sailors say we have had a wonderful passage up to now,'' she wrote. "There has been no tempest, but God knows what it must be when there is one. This mighty expanse of water, no land in sight and the ship rolling from side to side is being (sic) wonderful.''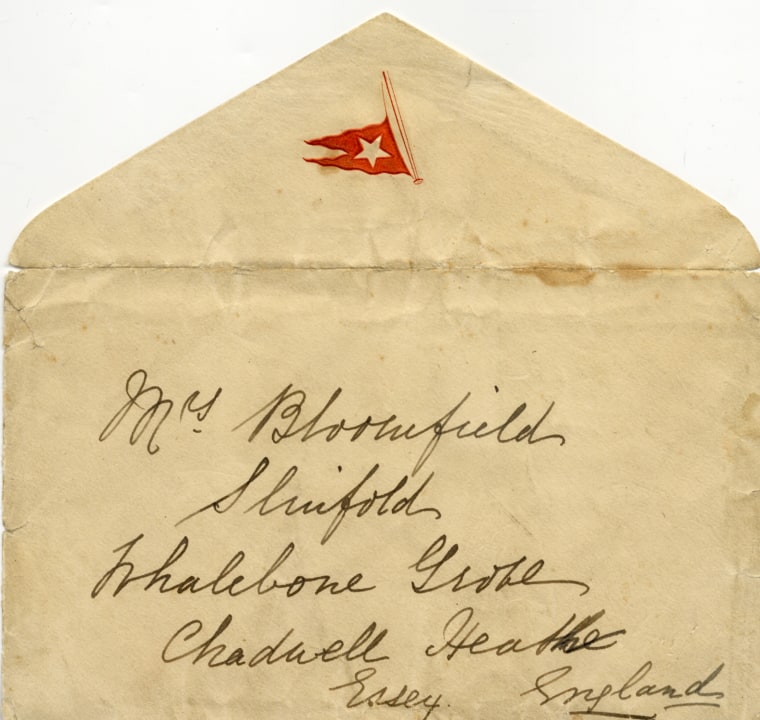 The letter was found in the pocket of a sheepskin coat belonging to Esther's husband. He had been wearing the coat on deck, but gave it to his wife to keep her warm when she and Eva climbed into a lifeboat. This was his last act towards his wife, as Benjamin Hart did not survive.

Objects connected to the Titanic have fetched vast sums at auction. In October last year an anonymous collector paid $1.5 million for a violin believed to have been played to calm panicking passengers as the ship sank.
Also going under the hammer on Saturday was a second class Titanic breakfast menu, which fetched a record-breaking $146,000. A third record was broken with the sale of a launch ticket, which fetched. $67,000. One other notable item was a four-page typed "Letter of Marine Protest" - the insurance claim form. Filled out on April 19, 1912, the day after the survivors reached New York, it contains the official account of what happened in the words of four crew members who survived. This document sold for approximately $15,000.
"I've never seen anything like this," Aldridge said. "To the best of my knowledge it's a one-off." 
Scott Stump contributed to this report. Follow Scott on Google+ and Twitter.