No aisle in the grocery store is more difficult to navigate than the cereal aisle.
Every box — even the fruity and chocolaty cereals — is a "good source" of some vitamin or claims to be "made with whole grains."
So while the FDA struggles to regulate these obnoxious claims, we consumers are left to fend for ourselves.
Problem is, nobody want to spend hours in the supermarket analyzing nutrition labels, so we end up spending hours in the gym instead, working off our supermarket mistakes.
So do yourself a favor and familiarize yourself with a few important cereal swaps. We've got the best and worst right here.
General Mills Chocolate Chex (1 cup)175 calories
3.5 grams fat (0 grams saturated)
< 1 grams fiber
10.5 grams sugars
You know when it's OK to eat chocolate-flavored cereal? At dessert — not breakfast. As a start to the day, this bowl earns a nutritional F minus. But here's the thing: Even as a dessert cereal, this isn't your best option. Chex is high in calories by any standard. Make the swap to Cookie Crisp and you cut 40 calories off each bowl. With one swap like that every day, you'll shed about 4 pounds over the course of a year.
Eat instead: General Mills Cookie Crisp (1 cup) 135 calories
1.5 grams fat (0 grams saturated)
1 grams fiber
13.5 grams sugars
Kellogg's Raisin Bran (1 cup)
190 calories
1 grams fat (0 grams saturated)
7 grams fiber
19 grams sugars
The concept here is terrific: Whole grain flakes sweetened with real fruit. Unfortunately, that's not what's really happening. These raisins, as you can see, are all wearing little sparkly jackets of sugar. Add that to the three forms of sugar in the flakes — corn syrup, HFCS, and invert sugar — and you've got a serious sugar buzz in the making. If you want the real deal, you have to make it yourself. Stick to basic wheat flakes and add your own, unadulterated fruit.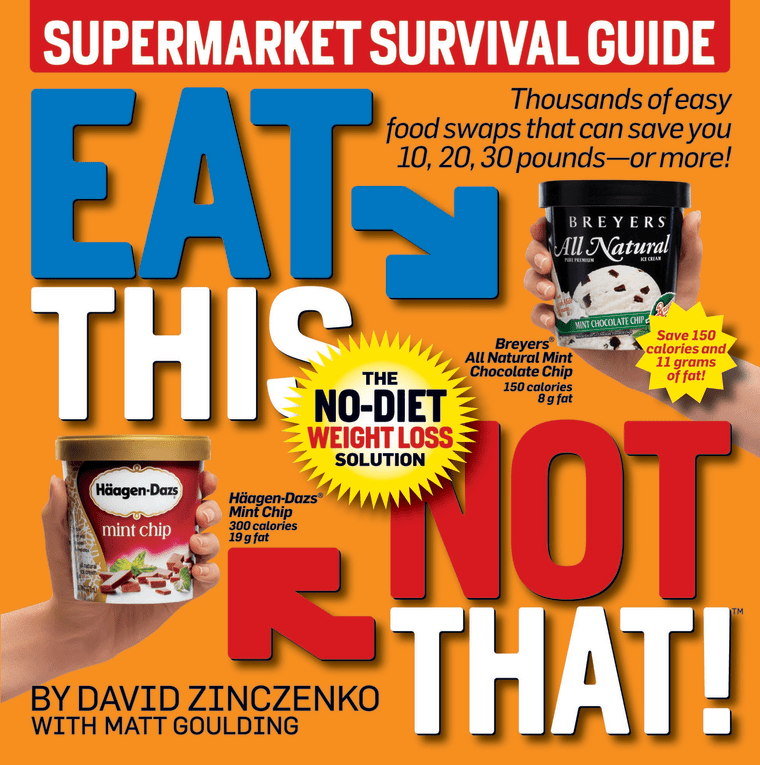 Eat instead: Kellogg's All-Bran Complete Wheat Flakes (1 cup) with a tablespoon of raisins 145 calories
0.5 grams fat (0 grams saturated)
7 grams fiber
12 grams sugars
Post Golden Crisp (1 cup) 145 calories
0 grams fat
< 1 grams fiber
18.5 grams sugar
Here's the immutable law of the cereal aisle: When you see a cartoon character on the package, expect to find a mountain of sugar in the box. This is how food processors win children over at an early age; they get them addicted to sugar. But just as bad as the high sugar count is the dearth of fiber. That means this sugar will pass through your stomach faster than Road Runner and transform you — or your child — into an out-of-control Tasmanian Devil. Switch to Honeycomb and you'll cut your calorie load by more than 40 percent and drop your sugar intake back into the safe zone.
Eat instead: Post Honeycomb (1 cup) 85 calories
0.5 fat (0 grams saturated)
0.5 grams fiber
6.5 grams sugars
Quaker Natural Granola with Raisins (1 cup) 420 calories
12 grams fat (7 grams saturated)
6 grams fiber
30 grams sugars
Granola is one of the world's most misguided "health" foods. Sure it boasts a commendable fiber count, but in order to transform it from whole oats to granola, Quaker packs this stuff with a candy bar's worth of sugar in the forms of brown sugar and honey. Add that to the raisins and you've got the same amount of sugar in one cup of this stuff as you'll find in an entire Snicker's bar. And to crisp it, Quaker relies on coconut oil, which is comprised almost entirely of saturated fatty acids. Eat a couple cups of this so-called health food and you've just wiped out 60 percent of your day's saturated fat recommendation.
Eat instead: Quaker Brown Sugar Oatmeal Squares (1 cup) 210 calories
2.5 grams fat (0.5 grams saturated)
5 grams fiber
10 grams sugars
General Mills Reese's Puffs
160 calories
4 grams fat (1 grams saturated)
1.5 grams fiber
16 grams sugars
Why is it that nobody raises an eyebrow when a candy company makes the plunge into the cereal aisle? Answer: Because with brands like Cocoa Puffs, Lucky Charms, and Frosted Flakes, cereal is already indistinguishable from candy. But again, if you're going to indulge in a sweet cereal, you can still be smart about it. Kix pairs a decent hit of fiber with a modest calorie load. Stick this on the table and you'll appease both finicky children and their health-conscious parents.
Eat instead: General Mills Honey Kix (1 cup) 96 calories
1 grams fat (0 grams saturated)
2.5 grams fiber
5 g grams sugars
More from Men's HealthThe Eat This, Not That! E-Newsletter 25 Best Nutrition SecretsCraziest Food Creations 2010