On the night ESPN analyst Jessica Mendoza made history as the first woman to call a Major League Baseball playoff game, an Atlanta sports radio host weighed in with a series of sexist tweets that have gotten him suspended.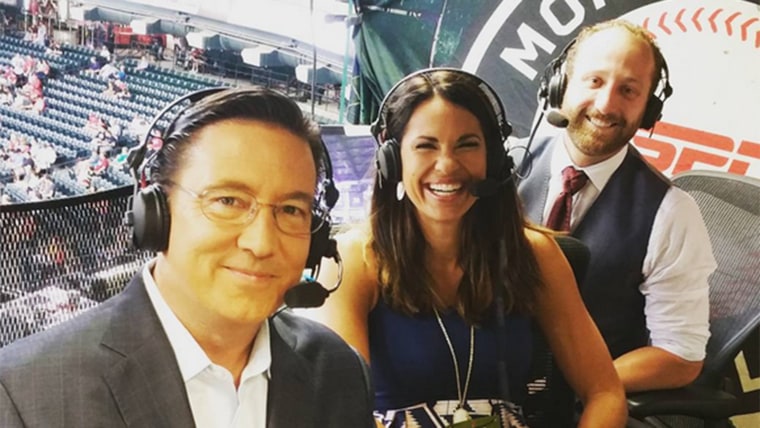 Mike Bell, a host on 92.9/The Game, is apologizing for remarks he made about Mendoza during Tuesday night's broadcast of the Yankees-Astros playoff game. Using a crude reference from the movie "Anchorman," Bell referred to Mendoza, a two-time Olympic medalist in softball, as "T-- McGhee" and questioned why she was calling the game.
"You guys are telling me there isn't a more qualified Baseball player ESPN can use than a softball player? Gimme a break!" Bell also tweeted.
The reaction caused Bell to delete his Twitter account, and he was suspended by the station until Oct. 12, according to the Atlanta Journal-Constitution.
"I want to take this opportunity to say to Jessica that what I said was dumb and hurtful and I apologize for putting that garbage on Twitter,'' Bell said in a statement released by the station. "There is no place for that kind of stuff on our show. I will be more mindful and respectful in how I express my opinions and hope I become a better talk show host, but more importantly a better person. This has been a real eye-opening experience."
Mendoza, 34, is a former star outfielder who won gold and silver with the U.S. Olympic Softball Team at the Athens and Beijing Olympics, respectively. She began as an analyst on ESPN's Baseball Tonight last year and then became ESPN's first female MLB analyst in history this season when she took over in August for Curt Schilling, who was suspended for the rest of the season for offensive tweets and Facebook posts.
"Jessica has made terrific contributions to our baseball coverage, but even more importantly, she continues to carry herself with respect and class both on and off camera, and she has received an overwhelmingly positive response for her work,'' ESPN said in a statement to TODAY.
Follow TODAY.com writer Scott Stump on Twitter.