Rachel Dolezal, the former NAACP chapter president accused of pretending to be black, said she cried while reading about Caitlyn Jenner's journey to becoming a woman because it "resonated" with her.
"I cried. Because I resonated with some of the themes of isolation, of being misunderstood — to not know if you have a conversation with somebody, will that relationship then end because they have seen you as one way," she said in an exclusive interview with Savannah Guthrie that aired Wednesday.
In a series of interviews with NBC News and MSNBC, Dolezal repeatedly insisted she sees herself as black.
"I definitely am not white. Nothing about being white describes who I am," she told Guthrie. "I'm more black than I am white. That's the accurate answer from my truth."
Dolezal told Guthrie that her racial identity has been a recurring issue for her in dating.
"I'm bisexual. And so, you know, I've dated men and women," she said. "And I will intentionally ask, like, 'so do you just date light-skinned women? What's your spectrum?"
On Monday, Dolezal resigned as president of the NAACP chapter in Spokane, Washington, after growing controversy surrounding questions about her racial background, something her parents have said she has been misrepresenting.
RELATED: Why this mom of biracial kids is thankful for Rachel Dolezal controversy
Dolezal told NBC News she does not feel she has lied or been deceptive to the public about her race.
"I really feel like there have been moments of some level of creative nonfiction. I have kind of had to explain or justify some of the timeline and logistics of my life in a way that made sense to others," she said.
But Dolezal did own up to specific past statements she made that were not true. Among them: That she had lived in South Africa or was beaten by her parents with "baboon whips."
"That is definitely a misrepresentation that I will own," she told Guthrie. "Yes, I have never been to South Africa. And yeah, I wasn't whipped. But I was physically abused."
Dolezal's parents have denied all of their daughter's claims of abuse.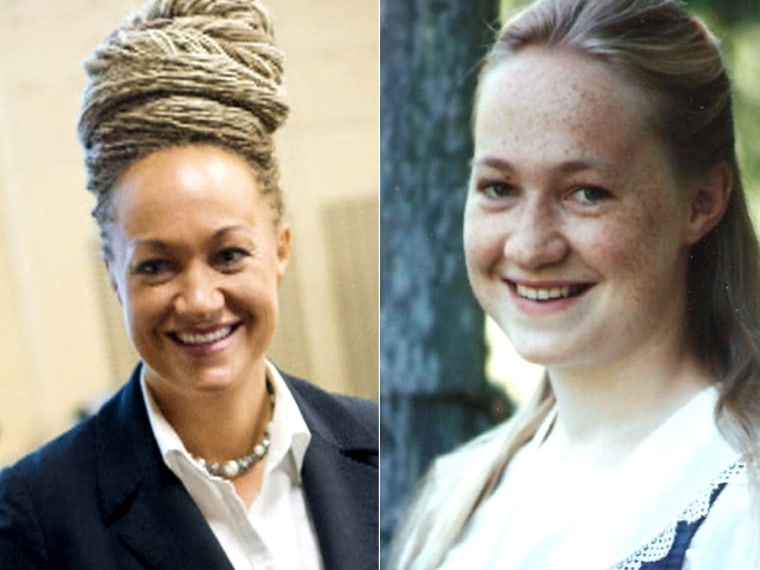 Rachel Dolezal also has told reporters she was born in a teepee, something she laughed about when asked by Guthrie.
"I was not born in a teepee — that I know of. I actually don't know where I was born," she said.
Dolezal also was asked about a 2002 lawsuit she filed against Howard University alleging the predominantly black university discriminated against her because she is white.
Dolezal the lawsuit was "based on the perception of the individual who terminated my scholarship and teaching position." But she also didn't the inconsistency it raised. After it was pointed out that the lawsuit claimed she was being discriminated because she was white, Dolezal said: "Or is it? Or is it saying I'm being treated as white? I'm being seen as white."
The lawsuit was eventually dismissed by an appellate court.
Follow TODAY.com writer Eun Kyung Kim on Twitter.