/ Source: TODAY contributor
After being injured in a spectacular explosion of his funny car on a California drag strip, driver Tony Pedregon thought about his own mortality and pondered quitting the high-octane sport he loves.
"For the first time in my career, I sat in the hospital wondering if I could have had a desk job," the drag racer told TODAY co-host Matt Lauer during an exclusive interview Tuesday in New York.
On Sunday, in the opening round of the 48th Winternationals drag races in Pomona, Calif., the engine of Pedregon's 8,000-horsepower dragster exploded without warning as the land rocket reached speeds approaching 300 mph. In race videos that have since been replayed countless times, the body of the car literally disintegrates as Pedregon, engulfed in a ball of flame, slams into a concrete barrier, slides across the track into the opposite wall and finally comes to a smoldering halt.
The 42-year-old Pedregon told Lauer that he had no warning that something terrible was about to happen.
"It really caught me off guard," he said. "The first thing I felt — I remember the concussion. I remember the very intense heat, and a couple things came to mind. I wanted to try to get the car stopped. I was trying to keep in mind there was another race car on the other side. I was really trying to steer it, but every time I reached for the steering wheel and the brake, it was burning my hand. High speed and oxygen feeding that kind of fire just made it really intense."
It was the worst explosion most people in the sport had ever seen.
"From my vantage point, the car just disintegrated," his brother and fellow racer, Cruz Pedregon, told NBC News. "That was the most violent high-speed explosion I've ever seen."
"I knew it was an inferno," said Tony Pedregon. "I knew I was hanging on for dear life."
The other car in the heat was driven by Pedregon's former partner, John Force, who was competing in his first race since breaking a leg, ankle and both hands in a race five months ago.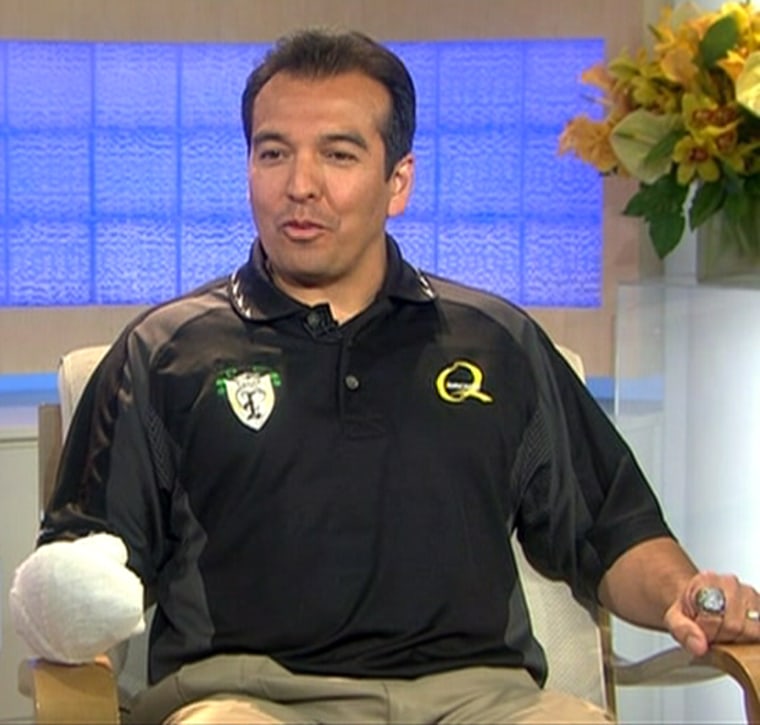 When both cars came to a stop, Force was among the first to come to his friend's aid.
Pedregon walked away from the wreck, his fire-resistant racing suit in shreds and suffering second-degree burns to his right hand. It was while being held for observation at a hospital after being treated for his injuries that he pondered what had happened.
His wife, Andrea, who is pregnant, was at their home in Fort Gratiot, Mich., with their other two children at the time of the accident, and on Tuesday she still hadn't seen her husband, who was due to return home after the TODAY appearance and a doctor's appointment. But she did get to say hello to him during the interview via a satellite hookup.
Lauer asked Andrea Pedregon if she wants her husband to continue racing after such a near brush with tragedy.
"I have a lot of faith in our team, our crew and my husband," she said. "The sport itself tends to get safer. I'm OK with it. It's what he loves to do, so I'm all for it."
Racing in his genes
Pedregon comes from racing blood. His father, Frank, raced top fuel dragsters in the 1960s, and Tony Pedregon is a national champion in funny cars, which are front-engine dragsters with fiberglass bodies that look like production cars. Running up to 9,000 horsepower, they are capable of surpassing 320 mph in a quarter mile.
Pedregon said he got over his questions about his career choice quickly. Vehicle safety has constantly improved in auto racing, and the fact that he walked away from his wreck with just second-degree burns on his right hand is a testament to the technology that goes into the race cars.
He was as surprised as anyone at the relatively minor nature of his injuries.
"Looking at it, I'd have thought I got hurt a lot worse than what I did," he said.
Once he saw that he wasn't badly injured, he knew he'd be back on the track despite the gauze mitten that was wrapped around his injured hand.
"A week and a half, I'll be back in the seat," he told Lauer. "I'll be back at it."