Britain's undisputed monarch has paid a visit to the set of TV's bloodiest, most contested kingdoms — "Game of Thrones".
On Tuesday, Queen Elizabeth and Prince Philip toured the set of a few memorable spots in the Seven Kingdoms of Westeros, part of a 3-day state visit of Northern Ireland.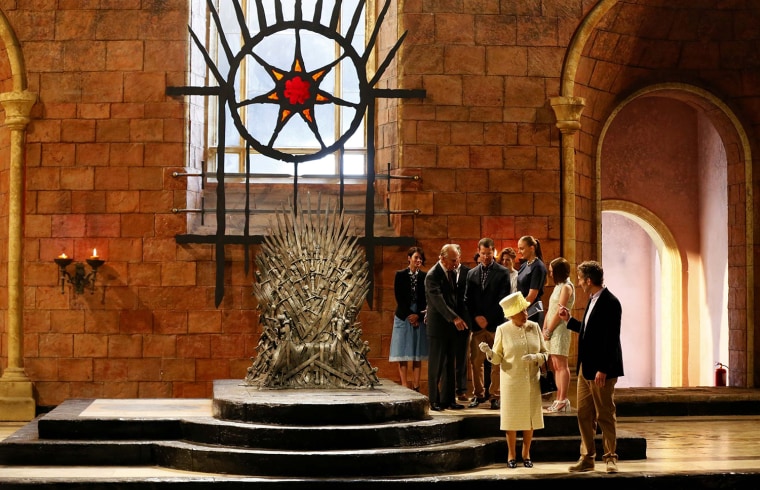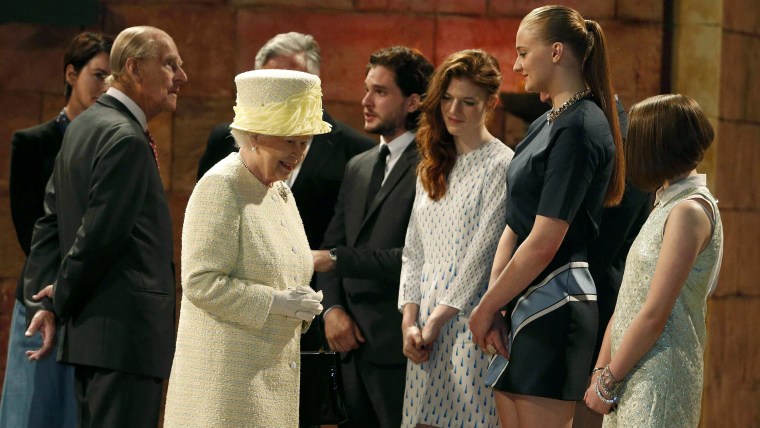 The show's executive producers and writers David Benioff and Dan Weiss led the tour starting with a viewing of costumes and props. The royals stopped to admire the medieval drama's array of weaponry and clothing and chatted with the show's members of staff. The team then moved on for a look at the most sought after seat in the land: the Iron Throne.
The Queen was led into the throne room, where she met several cast members including Kit Harington, who plays Jon Snow, and Lena Headey, who plays the wicked Queen Cersei Lannister. 
The pinnacle moment came when her majesty was face-to-face with the Iron Throne, which according to the show is made up of a thousand swords surrendered in war and is full of spikes and jagged edges. The Queen admired the throne for a few moments but decided not to test the most uncomfortable seat ever made.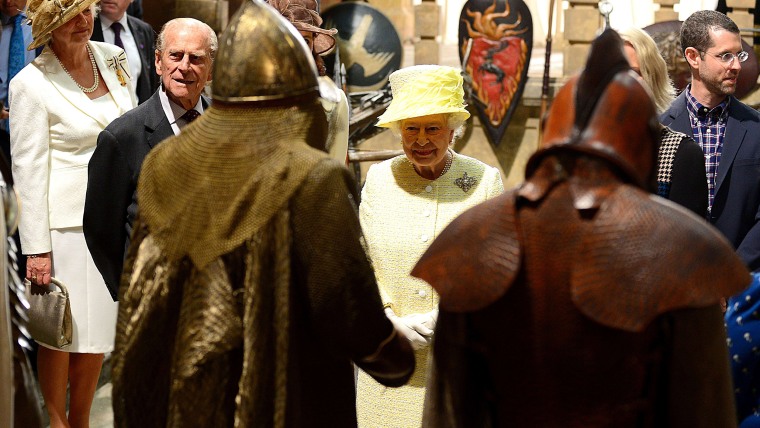 HBO's "Game of Thrones" is one of the biggest TV productions in Europe, pumping in $149 million dollars into Northern Ireland's economy over the course of four seasons.
The show has reportedly created 900 full-time and nearly 5,700 part-time jobs, in addition to creating a brand-new tourist industry attraction by offering fans the opportunity to tour scenes from the Seven Kingdoms, including the Stormlands, filmed in Cushendun Caves in County Antrim, and Riverrun, located at River Quoile, County Down.
The Queen's visit comes hot on the heels of the season 4 finale which drew in 9.3 million viewers. The episode also broke illegal download records with an astonishing 15 million downloads, according to piracy-monitoring blog TorrentFreak.  
This makes the fantasy medieval drama one of the most pirated TV shows ever, according to Jeff Bewkes, CEO of HBO's parent company Time Warner. "'Game of Thrones' is the most pirated show in the world. That's better than an Emmy," Bewkes told Entertainment Weekly.