At 95, Queen Elizabeth II is the longest-serving monarch in British history and has reigned for the last 69 years over the United Kingdom. She became queen on Feb. 6, 1952, at the age of 26, upon the death of her father, King George VI, when Harry S. Truman was president. The queen has since met 12 sitting U.S. presidents, except for President Lyndon B. Johnson. She also met former President Herbert Hoover after he left office.
Elizabeth met with President Joe Biden on Sunday while he was in Great Britain for a G-7 meeting. Take a look back at each of her historic meetings with presidents — current and past.
Joe Biden
On June 13, the queen hosted President Biden and first lady Jill Biden at Windsor Castle after meeting two days prior at a G-7 summit. The trio had tea together at the royal residence 30 miles west of London. The visit began with official Guard of Honor military parade, which included a royal salute and the American national anthem. Jill Biden told reporters that meeting the queen was "an exciting part of the visit for us." The president and the monarch first met in 1982 when Joe Biden was Democratic senator for Delaware.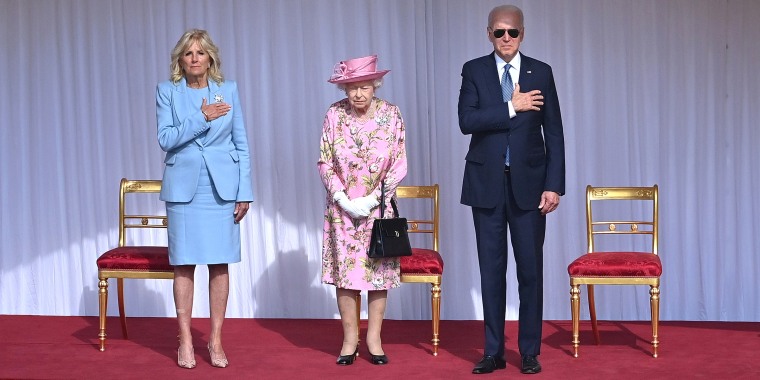 Harry S. Truman
On Oct. 31, 1951, while still a princess, Elizabeth met with former President Harry S. Truman in Washington. The president gave her and her husband, Prince Philip, a warm and friendly welcome, and Truman reportedly told Elizabeth at the time that he hoped "when you leave, you will like us even better than when you came."
During her visit, Elizabeth gave Truman several gifts, including an English candelabra, an oil painting of flowers and a three-part mirror.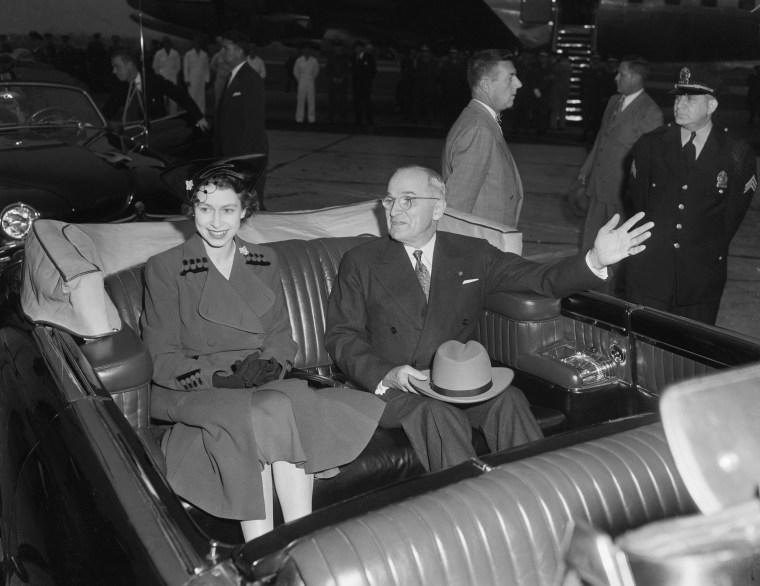 Dwight D. Eisenhower
Elizabeth made her first state visit to the United States as queen in October 1957. She met with then-President Dwight D. Eisenhower at a state dinner at the White House on Oct. 20. For the occasion, Eisenhower wore a British Order of Merit that had been awarded to him by the queen's father, King George VI.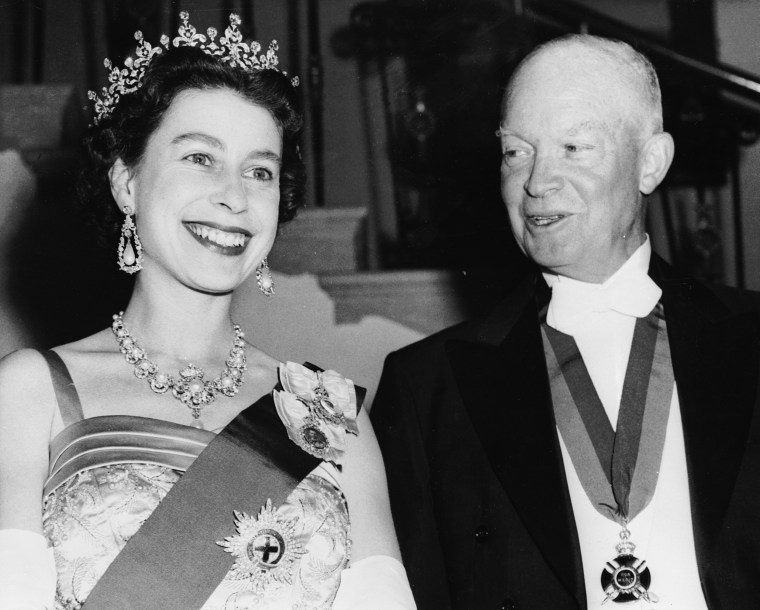 Herbert Hoover
After meeting Eisenhower, the queen traveled to New York City, where she also met with former President Herbert Hoover, who had been out of office for 24 years. They gathered at a luncheon hosted by then-New York City Mayor Robert Wagner.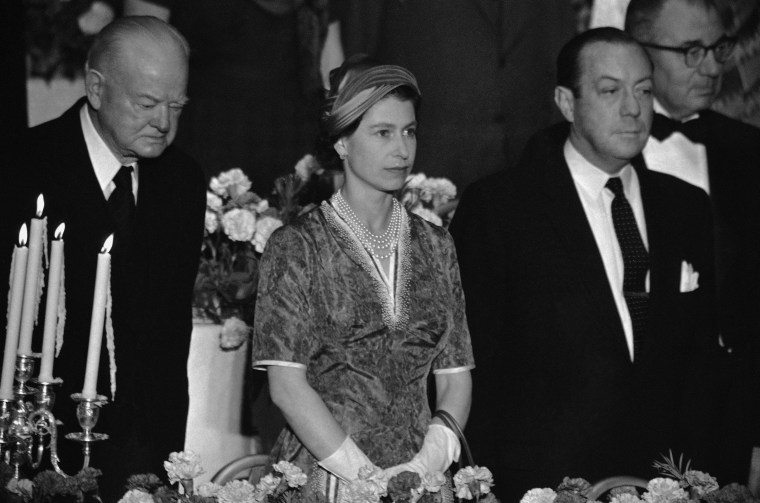 John F. Kennedy
During his first year as president, John F. Kennedy, along with first lady Jacqueline Kennedy, traveled to the U.K. for a banquet in his honor. The Kennedys met with the queen and Philip at Buckingham Palace on June 5.
After returning to the U.S., Kennedy sent the queen a birthday message on June 9, adding at the end of his letter, "May I also at the same time say how grateful my wife and I are for the cordial hospitality offered to us by your Majesty and Prince Philip during our visit to London last Monday. We shall always cherish the memory of that delightful evening."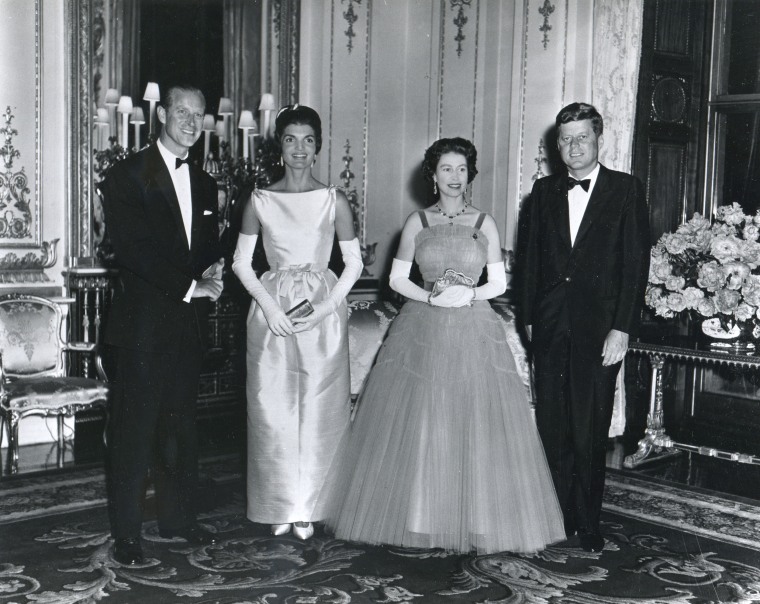 Richard M. Nixon
The queen and then-British Prime Minister Edward Heath met with former President Richard M. Nixon and first lady Pat Nixon on Oct. 3, 1970. They gathered at Chequers, the country home of the prime minister in Buckinghamshire, about 50 miles northwest of London.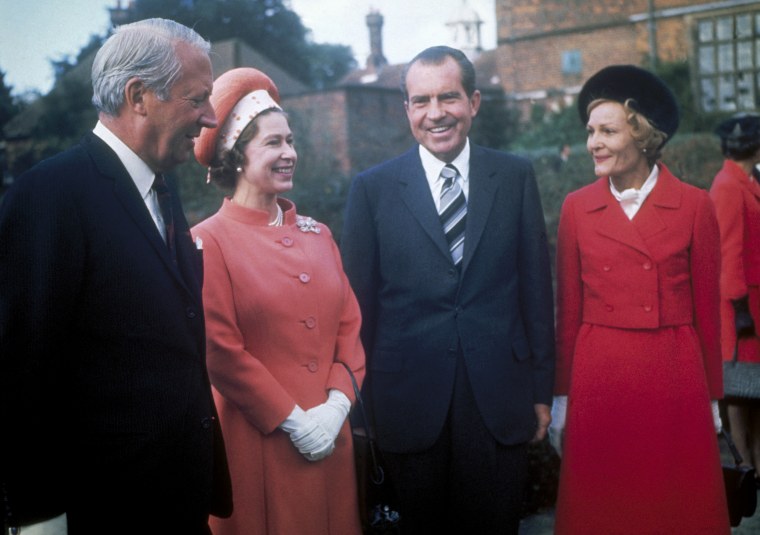 Gerald Ford
In 1976, the U.S. celebrated its 200th birthday, kicking off a series of events which included the bicentennial of the Declaration of Independence, which coincided with Elizabeth's second state visit. During her trip, she danced with then-President Gerald R. Ford at a state dinner hosted at the White House on July 7. First lady Betty Ford reminisced about the evening in her memoir, "The Times of My Life," which was published in 1978.
Ford wrote, "The Queen was easy to deal with. She was very definite about what she wanted and what she didn't want. She loves Bob Hope and Telly Savalas, so we invited Bob Hope and Telly Savalas — both came — and if I hadn't kept mixing up Your Highness and Your Majesty (he's His Highness, she's Her Majesty) I'd give myself four stars for the way that visit went off."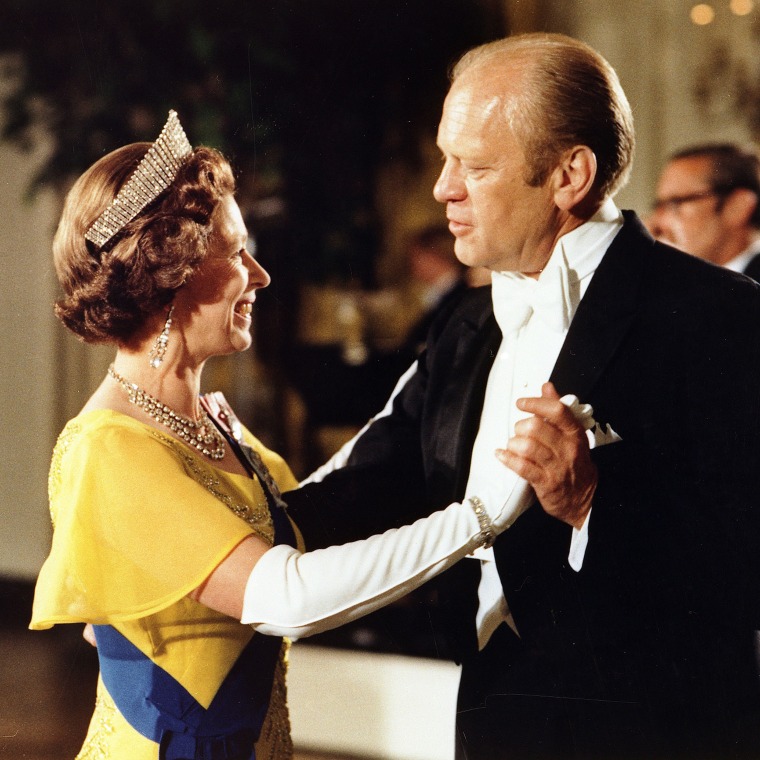 Jimmy Carter
Nearly five months after he took office, former President Jimmy Carter met with the queen in May 1977 at the Blue Drawing Room inside Buckingham Palace. It was Carter's first trip overseas as president and he also met with NATO ministers. That same year marked Elizabeth's Silver Jubilee, the official celebration of her 25 years as monarch.
Ronald Reagan
In 1983, the queen made a 10-day visit to the U.S. and traveled to California to meet with then-President Ronald Reagan. She made a toast at a dinner hosted at San Francisco's de Young museum on March 3 where she made a joke that made the onetime Hollywood actor laugh.
"I knew before we came that we had exported many of our traditions to the United States. But I had not realized before that weather was one of them," Elizabeth said in part, prompting Reagan's laughter.
"But, Mr. President, if the climate has been cool, your welcome and that of the American people have been wonderfully warm," she added.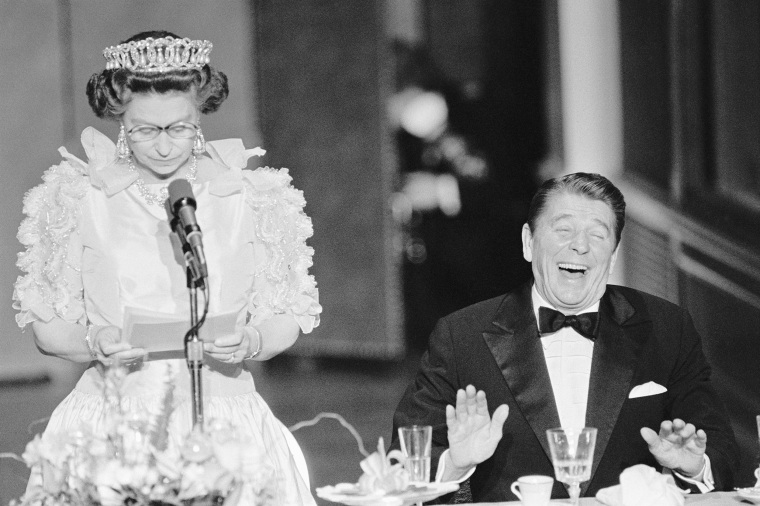 George H.W. Bush
Elizabeth made her third state visit to the U.S. with a 10-day trip in May 1991, while George H.W. Bush was president. Part of her trip was spent in Texas, where she became the first British monarch to step on Texan soil and visit the Alamo. According to the Associated Press, Great Britain was one of the countries that recognized the Republic of Texas in the 1840s.
When Bush died in 2018, the queen released a statement which read, "Prince Philip and I remember our days in Texas in 1991 with great fondness. My thoughts and prayers are with President Bush's family and the American people."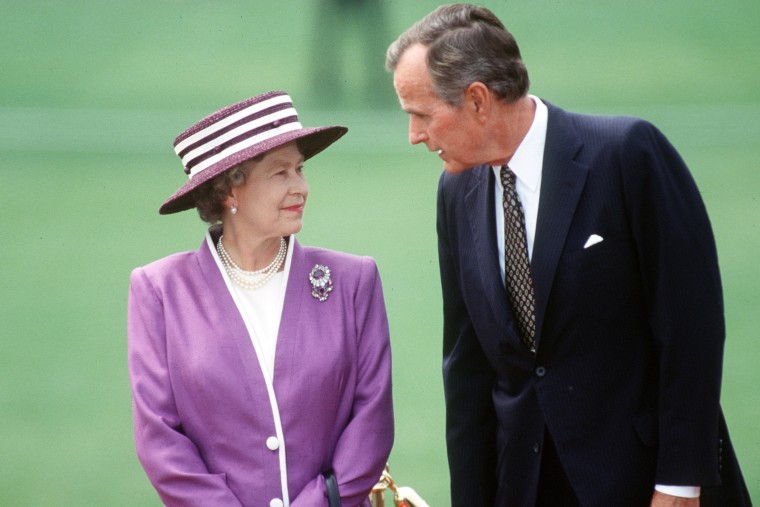 Bill Clinton
Near the end of former President Bill Clinton's second term in office, he traveled to the U.K., Northern Ireland and Ireland for a three-day visit in December 2000. He visited the queen at Buckingham Palace with first lady Hillary Rodham Clinton and their daughter, Chelsea Clinton. The Clintons had tea with the queen and Chelsea was given a private tour of the palace's state apartments, according to a BBC report.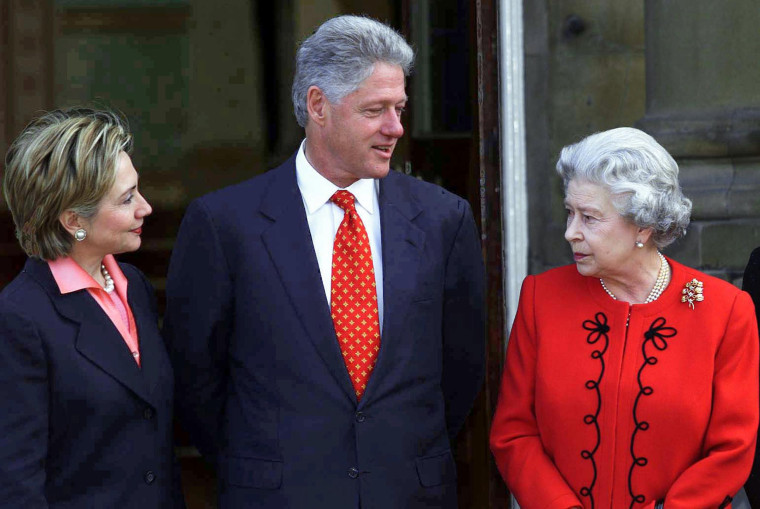 George W. Bush
Sixteen years after her 1991 state visit with his father, the queen made her fourth state visit in 2007 and met with former President George W. Bush. Elizabeth wore a tiara for the white-tie state dinner, the first hosted by Bush and first lady Laura Bush.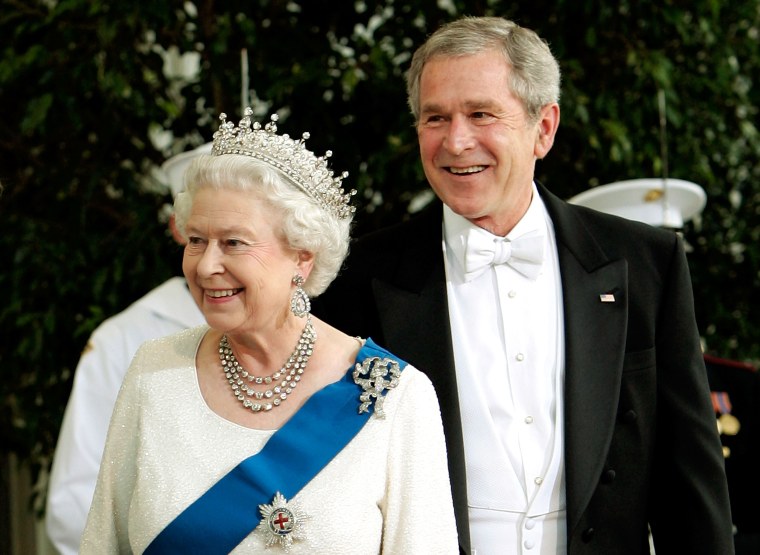 Barack Obama
During his first term in office, former President Barack Obama and first lady Michelle Obama made a state visit to the U.K. in May 2011. The queen and the Duke of Edinburgh hosted a state dinner for the Obamas at Buckingham Palace on May 24 and had dinner with them again the following evening at Winfield House, the residence of the U.S. ambassador in London.
The leaders exchanged gifts during the state visit, according to a program published on the British royal family website. The Obamas presented the queen with a leather album that contained memorabilia and photos, some of which documented a visit she made to the U.S. in 1939, when she was a teenager.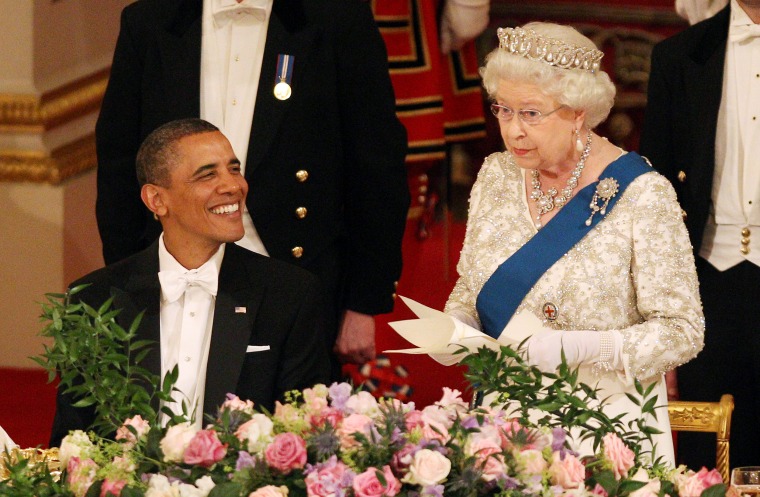 Donald Trump
On June 3, 2019, the queen received former President Donald Trump at Buckingham Palace during his state visit to the U.K. Elizabeth shook hands with the 45th president in a ceremonial welcome in the palace garden and a photo of the moment went viral, as some thought Trump had given the queen a fist bump instead.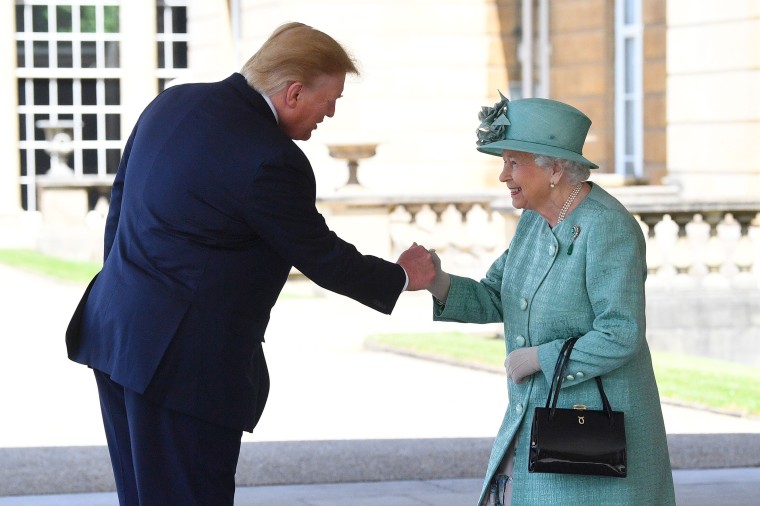 Related video: