Goodwill stores offer many one-of-a-kind items, but on March 12, Laura and Jake Hardy found an heirloom that for one family — over a thousand miles away — seemed to have been lost forever.
Laura Hardy was paying for some green shirts the couple had picked up for the upcoming St. Patrick's Day celebration at their local Goodwill store in Mesa, Arizona, while her husband browsed the jewelry case.
"He brought me over a Purple Heart medal," Laura Hardy told TODAY.com. "'Look at this,' he said to me. It was heavier than I expected and I turned it over and on the back, engraved was the name Eual Whiteman."
Hardy bought the Purple Heart medal for $4.99 and brought it home, but soon she was on a mission to find the owner of the prestigious decoration, awarded to those wounded or killed while serving in the U.S. military.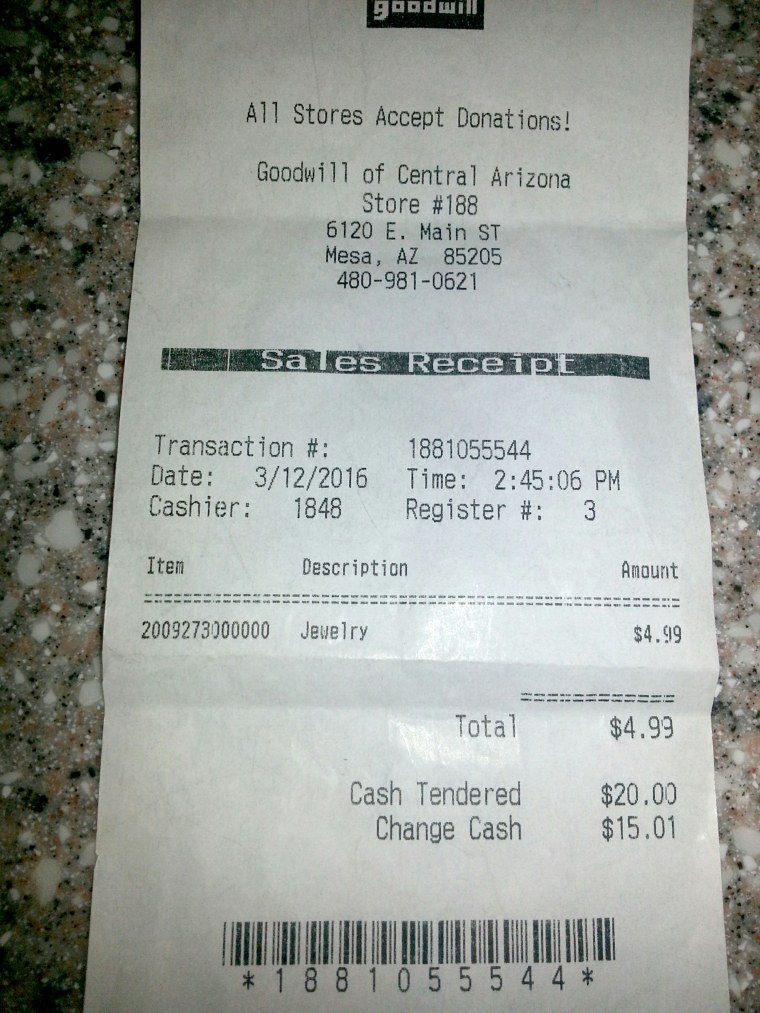 She took to social media that same day and posted on her Facebook page, "Looking for the family of Eual H. Whiteman. Deceased in nineteen ninety-one. What a shame to find it at Goodwill for $4.99"
Hardy couldn't believe the response. "I hardly use Facebook except to connect with friends and family," she said. The post has now been shared more than 100,000 times.
RELATED: 'A final tribute': Teens serve as pallbearers for homeless military veterans
Tina Cook, who runs a Facebook group called Veteran Buddy Finder, saw that someone there had posted Hardy's request.
"I woke up at 6 a.m. and saw the post and went right to finding Eual Whiteman using online databases such as Familysearch.com and Newspapers.com," she said. "Because he had an unusual name, I was able to find him, and his relatives, within about 20 minutes."
Cook found 68-year-old Missouri resident Phyllis Lawson, who had been married to Eual Whiteman's only brother, Robert, but had divorced him the 1980s.
RELATED: Free dental program gives disabled veteran something to smile about after VA rejection
Robert Whiteman had passed his brother's medal to his son, who had kept it for years in his "box of treasures," but left it with a friend for safekeeping. But apparently, that box was donated to Goodwill.
Eual Homer Whiteman was born in 1945 in Sedalia, Missouri. In 1991, Whiteman passed away, and according to cemetery records, he was buried in Willamette National Cemetery in Portland, Oregon.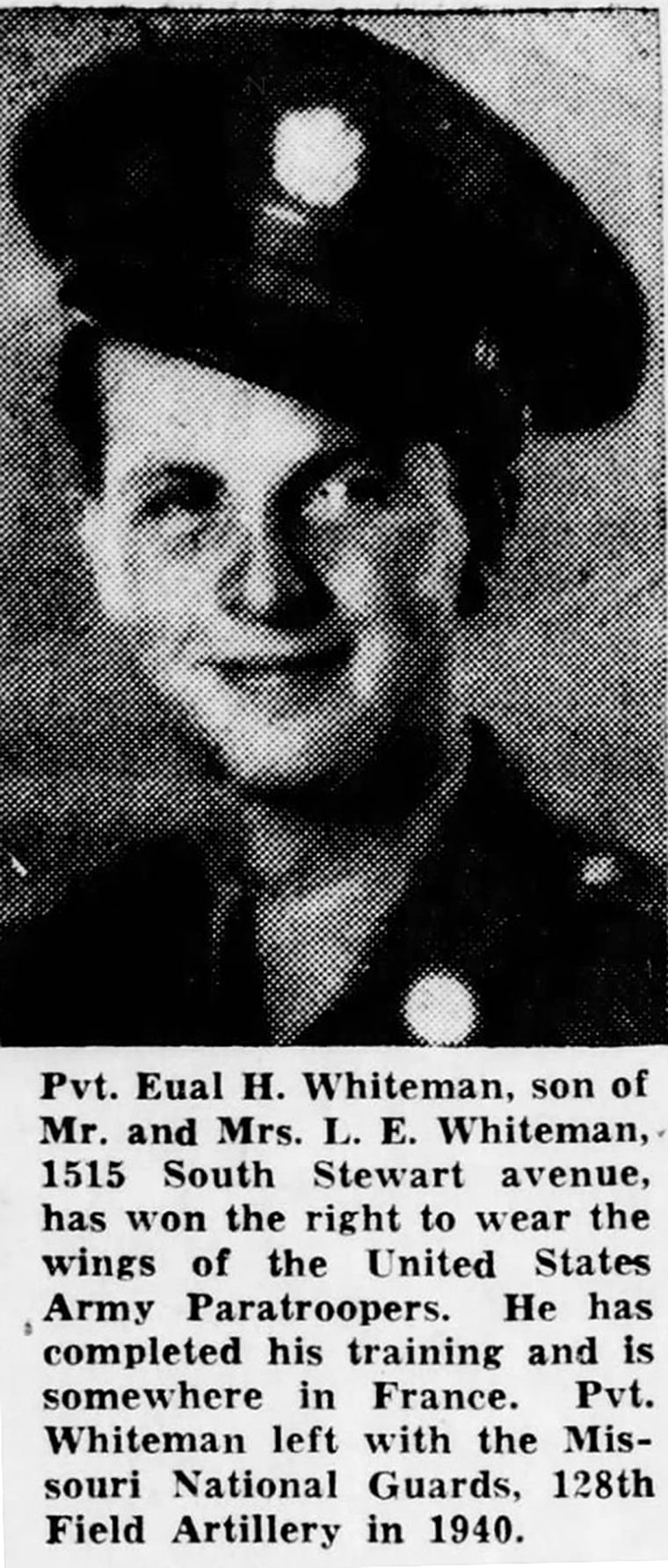 According to a newspaper article in the Sedalia Democrat in November of 1945, Pfc. Whiteman had "served 18 months in England, Belgium, Holland and Germany and was awarded three battle stars, a combat badge, and the Presidential Unit citation ribbon."
RELATED: 91-year-old World War II veteran runs coast-to-coast for a cause
Whiteman had left his hometown in 1940 with the National Guard and joined the 82nd airborne division in March of 1944 until he was discharged in October of 1945.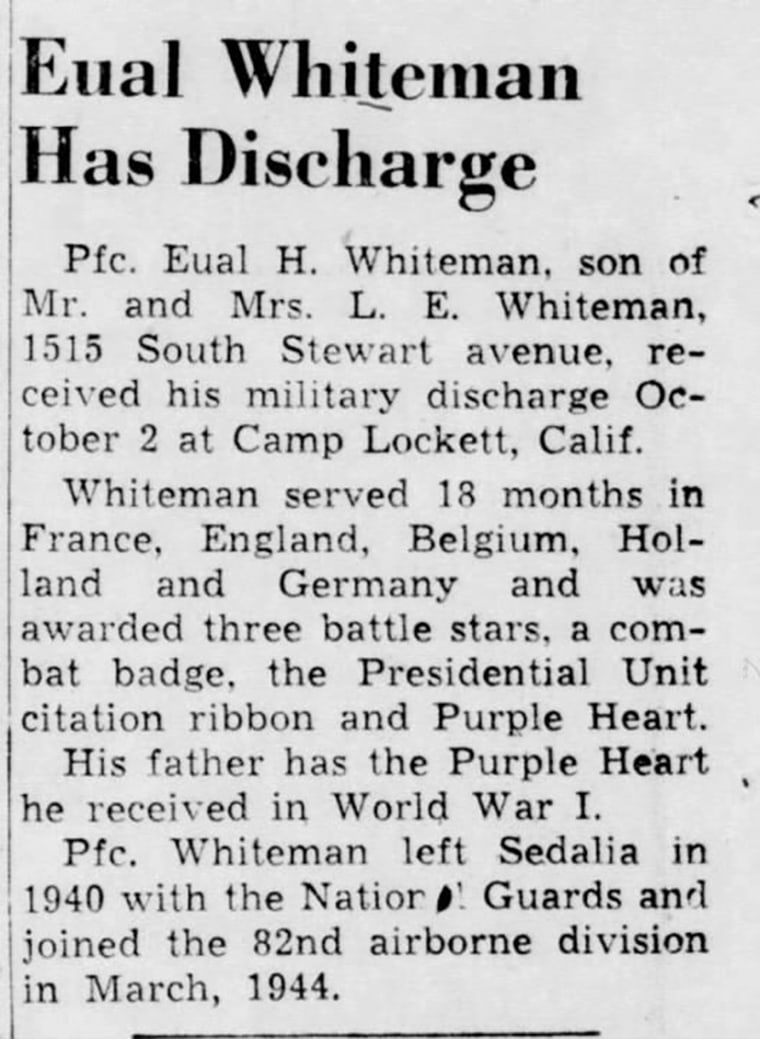 According to marriage records, Whiteman was married to Joan Drohman in 1945, but further records on the whereabouts of Drohman — and whether or not they had any children — could not be found.
RELATED: Hundreds turn out for funeral of Don Kaas, a military veteran with no family
"I speak to Phyllis every day since this has happened," Hardy said. "She is so excited, and did not know about the existence of the Purple Heart. She had only met Eual once many years ago and did not know much about him, but did know that he did not have any children. She had her ex-husband's father's Purple Heart displayed, and when she receives Eual's, she will be display it next to it."
She added, "I just hope now that the Purple Heart has been recovered that they will put a marker designating that on his grave."