The crowd shuffles from foot to foot, heads down, counting the minutes before they have to say goodbye.
"I love you buddy," a man whispers, cradling a small bundle of fur. "Have a good trip." In a large gathering, he stands alone with his thoughts.
This is a familiar scene in Lafayette, La. Every other week, people bring abandoned pets they have rescued to a parking lot and wait for a truck that will take the dogs not just to a better life, but to life itself.
Susan Willard points to a puff of exhaust: "The dog savior." A rumble from the distance is punctuated by the drumbeat of thumping tails.
A huge tractor trailer belches to a stop. Out pops a small man with a big smile. "Hi, everyone! You excited?"
"Yeah!" the crowd choruses.
He grins, "I'm Greg."
Learn about Bob Dotson's 'American Story' book; submit a story idea
Twice a month, Greg Mahle hugs his wife and son goodbye and leaves his home in Zanesville, Ohio. He drives to Houston; Lafayette, La.; Birmingham, Ala.; Altoona, Pa., and north to New England before returning home, a 4,200-mile trip. All along the way he picks up strays once destined to die. 
In Birmingham he is greeted by a voice so Southern, it could cook grits. "Black Jack is going to New York," a woman laughs, holding up the pet she saved. "He's going to be a Yankee!"
Mahle takes the pup into his arms and nuzzles him. "All right, Black Jack! You ready for a ride? It's going to be fun."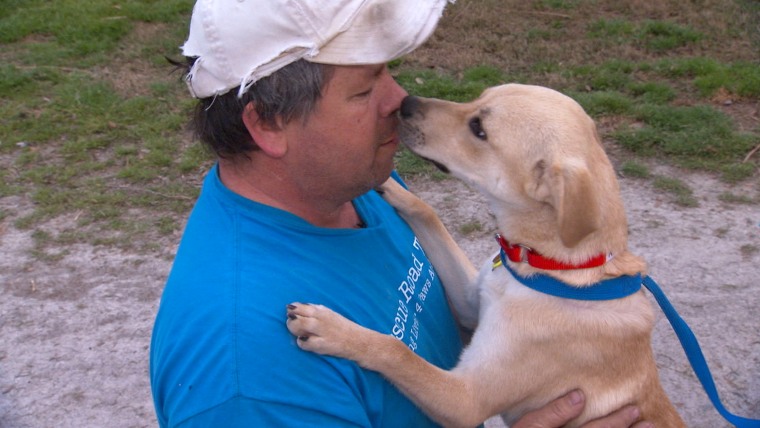 This remarkable odyssey links volunteers who rescue unwanted dogs with families who offer loving homes. "Who are you waiting for?" Mahle asks a tearful couple in New England.
"Daisy."
"Here she is. Right into your arms. Thank you for saving a life."
Mahle is as constant as the need. He's made this trip every other week for nearly a decade. That's more than a million miles. Imagine driving around the world 42 times.
Some nights, you can see those miles on his face. "It's OK," Mahle mumbles wearily. "It's all good."
To succeed, he has to count on more than his fingers. An army of volunteers show up at each stop to help walk and feed 74 dogs. Susan Willard sighs and says, "He is a doggie savior. That's why we come."
Mahle charges so little for his service, it barely pays the bills. Some weeks it doesn't. But he likes the world he's created: "I'm happy in it."
It's a world where a chocolate-colored dog named Nigel can keep a single mom and her 5-year-old daughter close even while Christine Davies was deployed with the National Guard in Kuwait.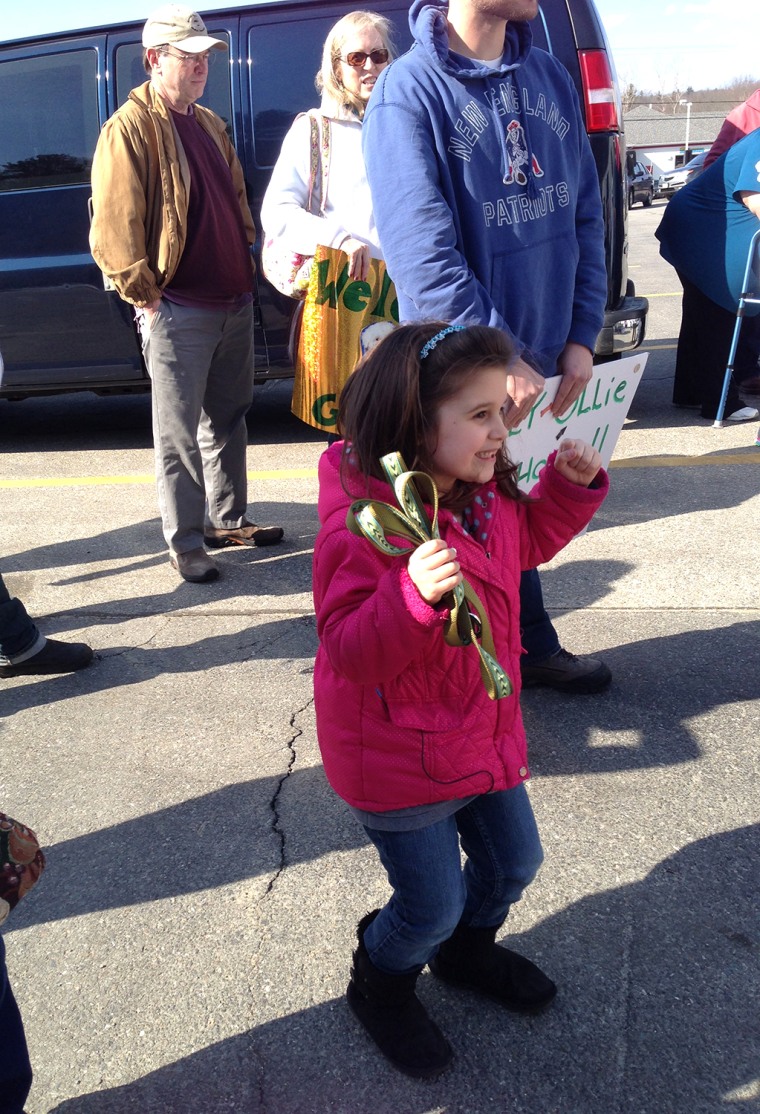 Christine and her daughter, Lylia, fell in love with Nigel's face online. It gave Lylia something to talk about besides her absent mom.
"We'd talk about how excited we were," Davies says, "all the things we were gonna buy for him. All the places we were gonna take him."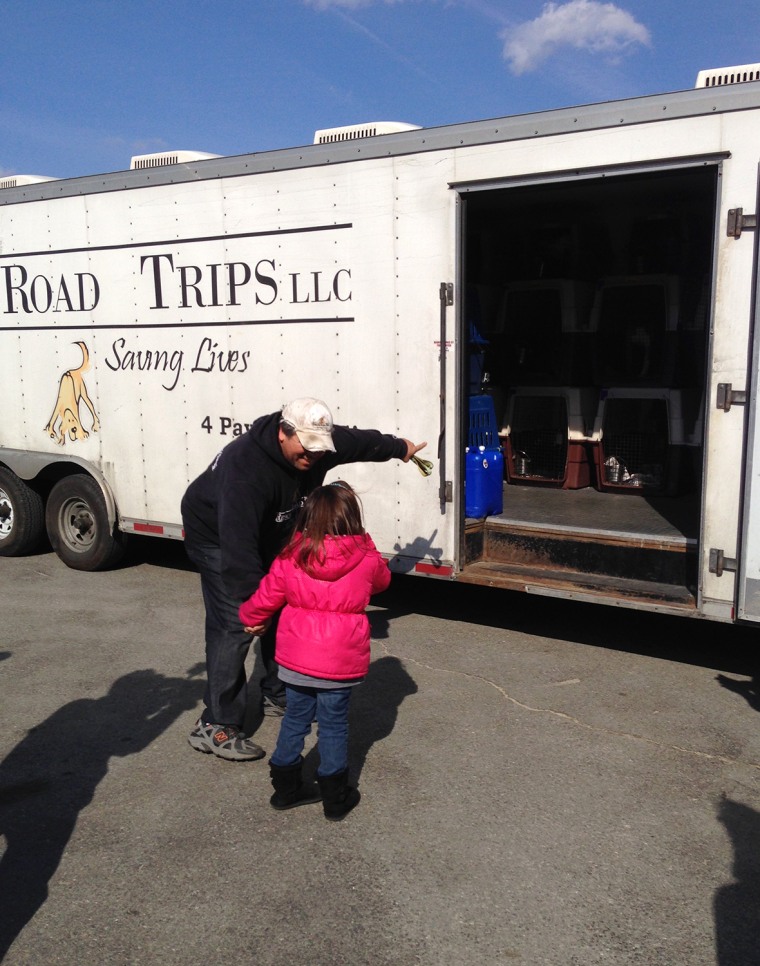 Nigel is part pit bull, part black Lab. Out of all the dogs in the world, why pick him?
Lylia touches her face. "He's got brown eyes just like mine." Then she strokes her hair: "Same color, too."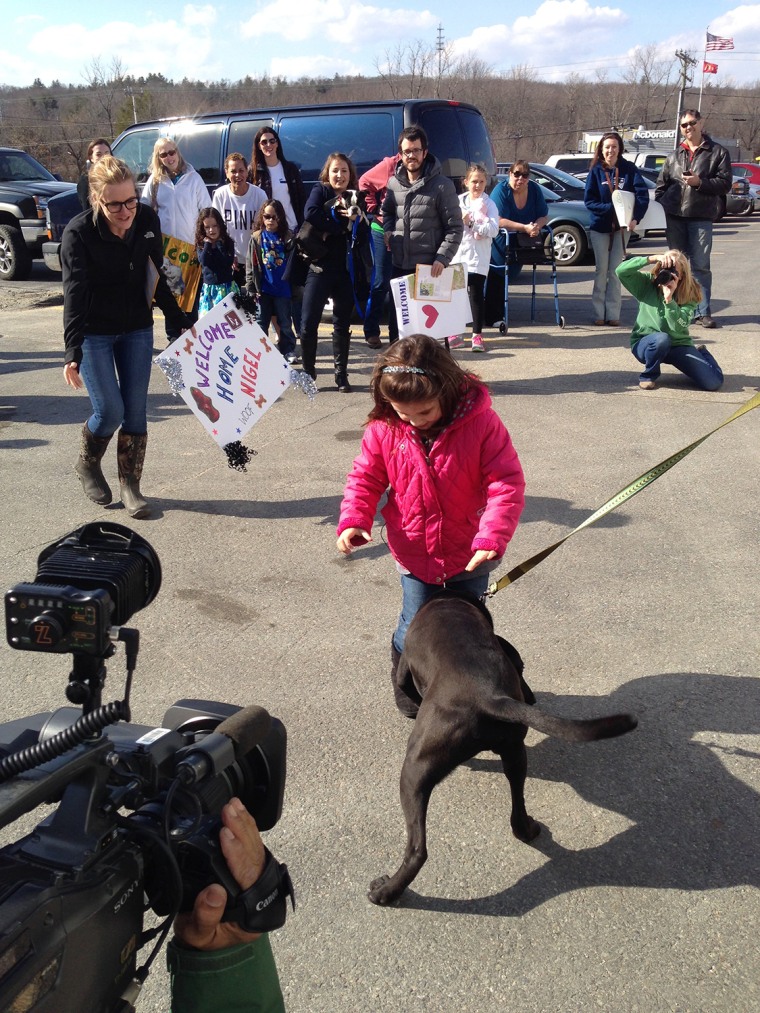 Mahle saves thousands of dogs, but every year, backyard breeders produce millions more than they can sell. Most are abandoned. Some shelters in the South are so swamped with strays, nine out of 10 of those dogs are killed — to make room for more.
That's what keeps the puppy rescuer on his endless road. Mahle doesn't just haul dogs to loving homes; he lives with them along the way. Throughout the trip he sleeps on a small mattress in the trailer, cuddling the little ones to keep them calm.        
Before the dogs greet their new families, "I'm going to make sure they're happy," Mahle says. "I'm going to make sure they're bouncy. I'm going to make sure they're clean."
That's a lesson he learned running a restaurant, in another life. "When the dog comes out of the truck," he says, "I want it to be just like a plate coming to your table." A feast of happiness.
Back home, Mahle's wife, Adellia, admits: "It's hard, you know. Single mom status every week!" But she was once a waitress in his restaurant and knows what it takes to deliver smiles.
When Mahle pulls into Putnam, Conn., after five days on the road, he takes Lylia Davies by the hand. They peer into his darkened trailer. "Nigel's wagging his tail for you."
Lylia begins to hop. "Nigel! Nigel!" she squeals.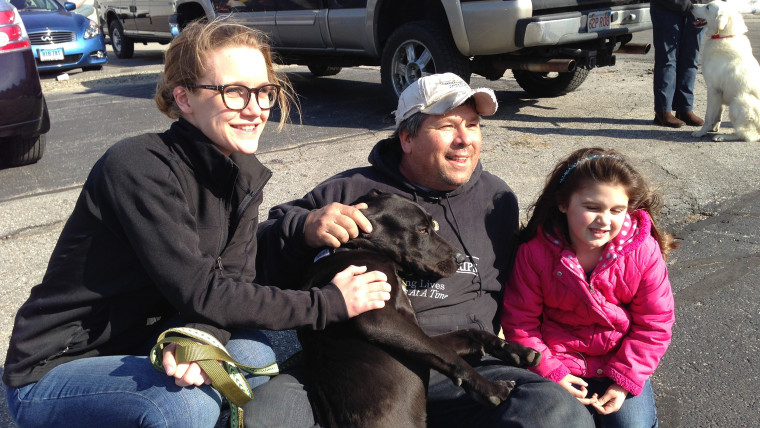 Mahle disappears into the darkness and emerges with the dog in his arms, stopping to whisper in Nigel's ear: "This is forever after, man. Let's do it!"
The dog bounds into Lylia's waiting arms. Licks her face.
"He loves me," Lylia cries. "He loves me!" Her mom, who has had more than her share of sadness recently, dabs at a tear of joy.  
"Lylia's going to remember Nigel when she's 80," Mahle says. "She won't remember me; she won't remember all this. But she will remember Nigel. And Nigel will have taught her something."
To surrender a dream leaves life as it is — and not as it could be.
Get more information about Greg Mahle and Rescue Road Trips here.
Do you know someone outstanding for an upcoming American Story? Email us.